05:48 PM EDT 05/17/2013
Ryan Seacrest
Update
Posted 05/16/2013 10:45PM
Originally posted 05/16/2013 09:35PM
One of the biggest stars to grace the stage at the American Idol finale on Thursday night was the talent competition's own Jennifer Hudson.

The Oscar- and Grammy-winning performer – looking super slim in a black top and black jeans – took the stage to sing "Inseparable" with finalist Candice Glover.

Though Hudson, who was shockingly eliminated from the top seven of season 3, belted out high note after glorious high note, she let Candice, 23, have her a moment in the spotlight at the end of the song when she stood back and said, "Sing it, Candice."

And sing it she did! Candice held her own, hitting the final notes of the Natalie Cole song.
Credit: FOX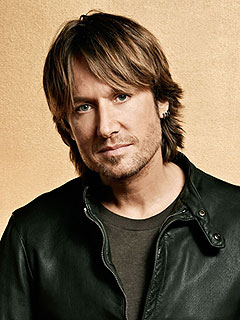 Originally posted 05/16/2013 10:30AM
There is at least one American Idol judge who wants to be back on the panel next season: Keith Urban.

Asked at Wednesday's big showdown between Kree Harrison and Candice Glover if he would like to be a judge on season 13, the country superstar said, "I would. I mean, I literally enjoy coming to work every day, and that's a rarity."

This comes after veteran judge Randy Jackson announced he is leaving the show and rumors that producers plan to replace the entire season 12 panel.
Credit: Frank Micelotta/PictureGroup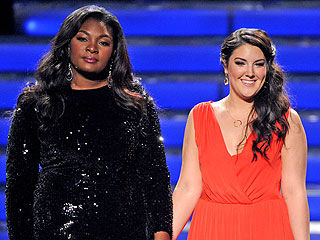 Originally posted 05/15/2013 09:55PM
The entire season of American Idol came down to three final performances from two dueling divas, country crooner Kree Harrison and R&B singer Candice Glover, on Wednesday night at the Nokia Theater L.A. Live.

At the end of the night, Mariah Carey summed up the competition best. After noting that both women offered something special, she said, "It's going to be very, very difficult for America tonight."

But before one note was sung, Kree seemed to have an edge – she got a more rousing round of applause when host Ryan Seacrest asked the studio audience to cheer for their favorite. Then round one seemed to change up the momentum. Here's how it all played out ...
Credit: FOX/Getty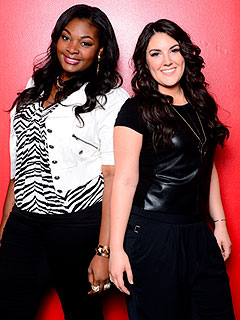 Originally posted 05/15/2013 08:00PM
It's an American Idol showdown!

Season 12's top two, Kree Harrison and Candice Glover, are facing off Wednesday on the final night of competition at the Nokia Theater L.A. Live. And they couldn't be more talented – or different. Kree has an authentic country vibe while Candice is pure R&B diva. They each will sing their "coronation song," a song of their choice from the season and a song chosen by producer Simon Fuller.

Judges Keith Urban, Nicki Minaj, Mariah Carey and the departing Randy Jackson are definitely making their opinions known as the contestants sing one more time for America's votes. But we want to know what you think about the all-female finale as it's happening.

Tweet your thoughts @peoplemag and your comment may end up right here on People.com.
Credit: Michael Becker/FOX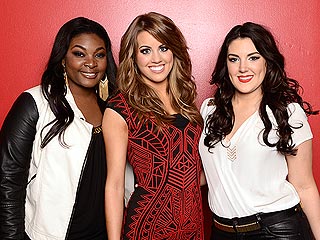 Originally posted 05/09/2013 09:05PM
Ryan Seacrest opened up Thursday's American Idol episode with a nod to Randy Jackson's announcement that he's moving on after 12 seasons.

"A little later on we'll be revealing who is leaving our show," Ryan said, standing behind the only remaining original judge. "A little heads up?"

Randy just chuckled.

The joke is that Ryan could have been talking about Idol's super talented top three – Kree Harrison, Angie Miller and Candice Glover, who performed three songs each on Wednesday. They faced one last hurdle before the season 12 finale: another elimination night.
Filed Under:
,
American Idol
,
Angie Miller
,
Candice Glover
,
Jimmy Iovine
,
Keith Urban
,
Kree Harrison
,
Mariah Carey
,
Nicki Minaj
,
Randy Jackson
,
Ryan Seacrest
Credit: Michael Yarish/FOX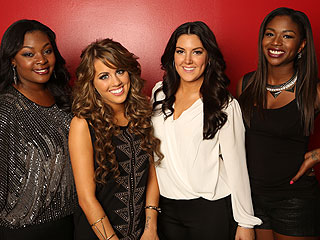 Originally posted 04/25/2013 09:45PM
Twelve seasons into American Idol, things can sometimes get very predictable. Contestants will sing, judges will judge, America will vote and someone will go home. So at the beginning of Thursday's show, Ryan Seacrest teased the audience: "In just a bit," he said, "I will announce some shocking news that will affect the judges and turn the competition upside down."

After a group performance of Alicia Keys's "Girl on Fire" by the top four contestants (Amber Holcomb, Angie Miller, Candice Glover and Kree Harrison), the weekly segment sponsored by Ford, a surprise appearance by Drake (mostly for Candice's benefit), a performance by season 9 winner Lee DeWyze (his new single is "Silver Lining") and other filler, it was time for the twist to be announced. What would it be?

Seacrest split the finalists into two groups. Candice and Amber were on one side of the stage, Kree and Angie were on the other. To the displeasure of the audience, Seacrest announced that Candice and Amber were the bottom two. The judges also looked stumped.
Filed Under:
,
American Idol
,
Amber Holcomb
,
Angie Miller
,
Candice Glover
,
Keith Urban
,
Kree Harrison
,
Mariah Carey
,
Nicki Minaj
,
Randy Jackson
,
Ryan Seacrest
Credit: Michael Becker/FOX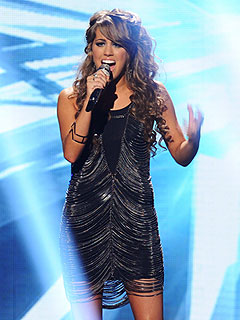 Originally posted 04/24/2013 10:40PM
Now that American Idol has whittled the competition down to its final four female contenders, it suddenly seems like one of the underdogs might end up on top.

After a season in which Kree Harrison and Candice Glover always appeared to be the frontrunners, on Wednesday's show it was Amber Holcomb and Angie Miller's turn to shine.

Amber – decked out in a flowy white pants suit – started off the night with a personal song choice, Celine Dion's "The Power of Love," and got a standing ovation from three of the judges (Mariah Carey remained in her seat but did blow a few kisses).
Filed Under:
,
American Idol
,
Amber Holcomb
,
Angie Miller
,
Candice Glover
,
Keith Urban
,
Kree Harrison
,
Mariah Carey
,
Nicki Minaj
,
Randy Jackson
,
Ryan Seacrest
Credit: Michael Becker/FOX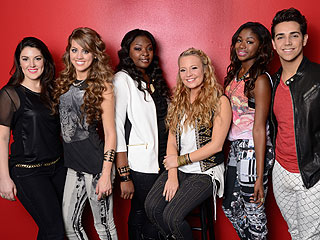 Originally posted 04/11/2013 09:15PM
Did American Idol make history on Thursday?

The top six contestants of season 12, who performed Wednesday night, included five women and one man, Lazaro Arbos.

Arbos, who has a stutter that seems to disappear when he sings, started off strong in the competition. But in recent weeks, the ice cream scooper from Naples, Fla., flubbed his lyrics and struggled to get positive feedback from judges Mariah Carey, Keith Urban, Nicki Minaj and Randy Jackson.

Meanwhile, the women – Kree Harrison, Candice Glover, Amber Holcomb, Angie Miller and Janelle Arthur – were doing well, setting up a unique situation for the show: a possible all-female top five.

Keep reading to find out what happened on elimination night ...
Credit: Frank Micelotta/FOX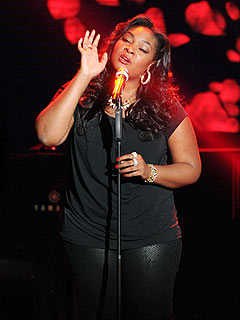 Update
Posted 04/11/2013 08:00AM
Originally posted 04/10/2013 10:45PM
With Sir Anthony Hopkins in the audience, American Idol's six remaining contestants took the stage to perform two songs – one from the catalogue of legendary songwriters Burt Bacharach and Hal David and another one "they wish they had written."

The best performance of the night – and according to Randy Jackson, "one of the greatest performances in the history ... of American Idol" – came at the very end of the two-hour show.

Candice Glover, who first earned a standing ovation for her soulful take on "Don't Make Me Over," sang "Lovesong" by The Cure. The crowd exploded in a raucous uproar, Keith Urban literally bowed down in front of her and Mariah Carey walked up on stage and showered Candice in glitter. The enthusiastic response brought Candice to tears. Watch her performance below.
Credit: Inset: Getty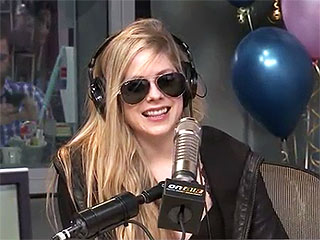 Originally posted 04/09/2013 02:30PM
Avril Lavigne and Nickelback's Chad Kroeger opened up to Ryan Seacrest on Tuesday about their engagement and upcoming nuptials – where the singer revealed the groom is in the dark about some of the wedding details.

"It's going to be quite spectacular, and there's a theme to it," Lavigne said during an interview on KIIS-FM's On-Air with Ryan Seacrest Tuesday. "We're going pretty big, but Chad doesn't even know everything."

Lavigne demurred when Seacrest pushed for details on the date, but she did reveal that the roots of their love affair, which began in the studio while Kroeger worked with Lavigne on songs from her forthcoming album, will play a role in the nuptials.

"I'm going to take the lyrics from the sheet music from one of our songs and wrap it around the wedding cake," she told Ryan, while Kroeger gave a look of genuine surprise.
Advertisement
The most buzzed about stars this minute!
Treat Yourself! 4 Preview Issues
Got a News Tip?
Send it to our People.com editors!