12:00 PM EDT 01/26/2015
Sarah Palin
Credit:

Gilles Mingasson/Getty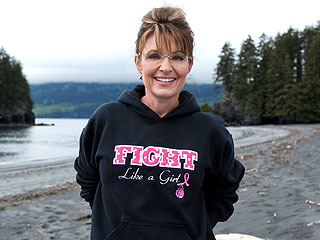 Originally posted 12/09/2013 03:00PM
Sarah Palin will host a weekly outdoors-oriented program that will celebrate the "red, wild and blue" lifestyle, the Sportsman Channel said Monday.

The program, Amazing America, will debut next April. The Sportsman Channel is in some 32 million homes, fewer than one-third of American households with television, with programming geared to people interested in hunting, fishing and shooting. Palin's show will include a series of stories about personalities and activities in that vein.

"It's very important to have somebody of her stature as a personality on Sportsman because it validates the whole category for everybody," said Gavin Harvey, network CEO.
Credit: Courtesy The Palin Family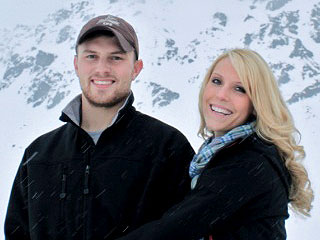 Originally posted 12/12/2012 03:25PM
Track Palin, the eldest son of former Alaska governor Sarah Palin, is reportedly ending his marriage to Britta Hanson after a year and a half.

The couple, who were former high-school sweethearts, are jointly petitioning for divorce, reports TMZ.

Shortly after they got married, Track, now 23, and Britta, 22, announced the arrival of their first child, a girl named Kyla Grace Palin.
Credit: FameFlynet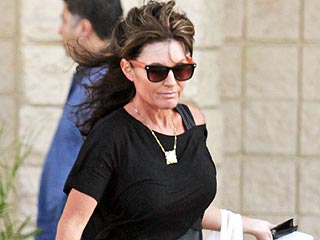 Originally posted 10/09/2012 04:00PM
New photos of Sarah Palin looking very thin have caused a stir online, and now the former Alaska governor and 2008 VP nominee tells PEOPLE she's just fine and is, in fact, working with her family on a new fitness book.

In an email to PEOPLE on Tuesday, Palin – who's known to treat houseguests to a smorgasbord of homemade treats such as moose chili, chocolate cream pies, pecan pies and lemon meringue pies – wrote, "Our family is writing a book on fitness and self-discipline focusing on where we get our energy and balance as we still eat our beloved homemade comfort foods!"
Credit: Andrea Renault/Polaris; Phillip V. Caruso/HBO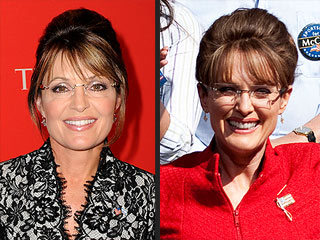 Originally posted 10/05/2012 01:30PM
She may have won an Emmy, but Julianne Moore's portrayal of Sarah Palin gets a big thumbs down from one critic.

"I don't think she's a good interpreter of my mom. I think my mom is way hotter than that," Sarah's daughter Bristol Palin, 21, tells E! News about Moore, who channeled the former Alaska governor in HBO's Game Change. "I think she doesn't have that accent. It's kind of silly, but my mom's awesome."

Bristol, who stars on Lifetime's reality show Life's a Tripp (so named for her 3-year-old son Tripp), is back in the ballroom for the all-star Dancing with the Stars season, partnering with pro Mark Ballas. Palin, who came in third in her first time on the show.
Originally posted 06/13/2012 07:00PM
Being a
single mom
is hard work under normal circumstances, but when your family is the subject of constant media scrutiny, it's even more difficult.
Bristol Palin, the daughter of former vice presidential candidate Sarah Palin, is learning that lesson all too well, as her struggles raising her
3-year-old son, Tripp
are documented on
her new reality show
,
Life's a Tripp
.
Palin, 21, moves from Wasilla, Alaska, to Los Angeles in the show's premiere, bringing her sister, Willow, with her to babysit Tripp during the day while Bristol works for a charity.
"You guys have to read to Tripp every night," mom Sarah tells her daughters as they prepare to leave. "That's part of the deal. ... It's a lot of work taking care of him."
Credit: Getty; Courtesy Beretta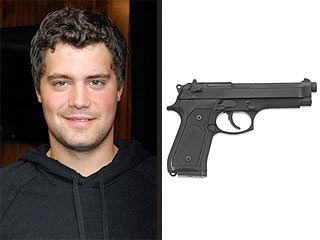 Originally posted 05/03/2012 02:30PM
Ready. Aim. Baby name!

Levi Johnston, an avid hunter whose girlfriend Sunny Oglesby is five months' pregnant with their daughter, plans to name the baby "Breeze Beretta" after the Italian handgun, the couple tell Inside Edition.

Johnston, 21, who also has 3-year-old son Tripp with ex- fiancé Bristol Palin, hopes to be a better father for Breeze, saying his relationship with Oblesby, 20, is stronger than the one he had with Sarah Palin's daughter.

"I'm actually in love," he says, "not doing it just because we had a kid together."
Credit: Scott Wintrow/Getty; Andrea Renault / Polaris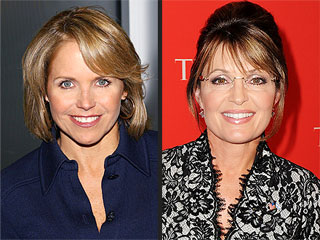 Originally posted 04/02/2012 10:50AM
As the recent HBO movie Game Change reminded the public, Sarah Palin had no love for Katie Couric after the infamous 2008 interview, when the vice-presidential candidate was pressed by the TV journalist to name even one newspaper that she read.

But now, the public will have the chance to see Palin and Couric in action again – not exactly together, but on dueling morning shows Tuesday, when both will help co-host the two top-rated network morning programs: NBC's Today (Palin) and ABC's Good Morning America (Couric).

On Tuesday, Palin called into Today to speak with hosts Matt Lauer and Ann Curry, saying she was looking forward to being with "you good people" on Tuesday.

"Are you reading some newspapers?" Lauer asked her – making Palin laugh and say: "That's a fine 'How do you do?' Here we go."
Credit: Andrea Renault/Polaris; Phillip V. Caruso/HBO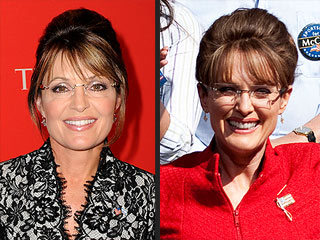 Originally posted 03/12/2012 11:05AM
Neither appears to have seen it, but Sarah Palin and John McCain both took shots this weekend at Game Change, the HBO movie about their unsuccessful 2008 presidential campaign. The film premiered Saturday night.

Palin, 48, portrayed in the film by Julianne Moore, told Fox News before the premiere that she was "not concerned about an HBO movie based on a false narrative when there are so many other things to be concerned about."

She added: "I believe my family has the right priorities and knows what really matters. For instance, our son called from Afghanistan yesterday and he sounded good, and that's what matters. Being in the good graces of Hollywood's 'Team Obama' isn't top of my list."
Credit: Andrea Renault/Polaris; Phillip V. Caruso/HBO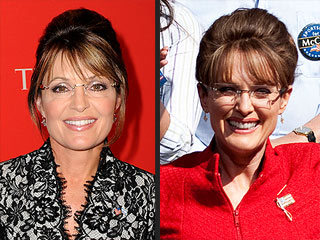 Originally posted 03/09/2012 10:15AM




No one doubted that Julianne Moore would nail the physical details playing Sarah Palin in
Game Change
, about the Alaska governor's
astonishing explosion
on the political scene in 2008 as John McCain's running mate.
So, yes, she does "the voice," which is flat yet nasal. But that's just the starting point. Moore is an unusual actress: At her best – and she is here – she's completely empathetic but also mysteriously remote. Her Palin from moment to moment is absolutely real – but always open to interpretation.
Originally posted 02/22/2012 08:15AM
Moviegoers are getting a peek at Julianne Moore as Sarah Palin in a theatrical trailer for
Game Change
, HBO's political thriller about the 2008 presidential race.
The movie, which will air on March 10 at 9 p.m., goes behind the scenes of Sen. John McCain's campaign and in particular his decision to pick the relatively unknown Alaska governor as his controversial running mate.
"We need to create a dynamic moment in this campaign," says Woody Harrelson, who plays McCain's adviser Steve Schmidt. "Or we're dead."
Advertisement
The most buzzed about stars this minute!
Treat Yourself! 4 Preview Issues
Got a News Tip?
Send it to our People.com editors!