01:17 PM EDT 07/10/2016
Scott Peterson
Credit:

Modesto Bee/AP Photo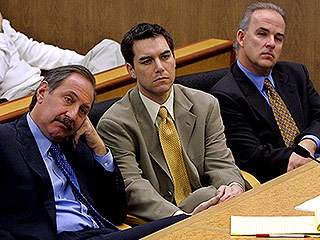 Originally posted 08/22/2015 01:05AM
When Scott Peterson went on trial for the 2002 murder of his wife, Laci, and unborn son, Conner, the jurors didn't want to believe that he was guilty.
Credit: Al Golub/ZUMA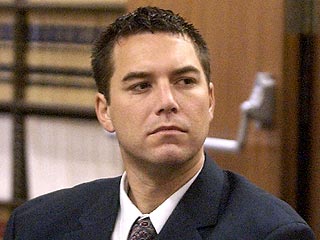 Originally posted 08/20/2015 02:05PM
It has been nearly 11 years since a jury convicted Scott Peterson in the death of his wife, Laci, and unborn son, Conner. In the decade since Peterson was sentenced, he has sat on California's death row, awaiting an execution that may or may not ever come.
Credit: Al Golub/ZUMA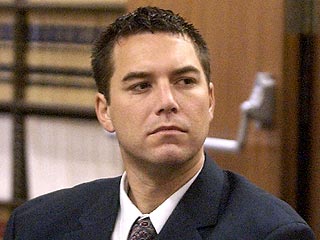 Originally posted 09/23/2012 09:05AM
Joking with others, shooting hoops and scoring baskets – to look at Scott Peterson, one would hardly imagine he's incarcerated on San Quentin's Death Row.

And yet, that is how journalist Nancy Mullane found the former fertilizer salesman when she visited the California state penitentiary where Peterson is confined to a solitary 7-by-9-ft. cell for the Christmas Eve 2002 killings of his wife Laci and their unborn son, and then dumping their remains into San Francisco Bay.

"He didn't look depressed. He looked like someone you'd see on the street playing basketball. He had his shirt off and his boxer shorts up," says Mullane, who was given an unprecedented level of media access to the prison for her book about the rehabilitation of condemned killers, Life After Murder: Five Men In Search of Redemption. "He wasn't ripped, but he looked healthy."
Credit: San Quentin State Prison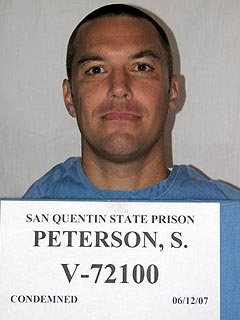 Originally posted 04/11/2009 10:45AM
Sitting in a 4-by-9-foot cell on San Quentin's Death Row, Scott Peterson doesn't have a lot of choices in life, but he can decide how to decorate his wall.

While many cons plaster their cells with pictorial collages, Peterson has only one photo hanging across from his bunk: a smiling shot of him and his wife, Laci.

It's a much different pose from his most recent mug shot – taken in June of 2007 – where his dark hair was clipped short by fellow cons in the exercise yard. Under his half-smiling face is a placard with his inmate number and the word: "Condemned."

Peterson, 36, was sentenced to death by lethal injection in March of 2005 after being convicted of murdering Laci and their unborn son, Conner, and tossing them in the San Francisco Bay on Christmas Eve day of 2002. His case is on appeal, which means he isn't likely to face execution for two decades.
Credit: AP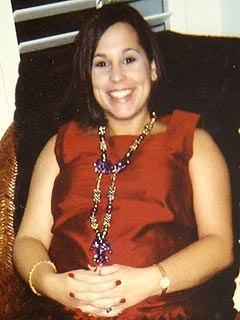 Originally posted 10/13/2008 10:50AM
Nearly six years after her and her unborn child's murder stunned the nation, Laci Peterson was remembered Saturday night at a benefit in her Modesto, Calif., hometown that raised money for the Laci and Connor Search and Rescue Fund.

"I couldn't help but say yes," the event's host, CNN's Larry King, told Modesto's CBS13 about his participation.

The evening, titled "Laughing for Laci," featured comedians and was billed as a tribute to Laci's sense of humor, said her mother, Sharon Rocha, who organized the event.

"I loved the idea of doing that," Rocha told NBC11. "I thought, 'That's great.' It's uplifting, it's light and Laci loved to laugh."
Credit: Modesto Bee/AP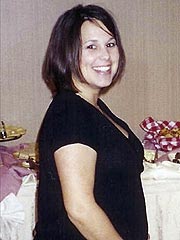 Originally posted 12/28/2006 03:10PM
Just after the four-year anniversary of Laci Peterson's disappearance, a married couple has agreed to buy the house she shared with Scott Peterson – and where police believe he killed her and their unborn son at Christmastime 2002.
Credit: EPA/Landov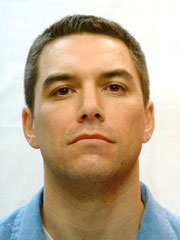 Originally posted 01/11/2006 09:00AM
For the second time since he was locked up in San Quentin Prison last March, convicted murderer Scott Peterson has released a personal statement to the Website for the Canadian Coalition Against the Death Penalty, this time responding to the just-published For Laci, penned by his former mother-in-law, Sharon Rocha – and, in fact, commending the book's author.
Credit: The Modesto Bee/AP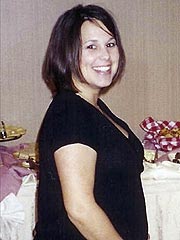 Originally posted 12/20/2005 08:00AM
Convicted killer Scott Peterson lost his bid to claim his murdered wife Laci Peterson's $250,000 life-insurance money – which has been awarded to Laci's mother, Sharon Rocha, Stanislaus County Superior Court Judge Roger Beauchesne ruled on Friday after a protracted court battle.
Credit: The Modesto Bee/AP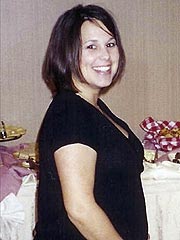 Originally posted 09/28/2005 08:00AM
An Oct. 21 court date has been set to determine who will collect murder victim Laci Peterson's $250,000 life insurance policy.
Credit: The Modesto Bee/AP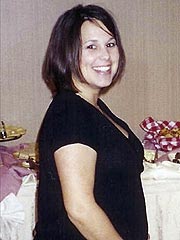 Originally posted 06/07/2005 08:00AM
PLANNED: Laci Peterson's mother, Sharon Rocha, is writing a book about her slain daughter, with a December publishing date in place. Titled Laci and scheduled to be priced at $25.95, Rocha's book is listed on the Web site of Crown Publishing, a division of Random House. Ron Grantski, Laci Peterson's stepfather, tells the Modesto Bee that he would help Rocha, his longtime companion, write the book. "A lot of truths haven't been told, and I kind of think they should be," he said. "Everyone has written little bits and pieces. This story is going to be a good one." Laci's husband, Scott Peterson, is currently on San Quentin's Death Row for killing her and their unborn child.
Advertisement
The most buzzed about stars this minute!
Treat Yourself! 4 Preview Issues
Got a News Tip?
Send it to our People.com editors!