01:37 PM EDT 07/10/2016
Steven Slater
Credit:

Courtesy Clayton Osbon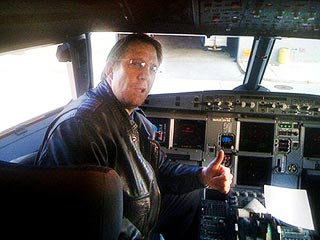 Originally posted 03/28/2012 02:30PM
What's going on up there?

Just weeks after an American Airlines flight attendant went on a screeching rant, a JetBlue Airways pilot had to be locked out of the cockpit by his copilot after yelling and acting unruly. The plane then made an emergency landing.

Clayton Osbon, 49, said to have no history of work troubles, was suspended Wednesday over the bizarre episode during an early morning flight Tuesday from New York to Las Vegas. The copilot had to make an emergency landing in Amarillo, Texas.

Osbon was later charged in federal court with interfering with flight crew instructions, an offense carrying a maximum penalty of 20 years in prison.

"While we don't know what led to the incident, what we can verify is that the pilot in command elected to divert to Amarillo to ensure the captain received proper medical attention," says JetBlue, "and we know the captain was then transferred to a medical facility."
Credit: Splash News Online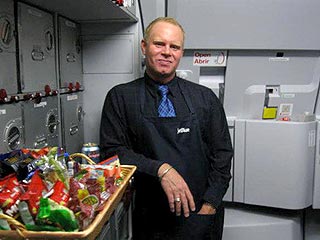 Originally posted 10/19/2010 08:00AM
The Steven Slater saga is due to wrap up Tuesday, with the former JetBlue flight attendant expected to plead guilty in Queens to one felony charge in exchange for no jail time.

Slater, who famously exited a JetBlue plane via the inflatable slide in August after a confrontation with a passenger, will agree to undergo mental-health counseling, and will have the felony charge dropped when he completes the program, WNBC-TV reports.

He had previously pleaded not guilty to various felony counts of reckless endangerment and criminal mischief.
Credit: Splash News Online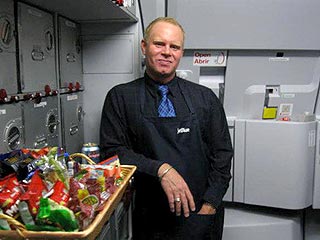 Originally posted 09/07/2010 11:15AM
Will Steven Slater be able to slide away from his legal troubles?

The former JetBlue flight attendant, who became a folk hero after jumping out of an emergency exit to flee an allegedly abusive passenger last month, is working on a plea deal with prosecutors, his attorney said in court on Tuesday, WNBC-TV reports.

The case was adjorned until next month as the lawyers continue to work on a deal.
Credit: Splash News Online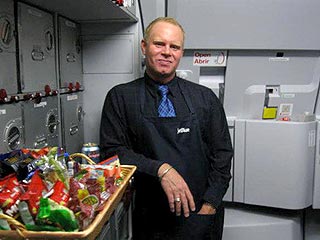 Originally posted 08/13/2010 06:50AM
After allegedly cursing out passengers and exiting the plane down a chute – symbolically ending his 20-plus-year career as flight attendant – former JetBlue employee Steven Slater wants to resume flying, even for his former airline.

This dramatic change of heart was expressed at a press conference outside Slater's Queens, N.Y., home on Thursday, reports NBCNewYork. With his client standing at his side, Slater's Legal Aid attorney, Howard Turman, told reporters, "JetBlue is a wonderful airline which he has loved working for, and wishes to continue working for. He understands the problems, but it has been a fair and understanding airline."

Slater, 38, has been charged with criminal mischief, reckless endangerment and trespassing. He remains free on $2,500 bail. If convicted, he could face up to seven years in prison.
Originally posted 08/12/2010 08:55AM
Several passengers aboard the plane from which Steven Slater so
dramatically disembarked
say the JetBlue flight attendant seemed agitated and was being rude himself long before the alleged confrontation that led to his exit – though Slater's ex-wife says she finds that all but impossible to believe.
One passenger on the flight from Pittsburgh to New York said Thursday on NBC's
Today show
that Slater, 38, was rude to her at the very beginning of the trip, when she asked for a wipe to clean her seat.
"He said, 'Not right now, honey. Maybe when we get in the air. I have to take care of myself first,' " said Lauren Dominijanni. "He actually made me feel pretty uncomfortable. I just let it go after that point."
Credit: Getty(2); Splash News Online; Filmmagic(2); Wireimage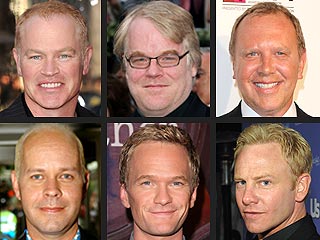 Originally posted 08/11/2010 04:20PM
It sounds like the plot of an aviation-themed remake of Office Space: Flight attendant gets fed up with defiant jetsetter, loses temper, tells off plane passengers via PA system – and then, after helping himself to some bottles of beer, makes his grand exit down the emergency escape chute.

Forget Capt. Sully – Steven Slater, the headline-making Jet Blue flight attendant, is the new folk-hero of the skies.

With his stick-it-to-the-man outburst, Slater has acquired a cult following – and not just from fellow flight attendants with peanut-bag-throwing dreams – as the debate ensues whether he, in fact, is a hero or a felon.
Credit: inset: Splash News Online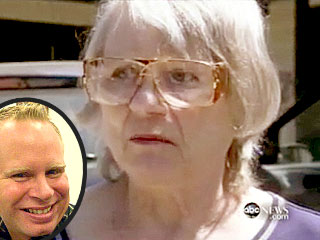 Originally posted 08/11/2010 11:00AM
JetBlue flight attendant Steven Slater's mother Diane, whose battle against lung cancer has reportedly been stressful for her son in recent months, has leaped to his defense – saying she might have behaved even more outrageously in his position.

"Nobody should be abusing anybody, and I understand why he snapped," Diane, 75, herself a former flight attendant, tells the New York Post. "I would have snapped, too. In fact, I probably would have snapped more."

Slater's ex-wife, Cynthia Neithamer, said she was shocked by the dramatic, potentially criminal way in which Slater, 38, walked off the job Monday after an altercation with an allegedly abusive passenger – by grabbing a beer, activating the plane's emergency exit, sliding down it, running off to his car and driving home.

Slater "has been a fantastic and devoted flight attendant," Neithamer told the Post. "I'm just really surprised [at what he did] because he really loves his job."
Credit: Splash News Online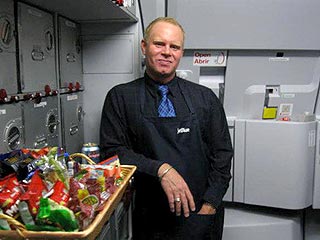 Originally posted 08/10/2010 07:00PM
Steven Slater developed an instant cult following when he abruptly quit his job as a JetBlue flight attendant Monday, cursed over the loudspeaker, grabbed some beers, then bolted via the emergency chute.

But the flamboyant flight attendant's crash landing seemed to cap off what appears to be a gleeful 20-year career in the friendly skies.

According to photos posted on his Facebook and MySpace sites, Slater began his career at SkyWest Airlines. "I was 19!!! And THIN!!!" wrote Slater, whose father was also reportedly in the airline industry.
Credit: Splash News Online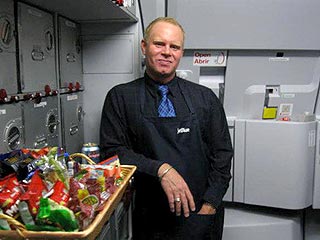 Originally posted 08/10/2010 02:50PM
The airline industry's latest headline-maker didn't help land a plane safely or tackle any terrorists. According to police reports, he cursed out a passenger, grabbed a few beers, abandoned the plane using its emergency chute, then called it a day.

But that hasn't stopped many – including thousands of supporters on the Internet – from labeling JetBlue flight attendant Steven Slater a hero.

He "did what everyone always wanted to do but never did," says the "Free Steven Slater" Facebook page – one of many overnight shrines for the 39-year-old, who quit his job in dramatic fashion on Monday.
Advertisement
The most buzzed about stars this minute!
Treat Yourself! 4 Preview Issues
Got a News Tip?
Send it to our People.com editors!