03:56 PM EDT 07/10/2016
Teri Hatcher
Credit:

Courtesy Teri Hatcher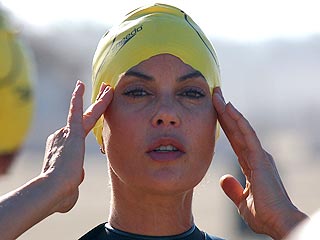 Originally posted 09/07/2009 07:00PM
Teri Hatcher and a friend were recently discussing what would be on her "bucket list," a list of things to do before she dies.

So what's on it? "I want to learn to play a couple of songs on the guitar. I want to learn a few of those fancy dances from one of those Dancing with the Stars teachers. And I want to run a triathlon," the Desperate Housewives star tells PEOPLE.

The timing was perfect for Hatcher, when her show's parent company Disney asked her to lead a team in this year's Nautica Malibu Triathlon on Sept. 13. In addition to checking off an activity from her bucket list, 44-year-old Hatcher is also raising money to benefit the Children's Hospital Los Angeles.
Credit: Jean Baptiste Lacroix/WireImage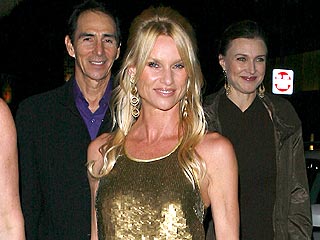 Originally posted 04/19/2009 06:55AM
With Sunday night bringing the final episode of Desperate Housewives to star original cast member Nicollette Sheridan – who is leaving the show for good – her neighbors on Wisteria Lane gathered to pay brief tribute to her during a panel discussion about Housewives at the Paley Center for Media in Los Angeles.

According to James Denton (the actor whose plumber Mike on the ABC show was the object of Sheridan's character Edie's insatiable lust), at the table-read of the first script that would not feature Sheridan, she took a moment to address the writers and actors. "She said, 'While you're all together, I'm here to say thank you for everything. You guys are great. You guys are awesome,' " Denton said.

"She walked out of the room, and Felicity [Huffman] looked at me and said, 'Classy,' and it sure was."
Credit: Paul Morigi/WireImage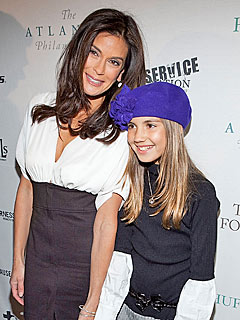 Originally posted 01/20/2009 10:45AM
It's not only the stars turning out for the history-making inauguration of Barack Obama – they're bringing along their children.

Terri Hatcher walked the red carpet holding hands with her daughter, Emerson Rose, at Sunday's Huffington Post gala at the Newseum. "I'm really excited," said Emerson, 11. "It's just, like, so amazing how history's being made right now. It's really important."

Added her mom: "Whether we're standing a mile away and actually see anything or not, I feel like it's a day she'll remember sharing with me 20 years from now."
Credit: Jesse Grant/WireImage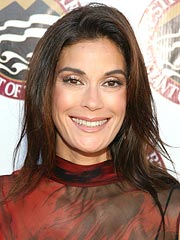 Originally posted 12/12/2008 02:40PM
Skin care company Hydroderm has apologized to Teri Hatcher and has retracted allegations that the Desperate Housewives star endorsed a rival product.

"Teri Hatcher is a woman of the highest integrity. We sincerely apologize for the adverse publicity resulting from our lawsuit," says Hydroderm spokesperson Joshua McCleary.

Hatcher also received an undisclosed amount of money.

Last year, Hydroderm alleged in a $2.8 million lawsuit that Hatcher had entered into an "exclusive endorsement deal" in 2005, only to sing the praises of City Cosmetics. The actress responded that she had "done absolutely nothing wrong" and vowed to aggressively fight the lawsuit, which went into arbitration.

A statement released Friday said, "Hydroderm LLC has specifically retracted all accusations made against Teri Hatcher including that she endorsed any competing products."
Credit: Jesse Grant/WireImage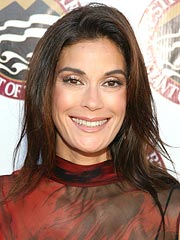 Originally posted 09/09/2008 03:00PM
CORRECTION: PEOPLE.com's Sept. 5 story below incorrectly paraphrased Teri Hatcher's column for the British Glamour magazine. As she wrote in her column, Hatcher's advice to have "great sex ... (and) eat the chocolate" were statements she feared she would make in a frantic state, and did not reflect her real advice. "That's not what I wanted my daughter to know, at all," Hatcher wrote, before listing her more thoughtful suggestions, such as "Give love," "Be honest," "Work hard," and "Enjoy yourself." PEOPLE.com recommends reading the original Glamour article and apologizes for the error.

Teri Hatcher has motherly advice for her daughter – and the Desperate Housewives star is only too eager to share it.

"Have great sex [and] eat the chocolate," the single mom advises 10-year-old Emerson – and the general reading public – in Hatcher's October column for Britain's Glamour magazine.

Other pointers: "Don't sit on public toilet seats and make sure to floss. … Life's too short to stress; you'll be able to get past anything difficult; the sun will rise tomorrow; you are beautiful; you are lovable."
Credit: Brian Lowe/JPI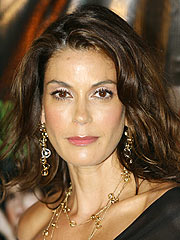 Originally posted 08/22/2008 10:55AM
The former uncle Teri Hatcher helped put in prison has died of colon cancer at 70, six years after being sentenced to 14 years behind bars for molesting two young girls, one of whom committed suicide, reports the San Jose Mercury News.

There has been no comment from Hatcher.

In 2006, the Desperate Housewives star went public with the revelation that Richard Hayes Stone – the then-husband of her mother's sister – molested her in the late 1960s and early '70s, when she was no more than 7.
Credit: Jesse Grant/WireImage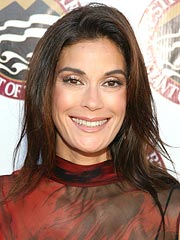 Originally posted 02/05/2008 08:30AM
A Los Angeles judge threw a big kiss to Teri Hatcher on Monday, ruling that a skincare line company's lawsuit against the star should be settled in arbitration and not in a court of law.

In its Superior Court lawsuit filed in December, Hydroderm accused the actress, 43, of breaching their 2005 "exclusive endorsement deal" by endorsing rival City Cosmetics.

The Desperate Housewives star even posed for pictures applying CityLips pout plumper (a direct competitor to Hydroderm's Volumizing Lip Serum), the $2.8 million suit alleged.
Credit: Jesse Grant/WireImage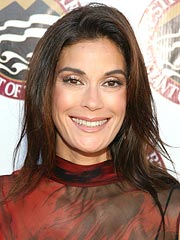 Originally posted 12/06/2007 05:20PM
Teri Hatcher has "done absolutely nothing wrong" in her endorsement deal with skin-care company Hydroderm, she contends in a legal response filed Thursday to a $2.8 million lawsuit.

"Contrary to the wild and unsupportable allegations of [Hydroderm], Ms. Hatcher has not entered into agreements with any other cosmetic or skincare companies," the papers say.

Los Angeles Superior Court Judge Helen Bendix sided with Hatcher on Thursday, denying Hydroderm early access to the Desperate Housewives star's business records.
Credit: William Scott /Ad Media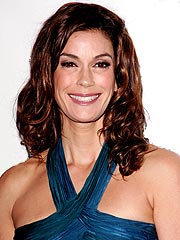 Originally posted 12/05/2007 06:00AM
Has Teri Hatcher been paying lip service to competing cosmetic companies?

According to a lawsuit filed Tuesday in Los Angeles Superior Court, the 42-year-old actress signed an "exclusive endorsement deal" with Hydroderm in 2005 – only to sing the praises of City Cosmetics.
Credit: William Scott /Ad Media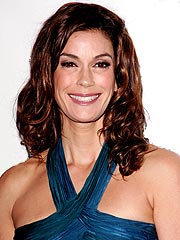 Originally posted 10/29/2007 09:15AM
"I might do a lot of things if the money gets higher. No kissing until final payment! But it will be worth your while."

• Teri Hatcher auctioning off a one-of-a-kind Teri Hatcher doll for $20,000, and the Badgley Mischka dress and shoes she was wearing, along with a dinner date, to Mattel CEO Bob Eckert for an additional $25,000 benefiting the Children Affected by Aids Foundation on Saturday.
–Shayna Rose Arnold
Advertisement
The most buzzed about stars this minute!
Treat Yourself! 4 Preview Issues
Got a News Tip?
Send it to our People.com editors!