02:22 PM EDT 01/28/2015
Vivica A. Fox
Update
Posted 03/22/2007 10:20AM
Originally posted 03/21/2007 06:00PM
Actress Vivica A. Fox was arrested on suspicion of driving under the influence Tuesday night, according to the California Highway Patrol.
Credit: Orlando Garcia/JPI
Originally posted 12/19/2006 09:00AM
There's no moss growing on Vivica A. Fox's feet after her run on Dancing with the Stars. But there may be ink on her fingers.
Credit: ADAM LARKEY/ABC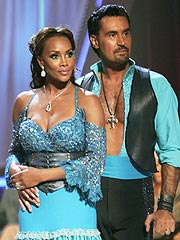 Originally posted 10/05/2006 09:00AM
After last week's Dancing With The Stars upset in which Harry Hamlin was kicked off, this week saw Vivica A. Fox – one of the show's stronger dancers – eliminated.
Credit: ADAM LARKEY/ABC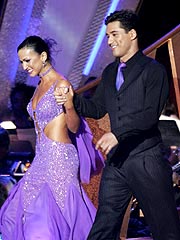 Originally posted 09/21/2006 06:00AM
Over Here, Mario!Mario Lopez was like a fly darting around after Tuesday night's show. While chatting with PEOPLE, he jetted over mid-sentence to talk to a friend. His small-but-mighty partner Karina Smirnoff took control and yanked him back to her side. "We are still talking here," she reminded him. A contrite Lopez apologized and flashed his dimples. "Oh, I'm so sorry. Where were we?"
Credit: Kevin Winter/Getty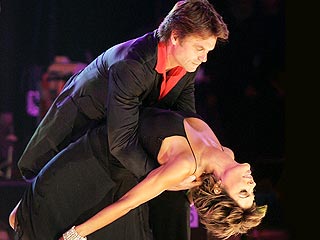 Originally posted 09/15/2006 06:00AM
Harry Hamlin is taking his stint on the third season of Dancing with the Stars so seriously that he's even taking his work home with him. "I'm going to tell you something no one knows," admits wife Lisa Rinna. "(Harry) bought a dance floor for our house. It's on our deck in the backyard. We practice at the same time because I'm still dancing, but we have not practiced together because I don't want to mess him up."
Originally posted 06/09/2006 05:15PM
Lots of people take it easy during the summer but Vivica A. Fox says she plans to do a lot of hard work – by getting in shape for the next season of Dancing with the Stars.
Credit: Dana Bateman/Camera Press/Retna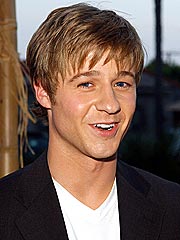 Originally posted 03/03/2005 06:00AM
Sure, they're famous now, living glamorous celebrity lives. But what about that very first acting job? We just had to ask: • Benjamin McKenzie (The O.C.): "My first paid acting gig was an off-off Broadway play called Life Is a Dream. I got $750 for a six-week run, or something like that. It was about enough for a sandwich and orange juice at the deli in the morning and a bottle of beer at night. So I did a little bit of almost unpaid theater in New York – and I am so thankful I had the experience, a little taste of the experience of what it is to be an actor trying to make it because it has really high highs and really low lows." • Vivica A. Fox (Ella Enchanted): "Mine was running from zits on Melrose Boulevard for a Clearasil commercial. 'Don't let the zits catch you! Don't let the zits catch you!' I was running from this imaginary thing. It was scale pay, about $400." • Kevin Bacon: "My first paid acting gig was a recruiting film for the military. My mother was a very, very staunch antiwar activist, as I am now, and she basically said, 'You can't do this.' And I said, 'I am an actor, I have to work.' And it was a very seminal point in our lives. She didn't talk to me for days."
Originally posted 04/05/2004 5:39PM
April 6, 2004 BLOODY GOOD FUN One thing Vivica A. Fox doesn't have to worry about these days is being type-cast. The actress, 39, plays Anne Hathaway's fairy godmother in Ella Enchanted (opening Friday) – and then a week later appears briefly in Quentin Tarantino's violent action thriller Kill Bill, Vol. 2. "I was very fortunate," Fox tells Daily Insider about her Ella Enchanted role. "Originally this role was written for a 40-year-old white woman, and they said, 'We wanted to change things up.' They wanted to make it sassy, so they came and got Vivica, who you know will bring a little bit of sass." As for her experience on the Kill Bill set, let's just say it was ... different. "Gosh, I had no idea that we were going to be so bloody," she says. "Quentin kept saying, 'More blood. Spritz her!' By the end of every day I looked like black Carrie, from Carrie the movie. I just was covered in spritz and Vaseline and blood."
Originally posted 03/17/2004 01:35AM
March 17, 2004LOVE LESSONS When it comes to love, actress Vivica A. Fox is predicting good things for her pal J.Lo: "Jennifer is going to be fine. When one bus takes off, I guarantee you another one will pull up," she tells Daily Insider. "The men will continue to line up, honey. They'll be glad when one gets out of the way. She is a beautiful girl with a great body and she's rich. She's fabulous. She will have no problem finding another guy." Any advice? "She will just learn, like I have learned in my past dealing with relationships, to keep them private."
Advertisement
The most buzzed about stars this minute!
Treat Yourself! 4 Preview Issues
Got a News Tip?
Send it to our People.com editors!