06:13 AM EDT 12/22/2014
William Shatner
Credit:

Alcon Entertainment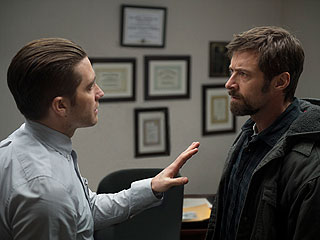 Originally posted 09/20/2013 02:00PM
Hugh Jackman goes extra dark in Prisoners, but the real surprise, says PEOPLE's critic, is the late James Gandolfini showing his lighter side in Enough Said.
Originally posted 03/01/2013 11:00AM
The captain of the Enterprise has landed behind home plate at Boston's venerable Fenway Park.

William Shatner, 81, is no stranger to kooky parody, from his recent Oscar cameo to his Priceline.com ads. Now, he'll portray a home plate umpire for the Boston Red Sox in a baseball–inspired video for crooner Brian Evans. See the trailer below.

"It's my fantasy, my field of dreams," Evans, 42, said in a press release of the campy video for the song, "At Fenway," produced by Narada Michael Walden. "Shatner as the home plate umpire is as iconic as the ballpark itself."
Credit: Zuma; Inset: Getty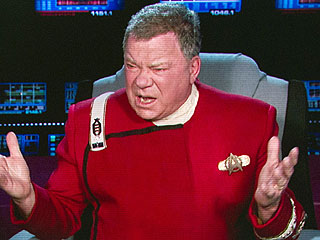 Originally posted 02/26/2013 11:30AM
So, how does it feel to have your name dropped before a billion people?

Surprising, says TV Guide business editor Stephen Battaglio, who was part of the lively opening exchange between Oscar host Seth MacFarlane and intruder from the future William Shatner.

In a spoof (and a screen grab), the Star Trek captain showed the Family Guy guy what would be his upcoming review from Battaglio.

"I didn't know it was coming," Battaglio writes on TV Guide's website. "I was watching the show at home with my wife. Staring at the byline, it took a few seconds to absorb."

And once it did, he says, "every electronic device in our apartment was ringing, buzzing, pinging or vibrating."

For the writer's full reaction, click here.
– Stephen M. Silverman
Credit: Priceline.com/AP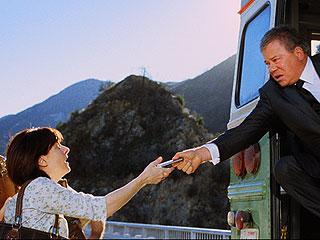 Originally posted 01/21/2012 11:35AM
After 14 years, "The Negotiator" will be no more.

William Shatner is leaving his role as pitchman for the online travel site Priceline.com, and he is not going softly into his good night. He's falling off a cliff. And dying.

Still, Shatner being Shatner, he first rescues a bus that's about to plummet. "Save yourselves … some money," he advises passengers in his final words.
Credit: Ron Wolfson/Landov; Jamie McCarthy/WireImage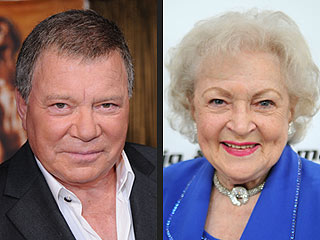 Originally posted 09/15/2010 10:15AM
"She's really old. I think of her as an old friend. I mean an old friend. But listen, she's got moves you wouldn't believe. She's totally flexible in the hip area. Her arms are stiff, but the hips? Totally flexible."

• William Shatner, joking in the October issue of Playboy, on sale Sept. 17, about what the Golden Girl, 88, could teach a young "whippersnapper" like himself – who's 79.
Credit: Ron Wolfson /Landov, Jesse Grant/WireImage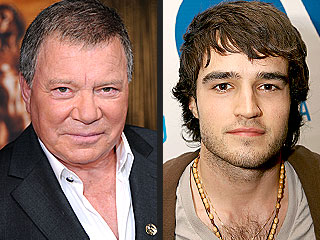 Originally posted 02/02/2010 06:20PM
William Shatner paid tribute Tuesday to Boston Legal costar Justin Mentell, who was killed in an car accident in rural Wisconsin.

"I'm deeply saddened to hear about Justin Mentell," Shatner wrote on Twitter. "There's no telling how far up the ladder he may have climbed. My sympathies to his family."

Mentell, 27, who played attorney Garrett Wells on the ABC show from 2005 to 2006, was found dead Monday near his crashed Jeep, the Associated Press reports.
Credit: Ron Wolfson /Landov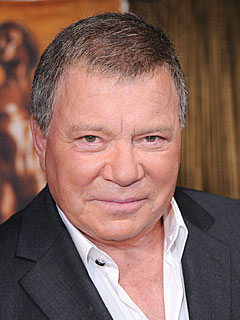 Originally posted 05/19/2009 01:30PM
While the Star Trek franchise he helped make famous is achieving success at warp speed at the box office, the original Captain Kirk is exploring the final frontier of cyberspace.

In The Gavones, his new YouTube cartoon, William Shatner directs and voices Don Salmonella Gavone, who's struggling to pick an heir from his four misfit sons. The pilot episode has just been posted, with the next installment due out within a month.

Think of the Gavone family as the-Sopranos-meets-Hollywood, says Shatner.

"It's the mafia in Hollywood trying to make a hit – and half the family think it's murder and the other half thinks it's a movie," Shatner told PEOPLE.com exclusively. "It's a comedic Soprano family."
Credit: Mike Guastella/WireImage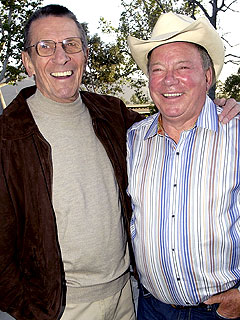 Originally posted 05/12/2009 09:50AM
On the heels of the hit film rebooting the classic Star Trek story, PEOPLE opens hailing frequencies with the classic cast of the original Trek: where they've boldly gone, what the Trek phenomenon means to them – and what they think of their new counterparts.

William Shatner (Capt. James T. Kirk)
RECENT WORK: An Emmy-winning turn as Denny Crane on ABC's Boston Legal; hosts Shatner's Raw Nerve talk show on Bio; 2008 memoir Up Til Now; Priceline.com commercials.

NEXT UP: The documentary Gonzo Ballet, dance performances of six songs written with musician Ben Folds.
Credit: Frank Mullen/WireImage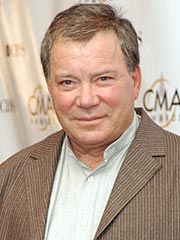 Screen Actors Guild Awards 2009
Originally posted 01/14/2009 06:55PM
William Shatner has been selected to officially open the red carpet at the Screen Actors Guild Awards, raising a glass of Taittinger champagne in the pre-show tradition that opens the floodgates for celebrities. The Screen Actors Guild Awards airs Jan. 25 at 8 p.m. on TNT and TBS.
Credit: MM/ABACA; Alex Berliner/BEImages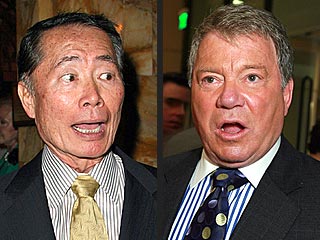 Originally posted 10/24/2008 11:15AM
Star Trek's George Takei says former costar William Shatner has no right to be offended about not being invited to Takei's recent wedding – because Shatner actually was invited but never bothered to show up.

Shatner, 77, recently posted a YouTube rant in which he accused Takei, who worked with and has known Shatner for nearly 40 years, of snubbing him – and possibly being psychotic.

Takei tells Entertainment Tonight that it was Shatner who was being petty about the wedding, which many of the remaining original Star Trek alums attended – but not the man who played Captain Kirk.

"It is absolutely baffling to us because, in fact, we did invite Bill and we didn't hear from him," Takei, 71, says. "But it wasn't surprising because it's true to his history. He's never responded to an invitation. Every time there was something happy to celebrate amongst us ... he never showed up. – Michael Y. Park
Advertisement
The most buzzed about stars this minute!
Treat Yourself! 4 Preview Issues
Got a News Tip?
Send it to our People.com editors!