Latest Sightings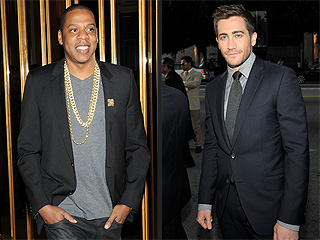 Who even knew they were friends?

Surprise besties Jake Gyllenhaal and Jay-Z kicked back at the rapper's 40/40 Club in New York City Monday night, watching the NCAA championship basketball game in the Owner's Lounge.

The two, joined by Swizz Beatz and Timbaland, exchanged a big hug when they met up, then spent the evening snacking on the club's signature wings and sipping D'Usse cognac.

"No one was clearly rooting for one team over the other," a source tells PEOPLE, but "the group could be heard cheering excitingly throughout the entire game."

After Louisville beat Michigan, 82-76, the men called it a night, leaving the club one by one.
– Carlos Greer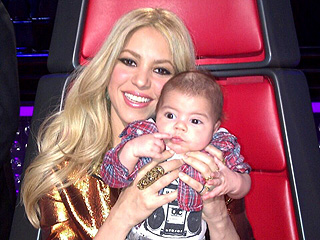 We have a winner!

Shakira melted the hearts of The Voice audience members at the show's battle round taping on Tuesday evening in Burbank, Calif., when she showed off her new son, Milan, born in January.

While on a break between contestant performances, the singer beamed when she was handed her baby boy. Holding her son up so the cheering audience could see him, Shakira then sat back down in her red chair, cradling her babe while their picture was taken.

The show's host, Carson Daly (also a dad), went right over and starting 'oohing' and 'ahhing' at Shakira's little guy, while coaches Blake Shelton and Adam Levine took quick peeks before returning to their seats.

Moving Milan to the beat of fellow mentor Usher's "OMG," Shakira "was nothing short of a proud and doting mom," an onlooker tells PEOPLE. But just before the break, the 2½-month-old started to fuss – loud enough that his little cries echoed through the whole studio. After the crowd let out a cute 'aww,' Shakira handed her baby off to be taken backstage – but not before puffing out her bottom lip in protest. – Jessica Herndon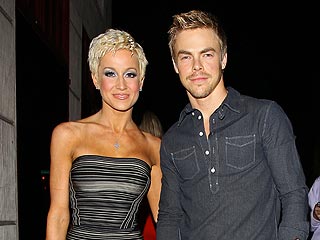 They're pals even off the parquet!

After performing together on Dancing with the Stars this week, Kellie Pickler and pro Derek Hough enjoyed a night out with fellow DWTS pals (and Picker's husband Kyle Jacobs) at the Sayers Club in L.A.

The country star, in skinny black pants and a black sweater, spent most of her time with her hubby and a brunette friend – but then she was front and center as Mark Ballas took the stage (at 12:35 a.m.) for a seven-song concert. Pickler was spotted cheering and clapping along to the music, though by the fourth song or so, she seemed to be a bit tired and headed over to the tables where her dance partner Hough was watching the show.

Pickler caught the rest of the show at the table, sipping water from a bottle, before heading out with her hubby.
Entertainment
Los Angeles, CA
to my to do list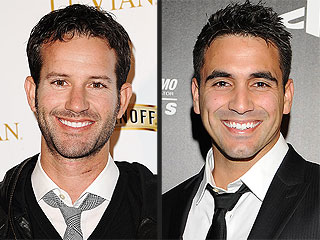 What a (charitable) success!

Fans of The Bachelor and The Bachelorette raised close to $60,000 for the Chris4Life Colon Cancer Foundation during a recent auction at the SLS Hotel in Beverly Hills, Calif., and the reality show contestants were out in full force.

Recently single Kiptyn Locke and Roberto Martinez – who auctioned themselves off for a rugged day date, that included horseback riding, a surfing lesson and a fireside hangout on the beach – hung out together for much of the night and got a ton of attention from female attendees. But neither guy was looking for romance. They truly were there for the charity.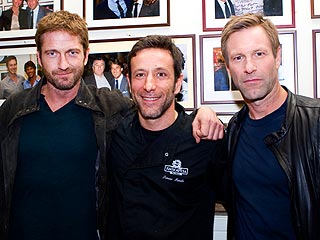 When in Rome ... Gerard Butler dines like he's in Brooklyn!

Over the weekend, the actor was spotted checking out the original Antica Pesa outpost with girlfriend Madalina Ghenea. The couple enjoyed lunch on Saturday afternoon with Butler's Olympus Has Fallen costar Aaron Eckhart.

The actors were in Italy to promote their new flick, and they were were greeted personally by the restaurant's chef-owner Simone Panella, who prepared a selection of farm-to-table dishes for the stars. The two actors even posed with Panella and will join other celebrity guests on the wall of fame.

Their appetizers included artichoke and ricotta cheese pie; prosciutto and mozzarella cheese; octopus salad with Roman broccoli; grilled vegetables and a fresh vegetable followed by a small tasting of cacio e pepe pasta.

And for dessert they also indulged in tiramisu, white chocolate semifreddo and creme brulée – all while smoking Cohiba cigars.
– Kristin Boehm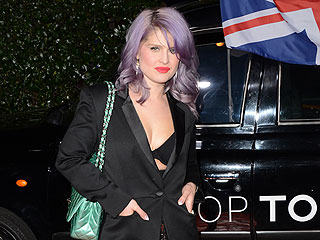 Kelly Osbourne is back to her fun-loving ways.

The Fashion Police co-host stepped out at Hollywood hotspot AV on Monday night.

Seated at "the center table on the dance floor," Osbourne's health scare – she suffered a seizure on March 7 – appeared to be far behind her.

The E! red carpet correspondent spent the night out with some of her British friends who were "all young and good looking," an onlooker tells PEOPLE.

The group "danced to an eclectic mix of songs played by DJ Snoop Lion," the source adds. "Lots of rap and a bit of soul and reggae."
– Raha Lewis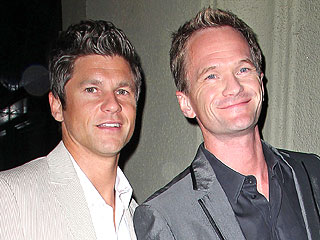 Neil Patrick Harris has embarked on the ultimate adventure – except he's got no idea where he's going.

The How I Met Your Mother actor is currently on a cross country scavenger hunt put together by his partner David Burtka for his birthday … three months early.

The celebration began on Saturday with a surprise party for Harris – who will turn 40 on June 15.
Star Hot SpotsWhere Celebs Play
More Photos
Advertisement
Check in like a superstar!
A-List Shopping
Get a star-worthy wardrobe at these spots
The most buzzed about stars this minute!