Blake Lively: Latest Sightings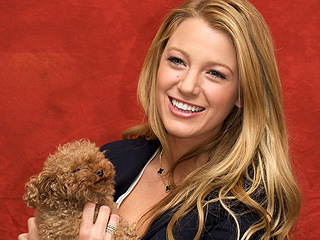 That's one prized pooch!

Blake Lively took her Maltipoo Penny to the vet in Sudbury in Ontario, Canada, last Thursday and a lucky fan caught it all on Twitter.

@Larissakozoriz Tweeted that she met the Gossip Girl actress during her stop into the vet's office, writing "Well my wish came true met Blake lively!" and sharing a photo with her followers.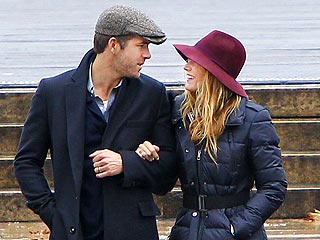 Baby, it's cold outside!

Blake Lively and Ryan Reynolds bundled up and headed into New York's Nobu 57 on Monday evening.

The couple – who live just outside the city in quaint Bedford, N.Y. – entered the Robert De Niro co-owned restaurant wearing their winter best.

"They were both dressed casually. [Ryan] had a knit hat on and a few days' worth of facial hair," an onlooker tells PEOPLE.

Upon walking into the restaurant, Lively, who wore a "cute bright green puffer jacket," was "doing something with her phone," the source adds.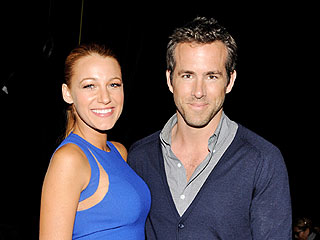 Newlywed bliss! 

Just days after their surprise wedding at a romantic location, Blake Lively and Ryan Reynolds were spotted nearby in Charleston, S.C., on Tuesday. 

"They were just being so cute, holding hands, shopping and waving at people who were saying congratulations. [Lively] was so cute! She was smiling the whole time," an observer, Erin Ponton, tells PEOPLE.

Dressed casually – Reynolds wore a blue pinstriped shirt and khakis and Lively had on in a knee-length white dress – the couple strolled along King Street.

"[They went] into a Louis Vuitton store, not paying too much attention to anyone in the world but [each other]," Ponton adds.
– Sara Hammel
Sweet emotion!

Blake Lively celebrated her 25th birthday a few days early on Thursday at Serendipity 3 in New York City with boyfriend Ryan Reynolds.

The couple, who were recently spotted hitting the gym, both donned hats – Reynolds, 34, in a newsboy hat, and Lively in a fedora – as they indulged in one of the restaurant's trademark Peanut Butter Frrrozen Hot Chocolate and hot fudge sundaes with sides of peanut butter.

"They were very attentive to each other, sitting close and very into each other," an onlooker told PEOPLE.

"They were oblivious to what was going on around them," adds another source.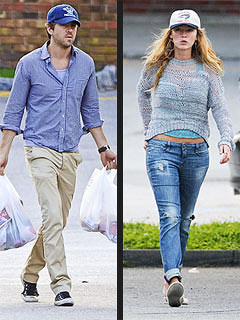 They're stocking up!

Blake Lively and Ryan Reynolds, who began settling into a $2 million, five-bedroom, colonial-style home in Bedford, N.Y., in May, were spotted out together earlier this week nearby with bags of groceries.

The couple, who've been linked since last fall after costarring in Green Lantern, are also decorating their comfortable new abode.

Lively, 24, recently purchased $1,000 worth of knobs at Anthropologie, PEOPLE reports in its newest issue (out now). She's also been eyeing chandeliers a Westport, Conn., antique shop Parc Monceau.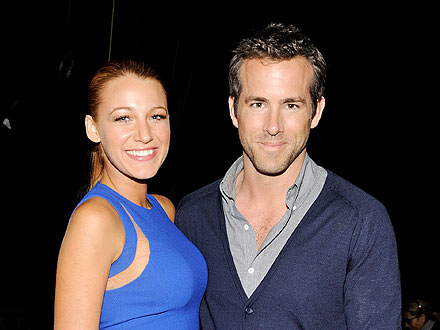 Blake Lively and beau Ryan Reynolds didn't have to venture too far to experience an Italian feast.

The cohabitating couple made their way to two different Italian restaurants in Washington, D.C., in less than 24 hours.

Starting with dinner Wednesday night at Graffiato, the pair dined with another couple.

"They were all dressed very, very casual," a source tells PEOPLE. "Blake had messy hair underneath a straw fedora. She was wearing shorts."

The group, which only ordered water to drink, also selected roasted cauliflower, a couple of pizzas, crispy potato gnocchi, asparagus soup and a trio of desserts.

Clearly gnocchi is a favorite for the pair, who ordered it a second time when they had Italian for lunch the following day.

Popping into Sette Osteria, the lovebirds and another couple, dressed casually once again, added a crab cake sandwich from the menu.

Seeming "very happy," according to an onlooker, the group didn't order dessert and "left one by one so they wouldn't get peoples' attention."
– Wendy Grossman Kantor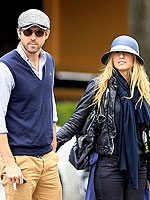 Shortly after a weekend of bonding with Ryan Reynolds's family in Vancouver, Blake Lively and her boyfriend kept the family fun coming during their vacation.

On May 7, the couple was spotted taking a ferry to the Vancouver Island city of Nanaimo. A few hours later, they were seen dining at the Blue Ginger Restaurant downtown along with Reynolds's brother and his wife.

"The couple came in and had a very enjoyable evening," a source tells PEOPLE. "They were both casually dressed and sat with their backs to the rest of the room. They stayed for a couple of hours and enjoyed several Asian dishes off the menu."

On Tuesday afternoon, Reynolds and Lively were spotted at the Duke Point Ferry Terminal, where they picked up drinks and sandwiches before boarding the boat for the approximately two-hour ferry ride back to the mainland.
– Christine Kilpatrick
Check in like a superstar!
Shop like a Star
The most buzzed about stars this minute!