Cameron Diaz: Latest Sightings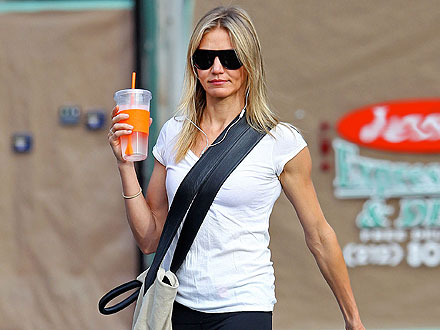 A week after helping BFF Drew Barrymore celebrate her wedding with Will Kopelman, Cameron Diaz was spotted out with some different friends – for a much more low-key affair.

Making her way to the Los Angeles County Museum of Art (LACMA) on Friday, Diaz and her group popped into their eatery, Ray's and Stark Bar.

"Cameron was with a few other women and a young boy," an onlooker tells PEOPLE of Diaz's trip to the Mediterranean-inspired restaurant, where she and her guests dug into salads. The onlooker adds, "She was very friendly" during her visit.
– Dahvi Shira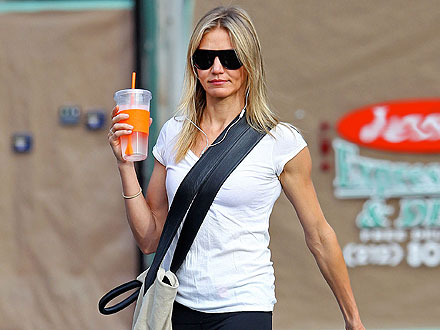 Fitness buff Cameron Diaz skipped music or headphones, opting to chat with a male friend while burning calories on the elliptical machine at Equinox West Hollywood. The actress, sporting a cropped new do, sipped water and a Body Factory shake as she worked out. While other gym-goers occasionally checked out the actress, she was able to work out in peace. Says an onlooker: "She seemed really happy and in good spirits."
Fitness & Outdoors
New York, NY
to my to do list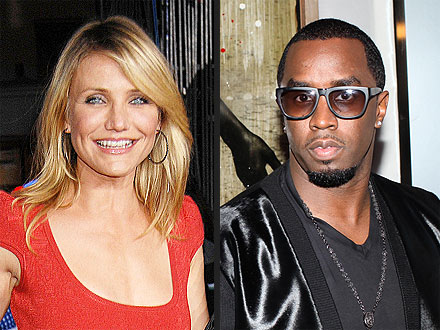 Nearly a month after they were spotted together at lunch, Cameron Diaz and Diddy are keeping those dating rumors alive after a cozy night out at New York's PH-D Rooftop Lounge atop the Dream Downtown Hotel. The actress started her night at Marble Lane Restaurant with a large group of friends before heading up to the roof after midnight. Diddy joined their table around 1:15, and ordered bottles of booze for the table, where Diaz was dancing with her friends and drinking, too. According to a source, the table was packed and "Cameron and Diddy were very affectionate." Still, a rep says the two, who left the club with their friends around 3:15 a.m., are not an item. "They are friends and are not dating," the actress's rep tells PEOPLE.
– Carlos Greer and Julie Jordan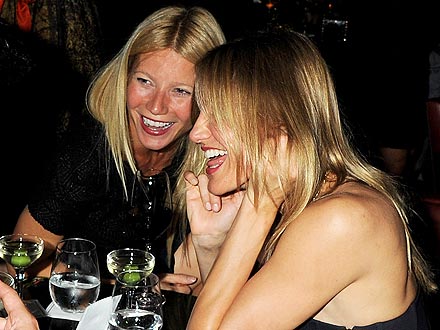 Talk about girl power: Gwyneth Paltrow, Reese Witherspoon and Cameron Diaz enjoyed a laughter-filled dinner out at Soho House in Los Angeles. The ladies, there with two guy friends, were dressed casually, and shared wine and "plenty of fun conversations," a source tells PEOPLE. After Witherspoon left, Paltrow and Diaz each took to storytelling, cracking up their fellow dinnermates again and again. Paltrow was also greeted by a few Glee stars, and would give each a kiss as they came to say hello. – Jennifer Garcia
Hotels & Travel
New York, NY
to my to do list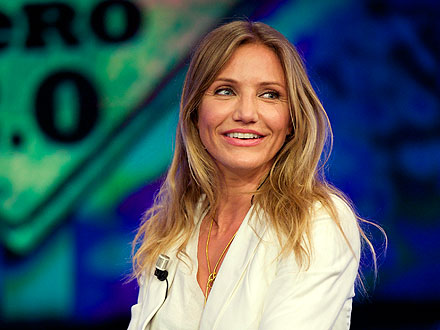 Cameron Diaz and Diddy were spotted enjoying lunch together at Scarpetta in Beverly Hills. The two were alone for the first part of the meal, and then were joined later by a male who appeared to be a business associate. For their lunch, the group enjoyed wine, as well as two pasta dishes, steak and chicken. As for the nature of the lunch, well, it was business focused, says Diaz's rep. "Cameron and Sean are longtime friends and fans of one another's work," her rep tells us. "They have been seen together recently because they are developing a film project."
– Jennifer Garcia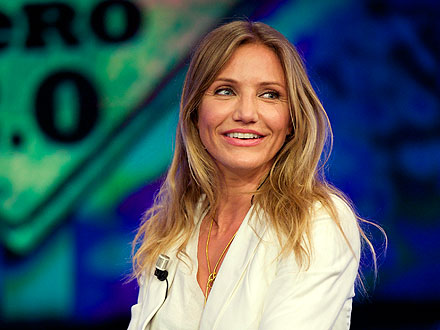 File under: new friends? Cameron Diaz and supermodel Naomi Campbell relived the good old days at Studio 54 in New York during a SiriusXM soiree. The ladies chatted and danced the night away together at the '70s-themed bash, which marked the launch of Studio 54 Radio. And it was a star-studded affair: Bethenny Frankel twirled by on the dance floor along with Bravo's Andy Cohen. Also there: Ryan Phillippe and Keith Richards. – Carlos Greer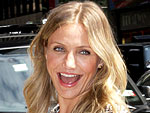 Cameron Diaz is embracing her temporary life in Atlanta – starting with the food! In town to film What to Expect When You're Expecting, the actress enjoyed a southern-themed lunch with her mom on the patio at South City Kitchen. The pair shared fried green tomatoes with goat cheese, as well as fried okra, and also got a surprise visit from costar Chris Rock, who was passing by the restaurant and stopped in to say hello. "The hugged and took pictures with bystanders," a restaurant source says.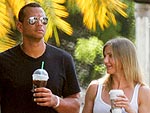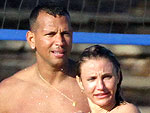 Ready to sweat in black leggings and a white tank, Cameron Diaz met baseball star boyfriend Alex Rodriguez for a workout at Equinox South Beach on Tuesday. The lovebirds both hit the Stairmaster, burning calories for nearly an hour. Days before, they'd teamed up for a romantic dinner at Casa Tua in Miami Beach. "They were real low key and just wanted to be alone and talk," a source tells PEOPLE of their meal.
Fitness & Outdoors
New York, NY
to my to do list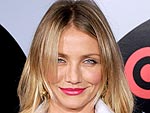 On the other end of the spectrum, Cameron Diaz dropped $1,195 on a Hanii Y leather motorcycle jacket while shopping at Beckley Boutique inside Las Vegas's Cosmopolitan Hotel. And that wasn't all she bought: During her leisurely trip, the actress also picked up a pair of Elizabeth & James pumps ($299) and a Lauren Merkin clutch ($180).
Check in like a superstar!
Shop like a Star
The most buzzed about stars this minute!