John Mayer: Latest Sightings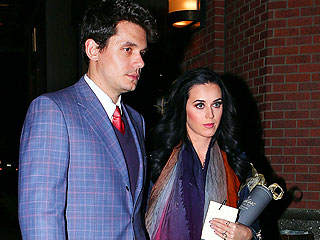 Katy Perry and John Mayer are definitely feeling the love.

The pair was described as "super affectionate and loving with one another" while out to dinner at New York eatery The Lion Saturday night, toasting Girls star Allison Williams's boyfriend, CollegeHumor.com founder Ricky Van Veen. The actress hosted a small, intimate bash for her beau, who was celebrating his birthday that night.

Following dinner, the group was treated to a surprise magic act, then spent the rest of the night playing games and savoring desserts before leaving at 2 a.m.

According to an onlooker, Mayer was "very gracious, charming and kind" throughout the evening. – Kristin Boehm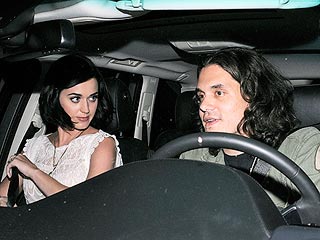 Are Katy Perry and John Mayer wild for each other – or are they just having a good time hanging with wild animals?

The duo attended a weekend bash at Hollywood talent agent Michael Kives's house, where they were greeted by several special guests: animals from a conservation (including an alligator and a kangaroo!).

"They were really cute," an attendee tells PEOPLE. "They were standing near each other most of the night, playing with the animals outside."

When they weren't checking out the nonhuman partygoers, Perry, 27, and Mayer, 34, "definitely enjoyed each other's company."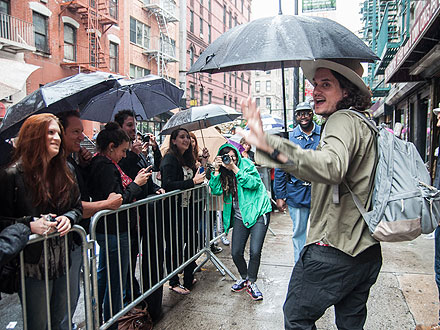 Buckets of rain and oppressive humidity weren't enough to keep John Mayer fans from celebrating Born and Raised with the musician on the eve of the record's release Monday evening in New York City.

The man of the hour – toting an umbrella – greeted fans lined up outside of Reed Space on Orchard St., where a pop-up shop featuring photography and merchandise has been assembled for the week.

Mayer – who donned a t-shirt featuring lyrics to second single "Queen of California" once he spotted it for sale inside – mingled with friends, family and industry pals before settling down in the back corner with a pile of Sharpies, ready to meet the crowd gathered outside.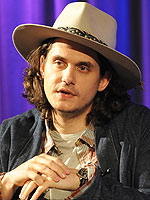 He isn't able to sing live, but John Mayer can still paint a picture with words – and that's exactly what he did Wednesday evening at Electric Lady Studios in N.Y.C.

Hosting an intimate advance spin at the legendary studio, the guitarist gave fans a glimpse into the conception of Born and Raised, out May 22.

"I wrote 'Age of Worry' there, I wrote 'Whiskey, Whiskey, Whiskey' there, I wrote 'Born and Raised,'" Mayer explains, pointing to a couch nestled in the corner of the room.

"I've done four or five of these [listening parties] but this is definitely the most special because this is where the record was made."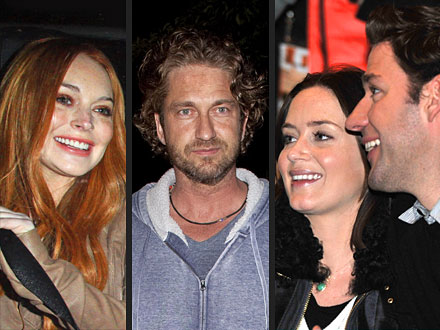 It was a (typically) star-studded night at West Hollywood's Chateau Marmont.

Lindsay Lohan may have (mostly) been preoccupied with her cell phone during her evening out with friends – she was glued to it, constantly texting, as were her pals – but that didn't stop her entirely from taking notice of fellow celebs. The starlet jumped out of her chair and ran to give Emily Blunt a hug when she saw the British actress approaching. They shared some pleasant small talk – and smiles – before Blunt headed away with her friend.

Soon, though, Lohan had another visitor: Gerard Butler, who arrived on the patio after midnight and sauntered over to the garden bar near where Lindsay and her friends were seated. The two were laughing and telling jokes, and Butler kept his hands on both sides of her chair as he leaned in close to talk. She was soaking up the attention and even asked him to come closer so she could whisper in his ear.
Hotels & Travel
Hollywood, CA
to my to do list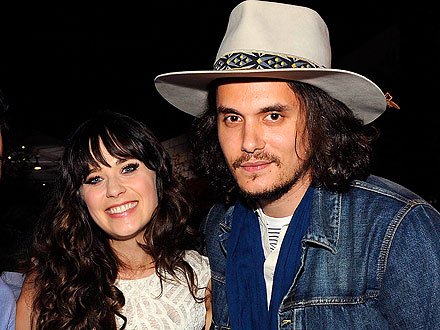 It was musicians' night at West Hollywood's Chateau Marmont.

Singer John Mayer was looking for a table to meet up with friends at the famed hotel during a recent night out. The singer sported a large, cream-colored cowboy hat and a fitted, dark jacket, and seemed calm and composed during his visit to the packed nightspot. Also on the patio that night: Zooey Deschanel, who took a spot in a secluded section with a girlfriend. The New Girl star – and She & Him singer – seemed "cheery and perky," an onlooker tells us.

And Lenny Kravitz (starring in the upcoming The Hunger Games) was hanging out with an entourage of about six pals, and he held court on a sofa, which was barricaded off by chairs to protect the group.
Hotels & Travel
Hollywood, CA
to my to do list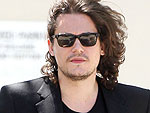 He didn't fool us! John Mayer was spotted attempting to go undercover at New York's Blue Water Grill. Looking comfy in jeans and a T-shirt – and sporting shaggy hair and a fedora – the singer appeared hard at work on a computer at a back table. – Lesley Messer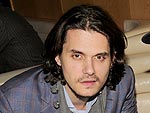 Rocker John Mayer encouraged several ladies to put down their glasses of sparkling wine and take tequila shots with him during a bash at the Boom Boom Room inside N.Y.'s Standard Hotel following a Cinema Society screening of Happythankyoumoreplease. But the talk of the party was a leather-clad Ed Westwick, also in a leather cap, who worked the room and spent some time talking to Billy Joel's ex-wife Katie Lee outside the VIP lounge.
Hotels & Travel
New York, NY
to my to do list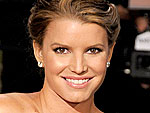 That would have been awkward! Jessica Simpson just missed ex John Mayer while dining at Katsuya Hollywood with dad Joe, mom Tina and a posse of seven female friends. While the singers never crossed paths (Mayer stopped in earlier) Simpson did come face to face with another musician ex: Adam Levine. "He and Jessica briefly said hello and enjoyed their meals separately," says an onlooker of the two.
Check in like a superstar!
Shop like a Star
The most buzzed about stars this minute!