Katy Perry: Latest Sightings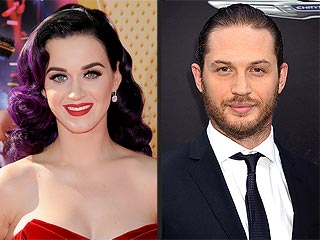 Katy Perry was a social butterfly on a recent night out at Soho House in West Hollywood.

Wearing a white lace dress, the pop star ran into a table of business associates having dinner in the garden and stopped to catch up before heading inside to the bustling bar to meet up with friends.

The recently single singer "was all smiles and in great spirits," an onlooker tells PEOPLE. "She had hellos for everyone at the table. She was adorable and spoke to them in a character-like cutesy voice before making her exit about five minutes later."

Things were calm for Tom Hardy, who was also at the Soho House the same Wednesday evening.

The Dark Knight Rises actor was spotted "having a nice time with a small group of friends around the bar area," an onlooker says. "He was chatting away and listening to stories while he sipped on a cocktail."

"He looked like he was enjoying a very low-key night out," the source adds.
Hotels & Travel
New York, NY
to my to do list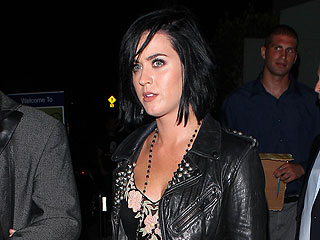 There's no slowing down for Katy Perry.

One night after supporting musical pal Ferras during his performance on Thursday at Bootsy Bellows in West Hollywood, the single "Teenage Dream" singer lent a hand to another friend.

Perry planned a special birthday party on Friday night for her close pal Jon, who is Ronan Farrow's – the son of Woody Allen and Mia Farrow – best friend.

Renting out all of SHOREbar in Santa Monica, Calif., Perry was joined by approximately 40 guests, including Ronan, Hilary Duff and husband Mike Comrie, Ferras and the venue's owner John Terzian.

"At the stroke of midnight, Katy brought out a birthday cake that had Jon's face on it, and she sung 'Happy Birthday'," a source tells PEOPLE. "She was in good spirits, laughing and seeming to enjoy the night."

Guests at the intimate fete sipped from the bar's signature punch bowls, while listening to tunes spun by DJ beeFOWL.

Perry stayed until around 2 a.m., but "wasn't being a party animal," the source adds.
– Dahvi Shira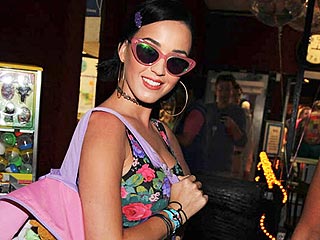 No guy, no problem! Katy Perry left rumored beau John Mayer at home Friday night while hitting West Hollywood's Bootsy Bellows. The singer, on hand to celebrate her brother David's birthday, kicked back as his band performed.

Hanging with her friend Markus Molinari and her stylist, Johnny Wujek, Perry "seemed very happy and she was really having fun," an onlooker tells PEOPLE.

Also unwinding at Bootsy Bellows Friday: Leonardo DiCaprio and pal Lukas Haas; venue owner David Arquette; and Glee's Naya Rivera, Chord Overstreet and Kevin McHale.
– Jennifer Garcia
Nightlife
West Hollywood, CA
to my to do list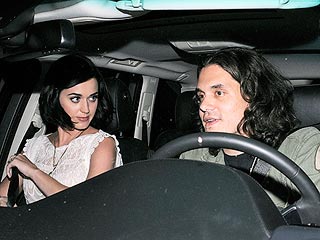 Are Katy Perry and John Mayer wild for each other – or are they just having a good time hanging with wild animals?

The duo attended a weekend bash at Hollywood talent agent Michael Kives's house, where they were greeted by several special guests: animals from a conservation (including an alligator and a kangaroo!).

"They were really cute," an attendee tells PEOPLE. "They were standing near each other most of the night, playing with the animals outside."

When they weren't checking out the nonhuman partygoers, Perry, 27, and Mayer, 34, "definitely enjoyed each other's company."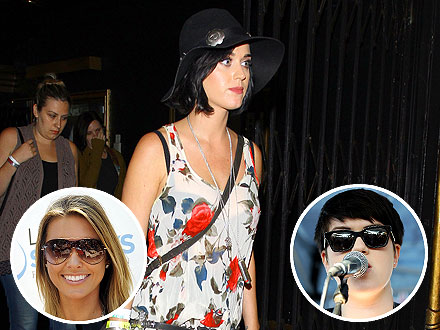 Katy Perry is used to being the one on stage, but on Monday night, she was able to relax to the sounds of a live act other than her own.

The "Teenage Dream" singer took in a show by British indie pop band The xx, who hadn't performed in the U.S. in two-and-a-half years.

Perry, in a large bohemian-style black hat and a floor-length floral dress, hung toward the back of the Fonda Theatre in L.A., where the show was held.

"As her bra strap slid off of her left shoulder, a smiling Katy began to dance around to the band's hit, 'VCR,' " a source tells PEOPLE. "She was with a crew of pals, including her assistant and a few guy friends."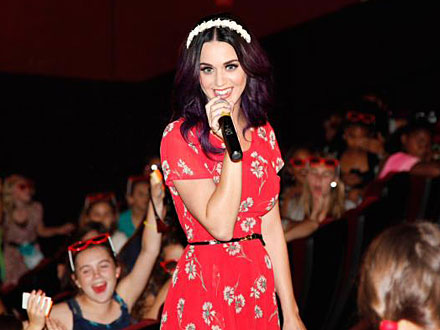 Katy Perry's fans were in for a big surprise on Wednesday night when they attended a screening for the pop star's Paramount documentary, Katy Perry: Part of Me.

Clad in a red floral dress with an open back, the "Wide Awake" singer popped up at the theater inside The Grove in Los Angeles just as the lights went down for the viewing to begin.

Once Perry arrived, she told the crowd, "You guys are all so cute, even all the way to the back," an onlooker tells PEOPLE.

"Little girls rushed the screen as Katy walked around slapping hands and greeting fans," the source says. "She managed to sign some autographs and pose for a few pictures before trying to disperse the massive crowd that had gathered around her."

Perry, who said a few more sweet things to her admirers on the mic, "was all smiles and seemed genuinely excited for her young fans to see the film," the insider says, adding, "The start of the screening was delayed a good 10-15 minutes before Katy sat down in the middle of the screaming crowd for a bit."
– Jennifer Garcia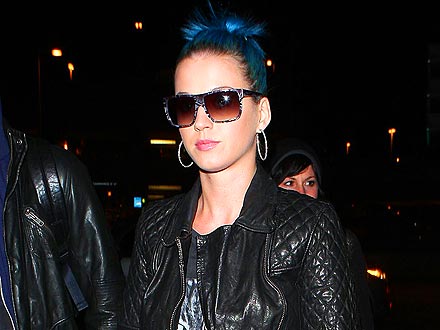 Katy Perry seemed to be in quite an upbeat mood on Saturday night when she made her way to Club Robertson's Rasputin night in West Hollywood.

Right across the street from local celebrity favorite spot The Abbey, the "Part of Me" singer didn't go incognito as entered the venue with her purple hair capping off a red dress .

"The DJ announced a little after midnight that she was there," a club-goer tells PEOPLE. "She partied at a booth with a bunch of males who definitely appeared to be just friends. She had some kind of beverage in her hand."

Standing on a banquette at one point, the source says Perry "danced to Britney Spears' s hit '...Baby One More Time.'

"Katy was in a roped-off area, but she was still accessible to her fans," the source adds. "She was posing for photos with people at the club and seemed to be having a great time." That's for sure: that night, the singer quoted Spice Girls on Twitter, writing, "If you wanna be my lover you gotta get with my friends. #fact."

Once it was announced that Perry was on the premises, the source says, "The line got super long and it was really hard for people to get in."
– Patrick Gomez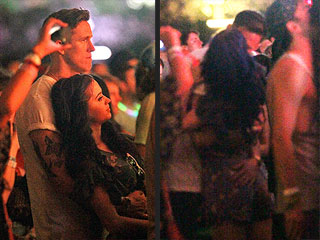 Katy Perry appears to have found a new guy in the music business. And where else to make their first public appearance together than at a rock festival?

The pop star, 27, was spotted kissing, hugging and swaying to music with Robert Ackroyd, a guitarist for English indie-pop band Florence + the Machine, at the Coachella Valley Music and Arts Festival in Indio, Calif., this weekend.

Perry was all smiles, in a purple outfit with a gold sunburst pattern, matching her newly dyed purple hair, as she danced the night away with Ackroyd, outfitted simply in jeans and a white T-shirt – revealing his heavily tattooed forearms.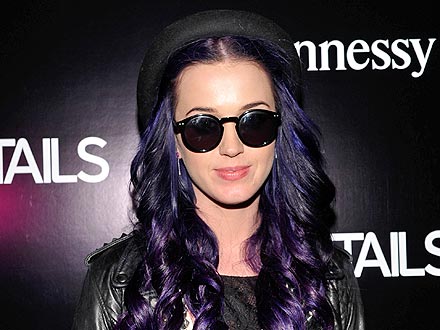 Coming straight from a rainy M83 concert at Coachella, Katy Perry arrived at 2 a.m. with six male pals at the Hennessy V.S. Presents Details @ Midnight party.

A seemingly upbeat Perry, who showed off newly dyed purple hair, ran inside the bash to dance and mingle with the crowd. And a source tells us that her late arrival kept the festivities going until 4 a.m. – past the scheduled end time.

And a long night out didn't stop the pop star from having enough energy to hit the party circuit the next day; she made her way during the mid-afternoon to the Lacoste L!ve/HTC Pool Party at a private home in Thermal, Calif.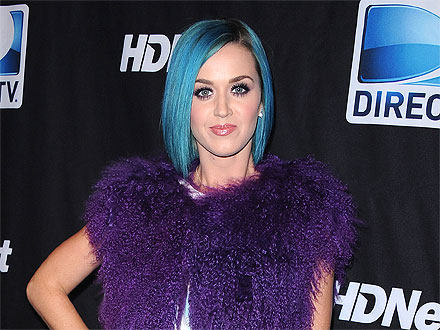 Despite her blue hair, which she hid under a beanie, Katy Perry was flying under the radar during dinner with friends at The Stonehouse inside the San Ysidro Ranch in Santa Barbara, Calif. The single singer was escorted to her table by two men and seemed to be enjoying her food and drinks – as well as her friends' company, an onlooker says. Perry also sported big, thick glasses during dinner – enough of a disguise that a neighboring diner didn't even recognize her. But she didn't go totally unnoticed: At one point, a new bride approached her table and asked to take a picture with the pop star. Perry's answer? Yes.
– Mussarat Bata
Star Hot SpotsWhere Celebs Play
More Photos
Advertisement
Check in like a superstar!
Al Fresco Fun
Enjoy the outdoors at these star-loved spots
The most buzzed about stars this minute!