Katy Perry: Latest Sightings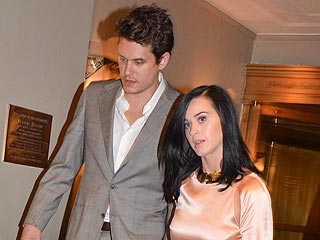 Katy Perry and John Mayer's on-again, off-again romance appears to be back on.

After recently telling Vogue magazine that she was "still madly in love" with Mayer, Perry was spotted out with the "Paper Doll" singer at New York's Greenwich Hotel on Saturday night and, later, at Monday's Friars Foundation Annual Applause Awards Gala honoring Don Rickles at the Waldorf-Astoria.

At the event, Mayer performed a tune made famous by Frank Sinatra, which captivated Perry.

"When John performed, Katy was enamored by his performance," a source tells PEOPLE. "He sang 'One for My Baby (and One More for the Road).' When they were sitting down, she had her arm around John at one point. They shared kisses."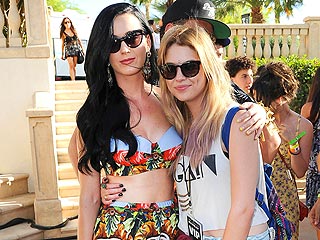 Nightlife
West Hollywood, CA
to my to do list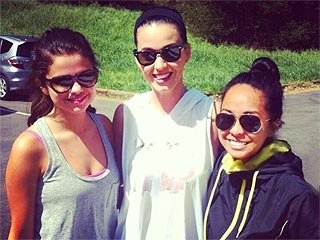 Katy Perry and Selena Gomez gave one of their biggest fans a double dose of excitement on what was shaping up to be a very normal Sunday afternoon last weekend.

Nikki Bumatay and her fiancé bumped into the songbirds while hiking at Fryman Canyon Park in Studio City, Calif.

"We were sitting in our car when this Maserati pulls up," Bumatay told PEOPLE. "I look back and see who gets out of the passenger door and it's Selena Gomez."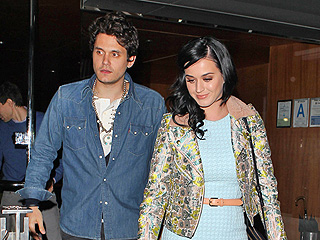 Date night! John Mayer and Katy Perry joined friends for dinner at Katsuya Brentwood on Tuesday.

Sitting in a booth with pals, "the mood was great," an onlooker tells PEOPLE. "John and Katy were mellow but very sweet with each other and were really enjoying their friends."

With Perry looking "very cute" in a Herve Leger dress and high heels, the group indulged in baked crab hand rolls, crispy rice, shishito peppers, creamy rock shrimp, albacore with crispy onions and dessert.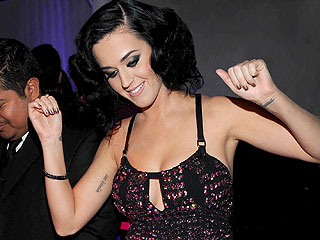 Katy Perry gambled the night away at The London West Hollywood hotel on Thursday evening – but it was all in good fun.

The pop star, 28, wearing a form fitting black Cavalli dress with sparkly purple accents – joked with fellow guests and table dealers on the rooftop as she played her way through several games of Blackjack and craps.

"I created the Popchips bag and I wanted [my dress] to fit with the bag," she told PEOPLE as she celebrated the launch of her new flavor: Katy's Kettle Corn. "That's kind of what I do! I always want to add more sparkles to everything I do."
– Melody Chiu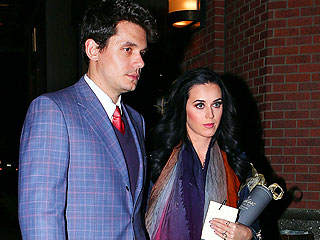 Katy Perry and John Mayer are definitely feeling the love.

The pair was described as "super affectionate and loving with one another" while out to dinner at New York eatery The Lion Saturday night, toasting Girls star Allison Williams's boyfriend, CollegeHumor.com founder Ricky Van Veen. The actress hosted a small, intimate bash for her beau, who was celebrating his birthday that night.

Following dinner, the group was treated to a surprise magic act, then spent the rest of the night playing games and savoring desserts before leaving at 2 a.m.

According to an onlooker, Mayer was "very gracious, charming and kind" throughout the evening. – Kristin Boehm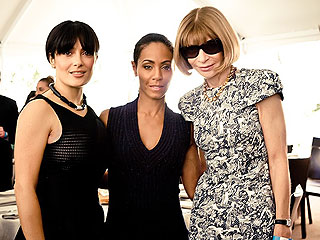 The ladies love Michelle and are opening their Hollywood handbags to prove it.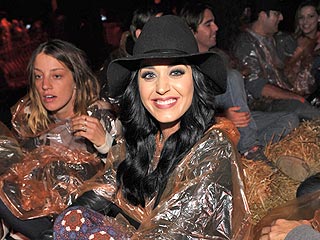 Frightful but delightful!

Katy Perry joined a group of girlfriends Sunday for a night out at the Los Angeles Haunted Hayride.

Before embarking on a private hayride, Perry and crew met up with Fashion Police host George Kotsiopoulos and his friends.

Wearing ponchos to protect them from the splatter and gore, the group headed into a haunted maze.

"Katy was in there for about 30 minutes!" an onlooker tells PEOPLE. "She seemed to be having a ton of fun and shared lots of laughs with her friends."

"She loved being scared by all of the characters each time they snuck up on her!" the source adds.
– Melody Chiu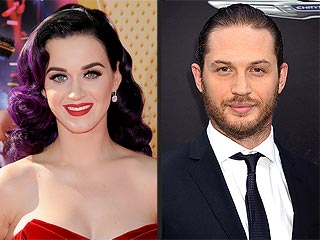 Katy Perry was a social butterfly on a recent night out at Soho House in West Hollywood.

Wearing a white lace dress, the pop star ran into a table of business associates having dinner in the garden and stopped to catch up before heading inside to the bustling bar to meet up with friends.

The recently single singer "was all smiles and in great spirits," an onlooker tells PEOPLE. "She had hellos for everyone at the table. She was adorable and spoke to them in a character-like cutesy voice before making her exit about five minutes later."

Things were calm for Tom Hardy, who was also at the Soho House the same Wednesday evening.

The Dark Knight Rises actor was spotted "having a nice time with a small group of friends around the bar area," an onlooker says. "He was chatting away and listening to stories while he sipped on a cocktail."

"He looked like he was enjoying a very low-key night out," the source adds.
Hotels & Travel
New York, NY
to my to do list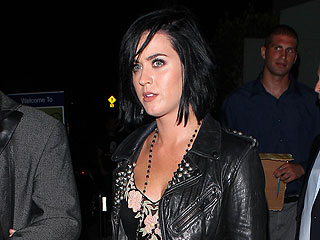 There's no slowing down for Katy Perry.

One night after supporting musical pal Ferras during his performance on Thursday at Bootsy Bellows in West Hollywood, the single "Teenage Dream" singer lent a hand to another friend.

Perry planned a special birthday party on Friday night for her close pal Jon, who is Ronan Farrow's – the son of Woody Allen and Mia Farrow – best friend.

Renting out all of SHOREbar in Santa Monica, Calif., Perry was joined by approximately 40 guests, including Ronan, Hilary Duff and husband Mike Comrie, Ferras and the venue's owner John Terzian.

"At the stroke of midnight, Katy brought out a birthday cake that had Jon's face on it, and she sung 'Happy Birthday'," a source tells PEOPLE. "She was in good spirits, laughing and seeming to enjoy the night."

Guests at the intimate fete sipped from the bar's signature punch bowls, while listening to tunes spun by DJ beeFOWL.

Perry stayed until around 2 a.m., but "wasn't being a party animal," the source adds.
– Dahvi Shira
Advertisement
Check in like a superstar!
Shop like a Star
The most buzzed about stars this minute!