Miley Cyrus: Latest Sightings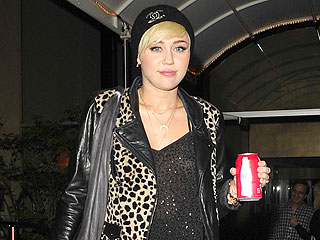 Miley Cyrus made a return to one of her favorite spots, Beacher's Madhouse at the Hollywood Roosevelt Hotel, with a group of friends on Wednesday.

The starlet arrived around 11:30 p.m., wearing distressed high-waisted jeans and a crop top, and grabbed her usual front-row table. Even though fiancé Liam Hemsworth wasn't with her (he's currently away filming the next installment of The Hunger Games), Cyrus managed to have fun, smiling and laughing with her pals and hitting the dance floor for songs like "Don't You (Forget About Me)" and "Nuthin' but a 'G' Thang."

When she wasn't dancing, Cyrus was enjoying the action on stage, which included a man in a bubble and a performance by a mini Nicki Minaj. She eventually closed down the hotspot with her pals.
– Jennifer Garcia
Hotels & Travel
Los Angeles, CA
to my to do list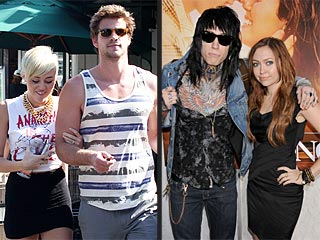 That's one rockin' family!

Miley Cyrus , fiancé Liam Hemsworth and brother Trace stepped out to support sister Brandi Cyrus at the Troubadour in West Hollywood on Monday night.

The trio couldn't be more excited to see Brandi's band Frank + Derol perform.

"They watched the show from the balcony and cheered the girls on," a concertgoer tells PEOPLE.

Trace proudly Tweeted, "My sister Brandi killed it at her show tonight! So proud of her for going on this tour! 1st show was sold out! Good sign!"

Miley also showed her support for her sister on Twitter, sharing a photo of the venue's marquee with followers.
October 2, 2012
– Marisa Laudadio
Entertainment
West Hollywood, CA
to my to do list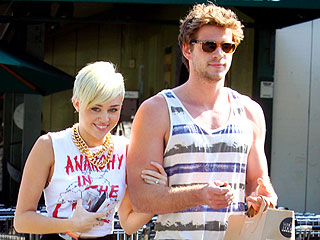 No Hunger Games here!

Miley Cyrus and fiancé Liam Hemsworth stepped out for dinner with friends Saturday night at Mercado di Vetro in Los Angeles.

Stationed in the private dining room, the couple dined with several of Hemsworth's visiting friends from Australia and Cyrus's friend, Cheyenne Kimball.

Although they were with a group, Hemsworth and Cyrus made their affection clear.

"They were very affectionate with each other all night," an onlooker tells PEOPLE. "And they were also very sweet to the servers."

Hemsworth sipped red wine while the group enjoyed several different dishes, including the meatballs made with veal and beef.
– Jennifer Garcia
@peoplemag #CITA @mileycyrus in Philly! Supporting her people! @philrussoo twitter.com/CloBrown0291/s…

— Chris Lowenstein (@CloBrown0291) August 7, 2012
We asked for your submissions – and you've been sending them in!
Our Twitter followers
@CloBrown0291
and
@philrussoo
had a friendly little run-in with
Miley Cyrus
recently in Philadelphia.
The
newly engaged
starlet – who was in town visiting fiancé
Liam Hemsworth
while he was shooting a movie – left her man's side for a little while to hang out at the city's 18+ hotspot Woody's Bar with some
other
boys.
"We saw her coming out of the gay bar with one of her gay friends," @CloBrown0291 tells PEOPLE. "She was very nice. She said she always supports her gays. She asked for a lighter and we shared a cigarette with her. She had to hurry back because she was meeting up with Liam."
Cyrus, clad in gold sequined shorts, "gladly accepted," when asked for a photo, @CloBrown0291 says. "She was a doll."
Spot a celebrity? Tweet us your sighting @peoplemag with #CITA and it could appear on PEOPLE.com!

— People magazine (@peoplemag) August 7, 2012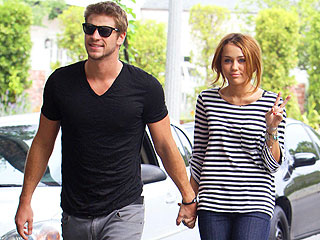 Miley Cyrus was feeling mighty generous during a Saturday night out with two of her pals and fiancé Liam Hemsworth. The newly engaged star picked up the tab for her group after they dined at Studio City, Calif., eatery Kiwami.

Clad in a baby blue button-down top, her signature short jean shorts and tennis shoes, Cyrus kept any PDA to a minimum with her man.

"There was no holding hands or kissing," an onlooker tells PEOPLE. "The group just seemed like they were having a good time catching up."

While the source says Hemsworth was "more quiet and reserved," Cyrus was "outgoing, chatty and seemed like a lot of fun."
– Melody Chiu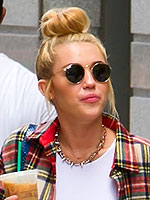 Being away from Southern California, Miley Cyrus apparently needed her fix of the sun!

The newly engaged star, recently in Philadelphia to visit her fiancé Liam Hemsworth, popped into Hollywood Tans with a pal, and seemed "very personable and very sweet," an onlooker tells PEOPLE.

"She was asking for advice on cool places to eat, party and hang out," the source says. "She said she absolutely loves Philadelphia."

Cyrus was so pleased with her experience that she stopped by the same establishment again shortly thereafter for a spray tan.

"She was more talkative the second time," the insider says. "She was talking about how excited she was to be married."

Cyrus and her pal even braved the pouring rain to sneak in some pampering.
– Patrick Gomez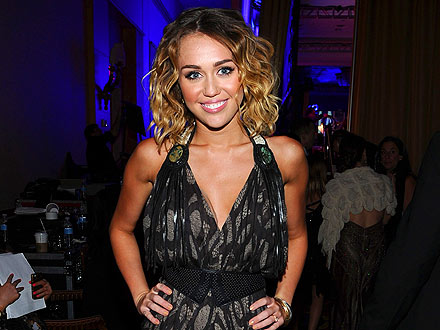 Bride-to-be Miley Cyrus had quite the night at Beacher's Madhouse at the Hollywood Roosevelt Hotel on Saturday night, leaving fiancé Liam Hemsworth at home while out with some gal pals and actor friend Ryan Rottman.

Cyrus, sporting a white sleeveless tee and denim shorts, arrived just after midnight, grabbed a front-row table and immediately started dancing to songs like Flo Rida's "Whistle" and Chris Brown's "Turn Up the Music." "She was in her usual happy mood and was very social and upbeat," an onlooker tells PEOPLE. "She was very chatty with everyone at her table."

After drag queen Vicky Vox toasted patrons' birthdays from the stage, she invited Cyrus to come up and sing her "Happy Birthday," since she was celebrating as well. Cyrus obliged, belting the tune a capella to the delight of the crowd.

The starlet stayed until the club closed down, sealing the night with a brief triple-kiss with her girlfriends.
Entertainment
Los Angeles, CA
to my to do list
Star Hot SpotsWhere Celebs Play
More Photos
Advertisement
Check in like a superstar!
A-List Shopping
Get a star-worthy wardrobe at these spots
The most buzzed about stars this minute!