Rihanna: Latest Sightings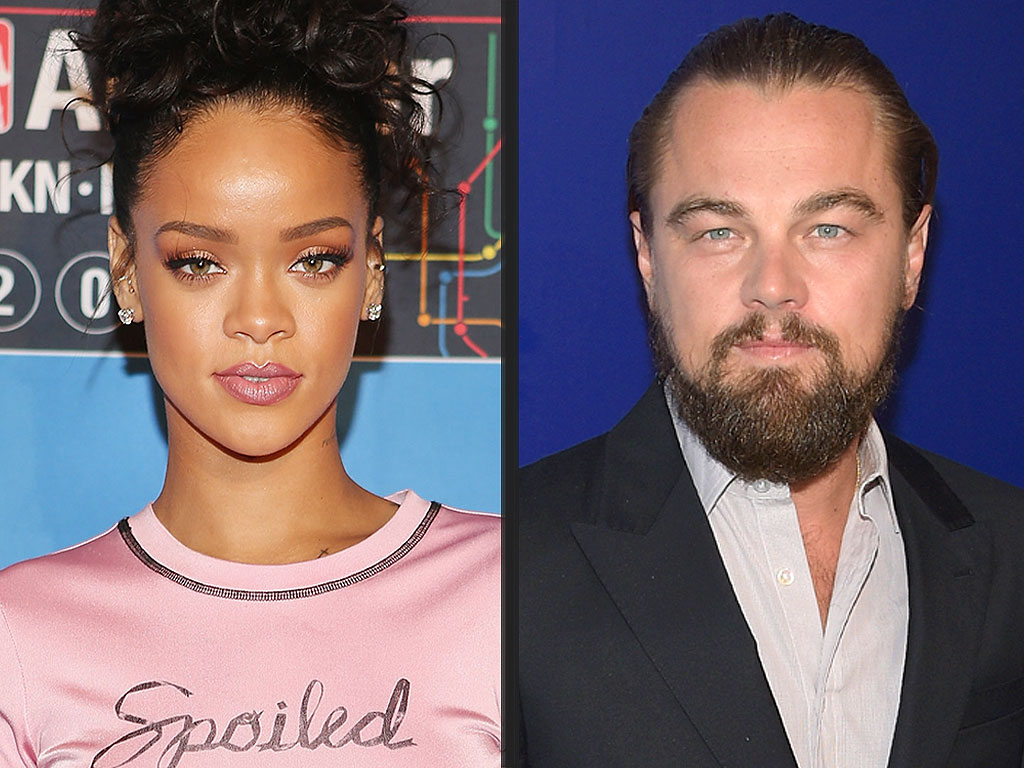 Rihanna rang in her 27th birthday on Friday with a slew of A-list pals – including rumored new love interest Leonardo DiCaprio.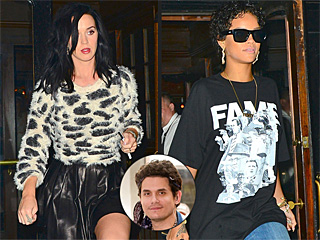 While promoting her upcoming album in New York City, Katy Perry joined boyfriend John Mayer and friends at The Lion on Monday night.

After a busy day – the singer's single "Roar" hit the Internet – Perry caught up with friends at the bar before heading upstairs to a private room for dinner.

"Katy and John were adorable," an onlooker tells PEOPLE. "Katy introduced him to people as her boyfriend and John affectionately held her close with his arm around her."

Just as the 15 guests were finishing their entrees, Perry's pal Rihanna arrived.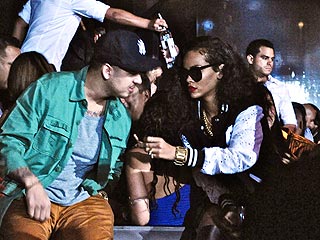 Where do broken hearts go? To the club!

Rihanna spent Saturday night at Hollywood nightclub Playhouse, where the singer and other stars were on hand to celebrate the launch of Pink + Dolphin's flagship store.

During the evening, the "Where Have You Been" singer was stationed at her own VIP table across from ex-boyfriend Chris Brown. Brown sat with Christina Milian and Sean Kingston as Chief Keef performed.

Although Rihanna, who recently told Oprah she "still loves" Brown, was surrounded by friends, her mind seemed to be elsewhere. The 24-year-old slowly sipped drinks, while "pretending to dance and mingle," but kept her eyes on "all the fun Chris and Christina were having," a source tells PEOPLE.

Rob Kardashian later took a seat at Rihanna's table where he got a little flirty with her and shared a few laughs, says a source. But, "you could tell she really just wanted Chris to pay attention and talk to her, but he was totally ignoring her," the source adds.
– Jen Garcia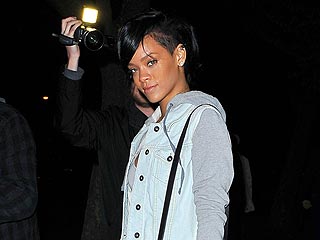 It was ladies night for Rihanna and a gal pal on Monday.

The "Where Have You Been" singer and her friend had dinner at Scott Conant's Scarpetta Beverly Hills, where the superstar sipped on wine and ate the restaurant's signature spaghetti, according to an onlooker.

"She [seemed to be] in great spirits," the source tells PEOPLE. "She was even dancing in her seat at the table at one point during her meal."

The songstress, dressed in cut-off shorts, a military jacket and sexy strappy red heels, was, according to the observer, "the center of attention."
– Jennifer Garcia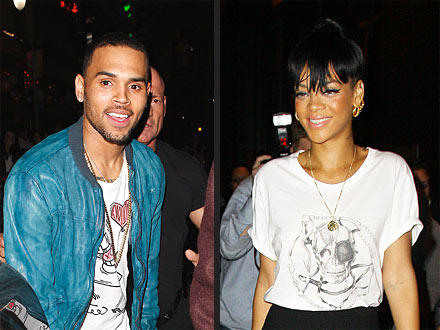 Rihanna had an unidentifiable new man in tow when she showed up with an entourage to New York City hotspot, Avenue, on Monday night.

The pop star's latest flame "waited in her truck while she went inside," a source tells PEOPLE. "He waited for paparazzi to [go away], then he followed inside after her."

Included in her crew throughout the night was, Aziz Ansari, Busta Rhymes and Maxwell.

Clad in a white pin-up style dress, with black shades and Converse shoes, the "Where Have You Been?" songstress caught the eye of her controversial ex-boyfriend Chris Brown, who was also inside the venue with "a bunch of people."

"He looked over at her from his table across the way," a source tells PEOPLE. "His group was sipping Ace of Spades champagne and taking shots of Patron."

Brown, whose group was being "super nice," wore a white button-down shirt with a red jacket and glasses.
– Jennifer Garcia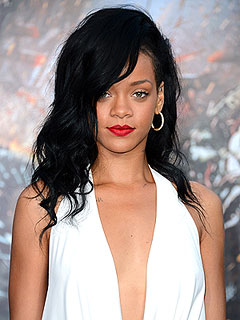 Talk about a sticky situation.

Celebrating the U.S. premiere of her sci-fi film Battleship at its after-party Thursday night, Rihanna passed on a plate of two hot dogs, macaroni and cheese and corn on the cob for a decidedly less filling dinner: a stick of chewing gum.

Following the screening at Nokia Theatre L.A. Live (to which she arrived about 20 minutes late) the singer-actress, 24, kept it low-key, sitting at a table with her family, including her brother Rajad. Enjoying a lime cocktail, she also hung with actress Malin Akerman and posed for photos with fans and military guests before leaving at about 11:30 p.m.

Also celebrating: costars Taylor Kitsch, Alexander Skarsgard, Brooklyn Decker (and husband Andy Roddick) and Liam Neeson.
– Reagan Alexander
Check in like a superstar!
Shop like a Star
The most buzzed about stars this minute!