Zac Efron: Latest Sightings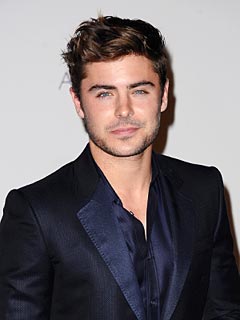 It was a mellow, carefree Friday night for Zac Efron.

The Townies star kept a low profile at West Hollywood hotspot Bootsy Bellows, where he hung out with pals in the VIP room at a table in the way back corner of the club.

Clad all in black, with a beanie covering his head, the star sipped on vodka cocktails and danced to Drake's "Started from the Bottom."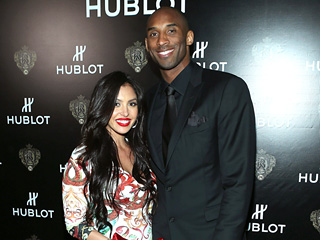 It only costs $25,000 to keep time like the Black Mamba.

Kobe Bryant was announced as the new ambassador of Swiss luxury watch brand, Hublot, at the London Hotel in West Hollywood Wednesday night, where the Lakers star's limited edition "King Power Black Mamba" timepiece was unveiled.

Still recovering from his ankle injury, the basketball champ kept score in a charity shoot-off with two children from After-School All Stars Los Angeles and raised $30,000 for the Bryant Family Foundation.

"When the little girl kept missing shots, Kobe lifted her up towards the basket so she could shoot the ball in," an onlooker tells PEOPLE. "He was super sweet with the kids, and kept giving them high fives and hugs."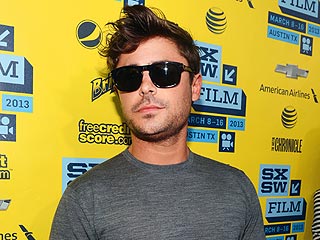 Always the ladies man, Zac Efron took his skills to Austin, where he was being "super flirty" at Perez Hilton's One Night in Austin event on Saturday night at SXSW, a source says.

"He was hitting on a girl and being super charming," the insider tells PEOPLE. "He took photos with some female fans, but asked them to do it on the down low because he didn't want to bring too much attention to himself."

Enjoying Strongbow cider, the actor, who arrived solo, appeared to be "having a good time and talking to people," the source says.

Efron was dressed very casual, in a grey beanie and grey and black, long-sleeved T-shirt.
– Dahvi Shira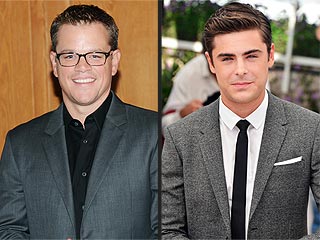 New York City hotspot The Box was the place to be on Thursday night.

Matt Damon and wife Luciana, Jay-Z, Zac Efron and basketball player Baron Davis were all on hand for a performance from in-house entertainers the Hammerstein Beauties.

While Promised Land star Damon and his wife were "very lovey dovey," Efron spent his evening with a group of friends, an onlooker tells PEOPLE.

"Zac was getting a private show from the Hammerstein Beauties," the source adds.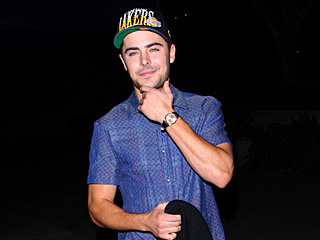 Zac Efron was in a New York state of mind when he dined at BLT Prime recently.

The Paperboy actor and six friends enjoyed dinner together, with Efron eating a rib eye steak and drinking Johnnie Walker Blue.

Dressed casually in a black T-shirt and jeans, Efron and his friends were at the restaurant for two hours, just "catching up," an onlooker tells PEOPLE.

Efron's next film, Are We Officially Dating?, follows three New York bachelors who make a pact to have as much fun as possible.
– Kate Hogan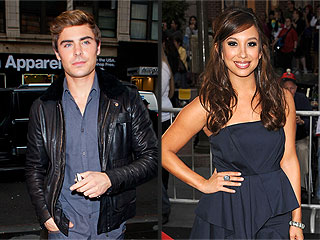 Funny seeing you here!

Zac Efron and Cheryl Burke crossed paths when they both stepped out at Bootsy Bellows in West Hollywood on Tuesday.

Although they were spotted hanging together at the club just a few weeks ago, the stars had two very different nights.

Sporting a blue button-down shirt, a black beanie and a bit of facial hair, Efron kept a low profile in the club's back VIP room.

"His table was very crowded but he always seemed to be at the back of the crowd so he could have some privacy," an onlooker tells PEOPLE.

Even though Efron seemed focused on a laid-back night with his friends, a female patron managed to catch his eye.

"At one point, he was flirting with a tall, thin blonde. He was definitely charming her," the source adds. "But he left the club alone when they closed at 2 a.m."

While Efron kept his evening low-key, Burke made a fashionably late entrance, arriving around 1:20 a.m.

Wearing a white Grecian-inspired dress, the Dancing with the Stars pro was upbeat as she chatted with her friend, promoter Allison Melnick before hitting the dance floor.

"She wasn't shy and busted out her dance moves to songs like Rihanna's 'Birthday [Cake.]' She was having fun," says a source.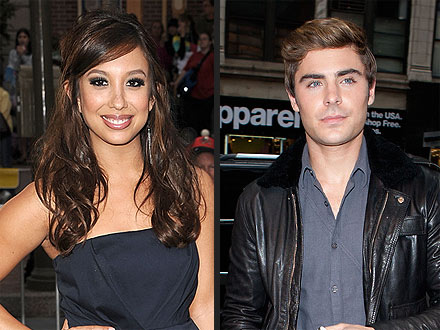 Cheryl Burke recently made headlines for stepping out with new beau Joffrey Lupul, but on Tuesday night, her attention was geared toward another guy.

The Dancing with the Stars pro stepped out with Zac Efron and some other pals at new West Hollywood hot spot Bootsy Bellows.

Efron, wearing in a T-shirt, jeans and a baseball cap, joined a dressed-up Burke and the group in the back VIP room, where they went seemingly unnoticed by fellow club-goers.

"At one point, they went up to get drinks from the bar, and they showed off their dance moves," an onlooker tells PEOPLE. "They ordered a few cocktails to bring back for them and their friends."
Star Hot SpotsWhere Celebs Play
More Photos
Advertisement
Check in like a superstar!
Al Fresco Fun
Enjoy the outdoors at these star-loved spots
The most buzzed about stars this minute!