Zac Efron: Latest Sightings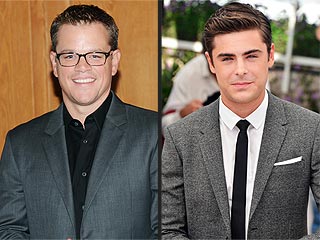 New York City hotspot The Box was the place to be on Thursday night.

Matt Damon and wife Luciana, Jay-Z, Zac Efron and basketball player Baron Davis were all on hand for a performance from in-house entertainers the Hammerstein Beauties.

While Promised Land star Damon and his wife were "very lovey dovey," Efron spent his evening with a group of friends, an onlooker tells PEOPLE.

"Zac was getting a private show from the Hammerstein Beauties," the source adds.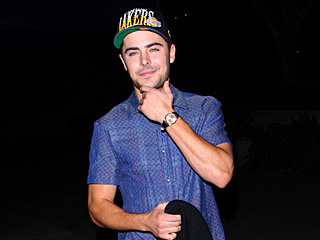 Zac Efron was in a New York state of mind when he dined at BLT Prime recently.

The Paperboy actor and six friends enjoyed dinner together, with Efron eating a rib eye steak and drinking Johnnie Walker Blue.

Dressed casually in a black T-shirt and jeans, Efron and his friends were at the restaurant for two hours, just "catching up," an onlooker tells PEOPLE.

Efron's next film, Are We Officially Dating?, follows three New York bachelors who make a pact to have as much fun as possible.
– Kate Hogan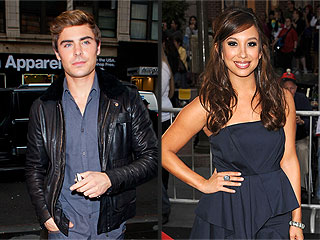 Funny seeing you here!

Zac Efron and Cheryl Burke crossed paths when they both stepped out at Bootsy Bellows in West Hollywood on Tuesday.

Although they were spotted hanging together at the club just a few weeks ago, the stars had two very different nights.

Sporting a blue button-down shirt, a black beanie and a bit of facial hair, Efron kept a low profile in the club's back VIP room.

"His table was very crowded but he always seemed to be at the back of the crowd so he could have some privacy," an onlooker tells PEOPLE.

Even though Efron seemed focused on a laid-back night with his friends, a female patron managed to catch his eye.

"At one point, he was flirting with a tall, thin blonde. He was definitely charming her," the source adds. "But he left the club alone when they closed at 2 a.m."

While Efron kept his evening low-key, Burke made a fashionably late entrance, arriving around 1:20 a.m.

Wearing a white Grecian-inspired dress, the Dancing with the Stars pro was upbeat as she chatted with her friend, promoter Allison Melnick before hitting the dance floor.

"She wasn't shy and busted out her dance moves to songs like Rihanna's 'Birthday [Cake.]' She was having fun," says a source.
Nightlife
West Hollywood, CA
to my to do list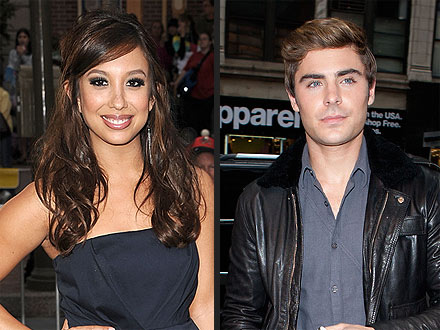 Cheryl Burke recently made headlines for stepping out with new beau Joffrey Lupul, but on Tuesday night, her attention was geared toward another guy.

The Dancing with the Stars pro stepped out with Zac Efron and some other pals at new West Hollywood hot spot Bootsy Bellows.

Efron, wearing in a T-shirt, jeans and a baseball cap, joined a dressed-up Burke and the group in the back VIP room, where they went seemingly unnoticed by fellow club-goers.

"At one point, they went up to get drinks from the bar, and they showed off their dance moves," an onlooker tells PEOPLE. "They ordered a few cocktails to bring back for them and their friends."
Nightlife
West Hollywood, CA
to my to do list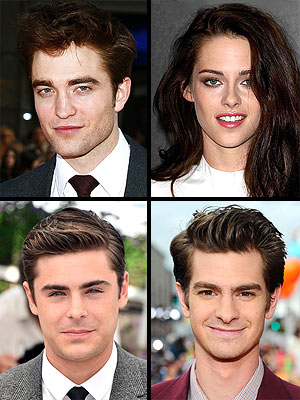 Kristen Stewart and Robert Pattinson helped a lucky New Jersey couple celebrate their big day this weekend.

The on- and off-screen couple – along with Zac Efron, Andrew Garfield (sans girlfriend Emma Stone) and Will Kopelman (sans wife Drew Barrymore) – made their way to Englewood, N.J., where Hollywood producer Kevin Turen wed Evelina Oboza on Saturday.

"They stuck to each other's side all night," an attendee tells PEOPLE of Stewart, 22, and Pattinson, 26, who partied with guests until dawn and were spotted walking hand-in-hand during the celebration.

And the bride wasn't the only one (likely) wearing something borrowed.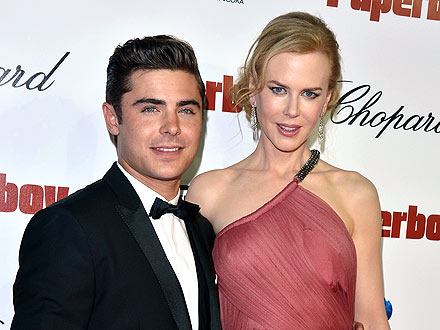 Zac Efron spends most of his time barely dressed in the movie Paperboy, but he was fully clothed – and ever so dapper – when he made it out to the afterparty in celebration of his film.

The bash, hosted by Ciroc Vodka and skincare line Erno Laszlo, was also attended by costars Nicole Kidman and Matthew McConaughey, along with Kidman's hubby Keith Urban and Reese Witherspoon. And guests were treated to elegant affair, despite the gritty nature of the movie being honored.

The event was held in a white lily-filled vintage lounge on Carlton Beach in Cannes, where guests sipped vodka and noshed on "every flavor of macaroons," according to a party-goer.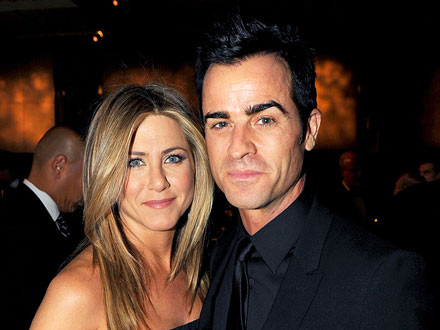 Jennifer Aniston was in a bright, sunny mood while hanging out with boyfriend Justin Theroux at West Hollywood's Chateau Marmont, an onlooker tells us. The couple seemed "content and present with each other" even as they were hanging out with a big group of people in the back area of the hotel's patio.

Aniston was bundled up for the weather, sporting a black wool peacoat and black pants, while her actor beau was in a leather jacket and gray T-shirt.

Theroux also greeted fellow revelers on the patio, sharing a hug with fellow guests like Zac Efron, who was there to hang with some guy friends. But when it was time to go, he only had eyes for Aniston, and the two giggled together as they left. Says the observer: "She and Justin were beaming and seemed enamored of each other."

Also at the Chateau that night: Eva Longoria, who was celebrating her 37th birthday with friends; and an energetic Lindsay Lohan who arrived at the hotel after midnight with one guy and a blonde female friend.
Hotels & Travel
Hollywood, CA
to my to do list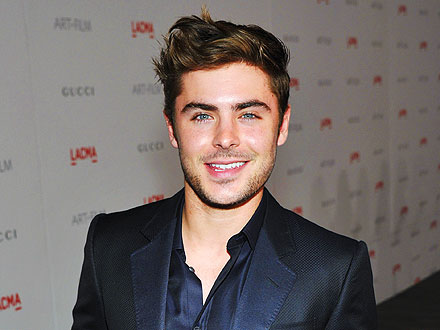 Zac Efron ordered for the entire table during his recent guys' night out at Ago Restaurant in West Hollywood. The actor held court at his table and was in a great mood during the meal. He also stopped over and briefly sat down to greet Anne Heche and James Tupper, who were having a romantic dinner together across the restaurant. – Jennifer Garcia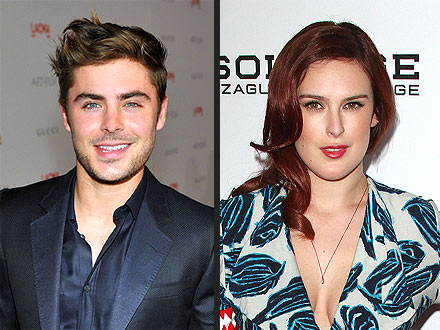 Zac Efron made a post-midnight stop into Beacher's Madhouse at the Hollywood Roosevelt Hotel with pals Rumer Willis and Ryan Rottman. The trio grabbed a table in the front of the club, where Efron worked the room, chatting with females who approached and producer Brian Grazer. Rumer was more into the club scene, though, climbing atop the banquette to dance to the tunes – specifically AC/DC's "You Shook Me All Night Long" – and sticking around well after Efron, who left before his pals. – Jennifer Garcia
Entertainment
Los Angeles, CA
to my to do list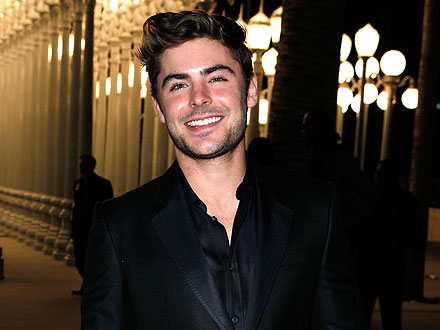 Zac Efron was having a ball and laughing at everyone dressed in their funny costumes during a Beacher's Madhouse performance inside the Hollywood Roosevelt Hotel. The actor gave a high-five to Big Bird, and laughed and joked along with a guy friend seated next to him. Efron mostly kicked back, relaxed and watched the show, though. Says an onlooker: he was "amused by all the acts." – Jennifer Garcia
Entertainment
Los Angeles, CA
to my to do list
Check in like a superstar!
Shop like a Star
The most buzzed about stars this minute!