Shopping: Latest Sightings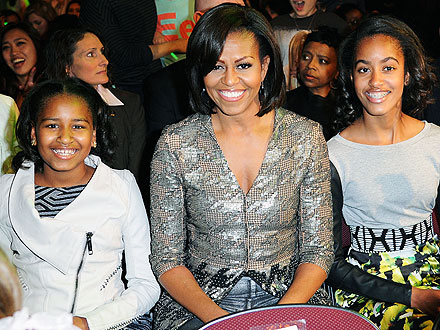 While some teens and preteens choose to fill their bookshelves with copies of The Hunger Games and Twilight, Malia and Sasha Obama are reading something a bit more advanced: existentialist literature.

The First Daughters, ages 14 and 11 respectively, were spotted at Manhattan's Strand Bookstore on Sunday – and in addition to picking young adult novels such as Imaginary Girls and Before I Fall, they pulled Albert Camus's Exile and the Kingdom.

Their aunt – Maya Soetoro-Ng (President Obama's half-sister) – paid for their purchases, which also included School!: Adventures at the Harvey N. Trouble Elementary School and two Strand souvenirs.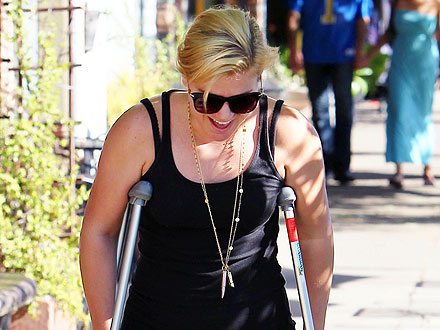 Kelly Clarkson was able to find what she was looking for during a recent shopping outing, but not with ease.

The singing superstar stopped by Alisa Michelle jewelry boutique in Studio City, Calif., on Friday, where an onlooker tells PEOPLE she "looked uncomfortable," walking around the store on crutches with a sprained ankle.

Despite her apparent discomfort, Clarkson was far from a diva, refusing to let the people working in the store close it down for her while she browsed.

"She was very nice and respectful, and she turned down a discount," the source says of the Duets star, who purchased some custom pieces at the DIY bar, where customers can string their own jewelry with a variety of charms and chains, along with some necklaces and a cuff bracelet.

Clarkson, who stopped by with a female pal, wasn't the only celebrity to recently pop into the swanky establishment. Pretty Little Liars star Lucy Hale came in the next day and also bought some pieces from the DIY bar.
– Dahvi Shira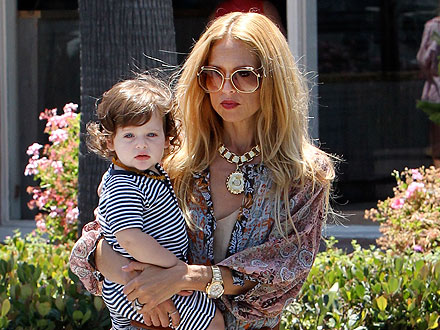 Rachel Zoe's son Skyler was quite the attention-grabber when the pair popped into Sofia Bananabeat Boutique at the Malibu Country Mart.

While the celebrity stylist was impressed with a vintage Givenchy gold coin choker necklace that she purchased, her little one was busy making an impression of his own.

"A Sofia beach ball was brought out for Skyler and everyone was clapping and moving with him while he was running around dancing and kicking the ball," an onlooker tells PEOPLE of the tot, who was grooving to the sounds of Talking Heads and Duran Duran. "Rachel commented on how great the music was."

Adds the source, "The mood was extremely happy and fun. Rachel was incredibly nice and down to earth."
– Jennifer Garcia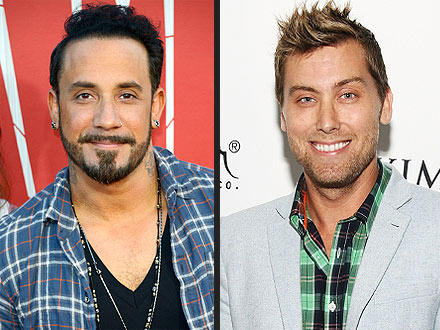 There was a boy band crossover recently at The Grove in L.A.

Backstreet Boy – and expectant papa – A.J. McLean was spotted chatting up former 'N Sync star Lance Bass in the lobby of the outdoor mall's cinema complex just after midnight.

"They were smiling and seemed excited to chat," an onlooker tells PEOPLE. "It didn't seem like anyone else really noticed them."

The source adds that McLean – sporting jeans and a cap – and Bass were there with a group of people.
– Dahvi Shira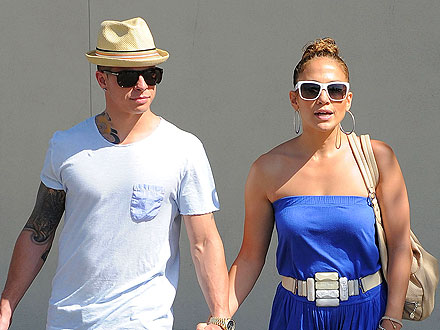 In a group of about 15 people, Jennifer Lopez, boyfriend Casper Smart and X Factor mentor L.A. Reid made their way into Blue & Cream's brand new boutique in East Hampton on Monday.

"They tried on sunglasses for over a half an hour," an onlooker tells PEOPLE, adding that they also checked out handbags and customized Havaianas. "Casper bought Jennifer a pair of the newest Brian Atwood stingray shoes and L.A. purchased his wife Erica a Tori Praver bathing suit."

Free from any security guards, the large group also headed across the street to the original Blue &Cream store, where Casper purchased some Oliver Peoples shades, and his lady love bought a pair from Stella McCartney.

"The [store] locked the doors for this shopping spree," the source says. "Onlookers sat outside and tried to get a glimpse of [Jennifer]."
– Carlos Greer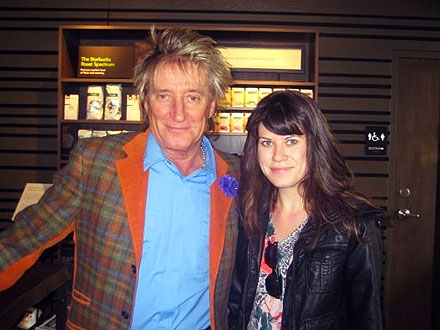 We asked for your submissions – and they're pouring in! You've seen Simon Cowell, Jimmy Fallon, Donald Trump, Billy Joel, Kylie Minogue and more. Check out some of our favorites:

Our Twitter follower @ashbritton ran into Rod Stewart on Monday at Starbucks during her vacation to California.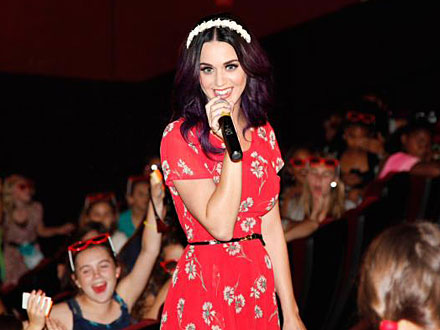 Katy Perry's fans were in for a big surprise on Wednesday night when they attended a screening for the pop star's Paramount documentary, Katy Perry: Part of Me.

Clad in a red floral dress with an open back, the "Wide Awake" singer popped up at the theater inside The Grove in Los Angeles just as the lights went down for the viewing to begin.

Once Perry arrived, she told the crowd, "You guys are all so cute, even all the way to the back," an onlooker tells PEOPLE.

"Little girls rushed the screen as Katy walked around slapping hands and greeting fans," the source says. "She managed to sign some autographs and pose for a few pictures before trying to disperse the massive crowd that had gathered around her."

Perry, who said a few more sweet things to her admirers on the mic, "was all smiles and seemed genuinely excited for her young fans to see the film," the insider says, adding, "The start of the screening was delayed a good 10-15 minutes before Katy sat down in the middle of the screaming crowd for a bit."
– Jennifer Garcia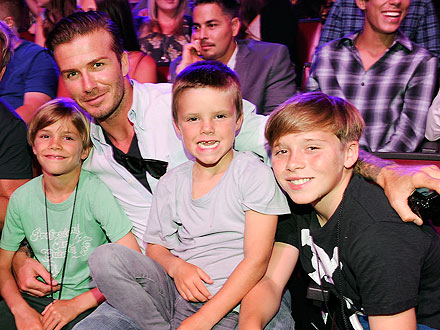 Father's Day isn't until Sunday, but doting dad David Beckham got an early jump on festivities with a recent outing in Los Angeles.

The soccer star took his three boys, Brooklyn, Romeo and Cruz to AMC Theaters at the Westfield Century City Mall, with no sign of mom Victoria Beckham or the couple's only daughter Harper Seven, who turns one in July.

Spotted outside of the theater that was showing Madagascar 3, an onlooker tells PEOPLE the "bodyguard-free" group of four "looked so cute and so close, and seemed happy spending the day together."
– Marisa Laudadio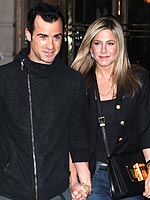 Jennifer Aniston and Justin Theroux are continuing to live it up on their Parisian vacation, with Aniston taking her beau to some of her preferred haunts around the city.

The couple dined at celebrity hotspot Ristorante Le Stresa, one of Aniston's favorite restaurants, late Tuesday night, enjoying a leisurely 90-minute dinner with a female friend of Aniston's before returning to their hotel.

Aniston, 43, had an arugula and parmesan salad and a diet soda at the Italian eatery, while Theroux, 40, opted for pasta carbonara. They also shared a tomato-and-mozzarella thin-crust pizza.

According to Toni Faiola, who works at the family-owned restaurant, the actress was "like she always is: very charming."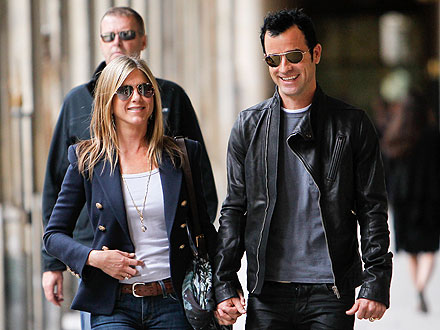 Many Parisians were cursing the rain on Sunday, as it pushed the French Open men's final to Monday. But Jennifer Aniston and Justin Theroux were far from gloomy, as they brought their romance to the City of Light.

The couple, who touched down at Charles De Gaulle Airport on Sunday, checked into a luxury hotel on the city's Right Bank – a classy upgrade for the actress from last weekend, when she was named MTV's best on-screen dirtbag – and took a walk in the Tuileries Gardens.

On Monday, Aniston, 43, and Theroux, 40, were spotted moving hotels, according to sources. After checking into their new digs, the pair popped out to Rue St. Honoré for a quick shopping trip at the boutique Colette. Next up: a stop by the Palais-Royal, where they were spotted holding hands.


Check in like a superstar!
Shop like a Star
The most buzzed about stars this minute!