Los Angeles: Latest Sightings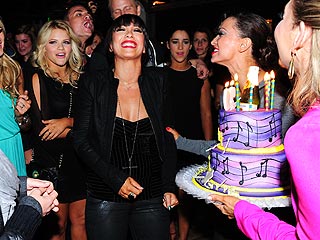 After Dancing with the Stars on Monday, Cheryl Burke celebrated her 29th birthday with the help of her fox-trotting friends.

Kelly Monaco, Karina Smirnoff and Kym Johnson were on hand for the celebration at Mixology 101 in Los Angeles, where they presented the birthday girl with a towering red velvet cake.

"Cheryl is one of my best friends," Johnson told PEOPLE. "I loved being at Mixology to help her celebrate alongside these gorgeous ladies!"

Reflecting on the occasion, Burke said, "I've spent my entire twenties on DWTS. It was incredible to be able to celebrate 29 with my show family and friends," adding, "I can't wait to see what this year brings."
– Michele Stueven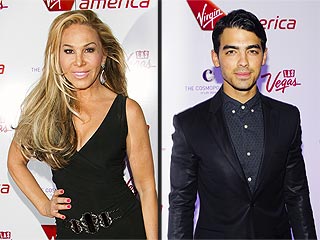 Joe Jonas and his lady are flying high.

The singer, along with girlfriend Blanda Eggenschwiler, joined Richard Branson at 35,000 feet on Monday to celebrate the launch of Virgin America's new route from Los Angeles to Las Vegas.

"They were very cute together," an onlooker says of the couple. "They sat next to each other all night, and he never left her side."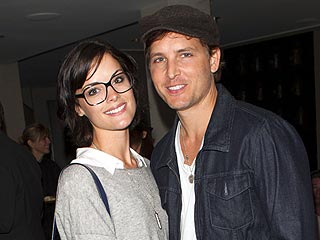 Peter Facinelli and girlfriend Jaimie Alexander keep each other close – and their pets even closer.

The couple attended the Onyx & Breezy Foundation's Saving Tails event in Los Angeles at the private estate of James Costa on Saturday.

"Peter and Jamie walked in holding hands," an onlooker tells PEOPLE. "They were holding hands and kissed. They seemed so comfortable on the red carpet."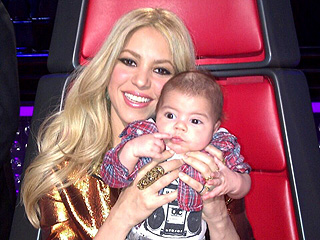 We have a winner!

Shakira melted the hearts of The Voice audience members at the show's battle round taping on Tuesday evening in Burbank, Calif., when she showed off her new son, Milan, born in January.

While on a break between contestant performances, the singer beamed when she was handed her baby boy. Holding her son up so the cheering audience could see him, Shakira then sat back down in her red chair, cradling her babe while their picture was taken.

The show's host, Carson Daly (also a dad), went right over and starting 'oohing' and 'ahhing' at Shakira's little guy, while coaches Blake Shelton and Adam Levine took quick peeks before returning to their seats.

Moving Milan to the beat of fellow mentor Usher's "OMG," Shakira "was nothing short of a proud and doting mom," an onlooker tells PEOPLE. But just before the break, the 2½-month-old started to fuss – loud enough that his little cries echoed through the whole studio. After the crowd let out a cute 'aww,' Shakira handed her baby off to be taken backstage – but not before puffing out her bottom lip in protest. – Jessica Herndon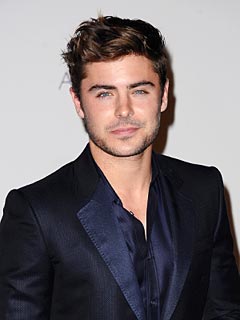 It was a mellow, carefree Friday night for Zac Efron.

The Townies star kept a low profile at West Hollywood hotspot Bootsy Bellows, where he hung out with pals in the VIP room at a table in the way back corner of the club.

Clad all in black, with a beanie covering his head, the star sipped on vodka cocktails and danced to Drake's "Started from the Bottom."
Nightlife
West Hollywood, CA
to my to do list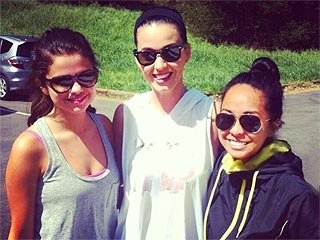 Katy Perry and Selena Gomez gave one of their biggest fans a double dose of excitement on what was shaping up to be a very normal Sunday afternoon last weekend.

Nikki Bumatay and her fiancé bumped into the songbirds while hiking at Fryman Canyon Park in Studio City, Calif.

"We were sitting in our car when this Maserati pulls up," Bumatay told PEOPLE. "I look back and see who gets out of the passenger door and it's Selena Gomez."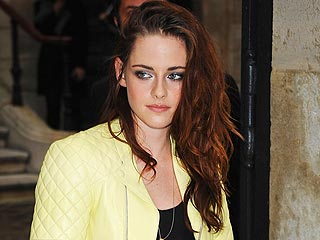 Kristen Stewart let loose with pals on Friday night in Los Angeles.

Hitting up El Arco Iris restaurant for some Mexican food and fun, the former Twilight star was joined by a group of male and female friends, and they ordered a big bowl of chicken soup, a pitcher of the strawberry margarita and a pitcher of the house special margarita.

"Kristen and her friends did a tequila shot," an onlooker tells PEOPLE. "The staff said that Kristen was super sweet and was very thankful and even took photos with them."

Dressed casually in jeans and a white T-shirt, the actress wore her hair wavy and down and flashed a peace sign in a photo that was taken at the eatery.
– Dahvi Shira
Star Hot SpotsWhere Celebs Play
More Photos
Advertisement
Check in like a superstar!
Al Fresco Fun
Enjoy the outdoors at these star-loved spots
The most buzzed about stars this minute!