Las Vegas: Latest Sightings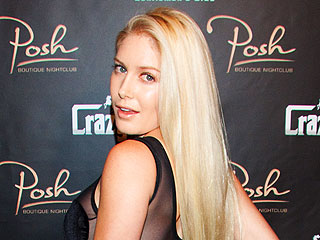 The Hills are alive with the sound of club music!

Heidi Montag and Spencer Pratt celebrated the three year anniversary of Crazy Horse III Gentlemen's Club in Las Vegas on Friday night.

Montag – who hosted the event – arrived wearing skin-tight black leather shorts and a see-through black top.

Joined by husband Pratt, the former Hills costars sat at a VIP table where they toasted with Dom Perignon Champagne and Patrón shots.

"Heidi came to the club with a mission – to get her first ever lap dance!" an onlooker tells PEOPLE. "Heidi selected two bombshell dancers and she showered them in $1 bills."


– Melody Chiu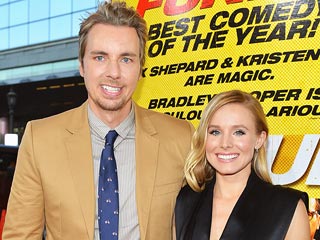 Vegan Las Vegas!

Kristen Bell and Dax Shepard stepped out for lunch at LBS Burger at the Red Rock Resort & Spa in Las Vegas on Saturday.

The Hit and Run costars were also joined by Bell's parents.

"They were having a great time and were laughing together," an onlooker tells PEOPLE.

Bell and Shepard – who are vegan – both ordered the URTH burger, a house made vegan patty burger.

Bell paired her animal-free lunch with a side salad and water while Shepard snacked on waffle fries and a Diet Coke.
– Jennifer Garcia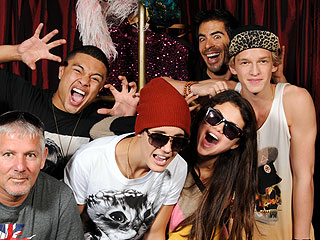 Spooky Sunday!

Justin Bieber, girlfriend Selena Gomez, Cody Simpson, director Alfredo Flores and a few other friends visited Goretorium in Las Vegas on Sunday.

Bieber, Gomez and friends met up with creator Eli Roth at 1:30 p.m. for a private tour of the frightening venue.

Roth, who is also the brains behind horror films Hostel and Cabin Fever, created Goretorium as a self-guided multi-level maze of horrors.

The group started off in the lobby of the mythical Delmont hotel but as they toured the space, more and more gruesome sights were revealed.

"Once the group made it out 'alive' they toured the Goretorium retail shop, which is filled with horror props," an onlooker tells PEOPLE.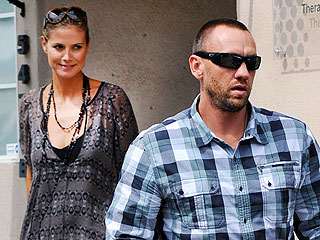 Heidi Klum and her bodyguard/rumored boyfriend Martin Kirsten stepped out for a late lunch Tuesday at Joe's Stone Crab in Las Vegas.

"They were very affectionate throughout the meal," an onlooker tells PEOPLE.

The couple enjoyed oysters, stone crab, pan-roasted sweet corn and filet mignon.

Earlier this month, a friend of Klum's told PEOPLE that the relationship between the model-turned-mogul and Kirsten is "complicated" but that Kirsten is Klum's "no. 1 confidante."

While their relationship is yet to be publicly confirmed, during a recent appearance on Katie, Klum spoke fondly of Kirsten, explaining that he has "cared for our four children and helped us tremendously" since working for her over the past four years.
– Jennifer Garcia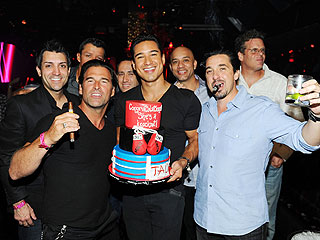 Pool party!

Mario Lopez kicked off his bachelor party weekend at TAO Beach in Las Vegas on Friday afternoon.

"Just checked in.. Heading to the pool for some drinks, then a little gambling… Dinner & club later… 15 of us guys here! #DeepEntourage," Lopez Tweeted on Friday.

The Extra and America's Best Dance Crew host and friends snacked on crispy rice, quesadillas, fresh fruit and sushi while they soaked up the sun.

As Lopez relaxed, little did he know his fiancée Courtney Mazza was planning a surprise for her soon-to-be husband.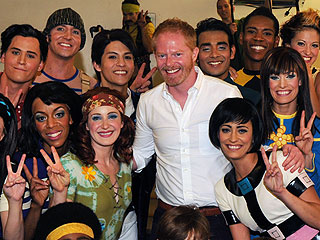 All you need is love!

Modern Family's Jesse Tyler Ferguson and boyfriend Justin Mikita took in a performance of The Beatles LOVE by Cirque du Soleil at The Mirage in Las Vegas on Saturday night.

Accompanied by a small group of friends, the couple attended LOVE as part of a birthday celebration for Mikita.

"They kept it low-key by ordering a few Fiji waters to sip on during the show," a source tells PEOPLE.

Afterwards, Ferguson, Mikita and their friends went backstage to meet the cast and crew.

It's all part of Mikita's "birthday week" celebration, as Ferguson Tweeted, sharing a photo of his beau with a festive birthday treat.


– Mark Gray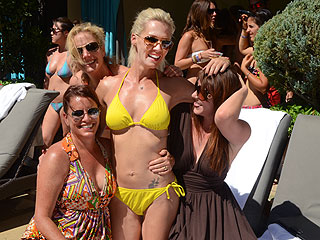 That's one hot momma!

Jennie Garth celebrated Labor Day weekend at Azure Pool at The Palazzo Las Vegas. Wearing a neon yellow string bikini, the mom to daughters, Luca, 14, Lola, 9, and Fiona, 5, stunned onlookers with her svelte beach body.

Garth – who is casually dating photographer Noah Adams – soaked up the sun as she enjoyed the sounds of DJ MomJeans, also known as Danny Masterson.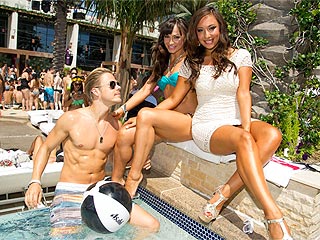 They don't head back to the ballroom for another few weeks, but Derek Hough, Karina Smirnoff and Cheryl Burke already look to be in top form.

The Dancing with the Stars pros were able to relax – and flash their fit physiques – with a little fun in the sun over the weekend in Las Vegas.

The Asahi Super Dry Beer summer takeover kicked off Friday at Marquee Nightclub, where the trio, sat at a VIP table and drank beer. The fun continued on Saturday at Marquee Dayclub, where the pros chilled in a poolside cabana while listening to the sounds of the EC Twins, who provided the soundtrack to the party.

"They all were having a great time, relaxing before the season starts up," a source tells PEOPLE. "There were times when you would see Karina and Derek jump behind the deejay booth, taking photos along with dancing and laughing."

Dancing's all-star season begins Sept. 24 on ABC.
– Mike Fleeman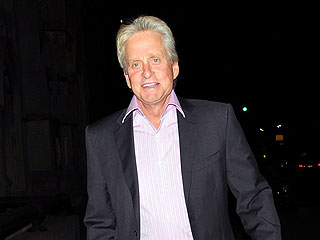 That's one lucky hand!

Michael Douglas took in a game of blackjack on Monday night at the Tropicana in Las Vegas.

"He was just having fun and fooling around passing time with other guests," an onlooker told PEOPLE.

Douglas's spot at the table might have been for more than just fun. The 67-year-old actor is slated to appear in Last Vegas, an upcoming film about four best friends in their 60's who decide to forgo retirement and throw a bachelor party in Las Vegas instead.

Douglas will star alongside Robert De Niro, Morgan Freeman and Jack Nicholson. – Jennifer Garcia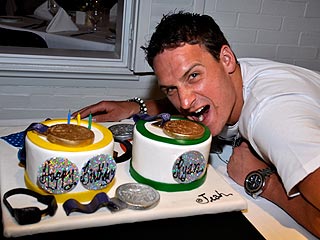 There wasn't a dull moment over the weekend for Ryan Lochte.

Lochte, who has been partying in Sin City since Thursday, was sure to cover all of his bases.

On Sunday, the athlete enjoyed an extended birthday dinner at Bacio Italian restaurant inside the Tropicana Las Vegas with a large group of guys, including fellow Team USA swimmers Cullen Jones and Conor Dwyer.

"Ryan sat on the outside of the restaurant, where women walking by went crazy over him, screaming and waving," an onlooker tells PEOPLE. "They were snapping photos."

Lochte – who munched on salad, pasta, sea bass and salmon – was brought a special Olympic-themed cake at the end of the meal, which he Tweeted about, that even included his signature term, "Jeah." (Lochte turned 28 on August 3.)
Check in like a superstar!
Shop like a Star
The most buzzed about stars this minute!