Lady Gaga: Latest Sightings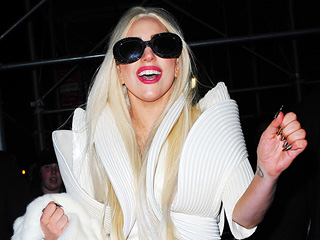 Lady Gaga isn't exactly known for being quiet.

But on Wednesday, the singer had a low-key evening with two female friends at the Chateau Marmont in West Hollywood.

With two tables full of bodyguards sitting behind her, Gaga looked "quite tired and somber" throughout the evening, an onlooker tells PEOPLE. "She was talking low and leaning into her friends. She didn't laugh or smile the entire time, just straight-faced chatting and sipping on some wine."
Hotels & Travel
Hollywood, CA
to my to do list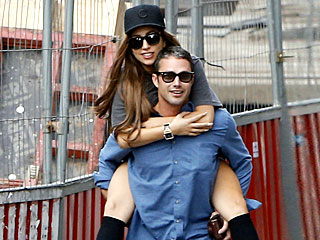 After attending the after party for An Evening with the Chicago Bulls charity event at Studio Paris benefiting Bright Pink in Chicago Tuesday, Lady Gaga and boyfriend Taylor Kinney stepped out for a late night dinner.

Joined by a group of friends, Gaga and the Chicago Fire actor stopped into RPM Italian – owned by Bill and Giuliana Rancic – for some homestyle fare.

The group ordered up dishes including lobster caprese, insalata bianca, duck agnolotti, Sicilian pork arrosti, Mediterranean octopus, Mama DePandi's bucatini pomorodo and short rib pappardelle among others.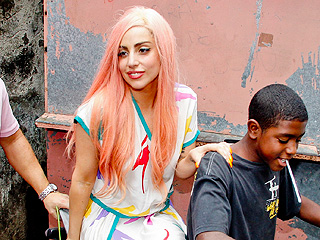 Lady Gaga surprised her fans in Rio de Janeiro when she visited Cantagalo, a favela in nearby Copacabana on Thursday.

Sporting new pink hair, the Born This Way singer played soccer with the neighborhood children. Although she was surrounded by security, she even pretended to hop on a motorbike taxi for a photo.

"I'll never forget Rio, you lit my heart into flames," she Tweeted on Thursday, sharing a photo of herself embracing a child.

Most recently, Gaga announced she would pledge $1 million to New York and American Red Cross fro Superstorm Sandy relief.


my lil Rio Babies PIZZA is coming downstairs. I feel like i slept in bed w you last night. every time i woke up i could hear you screaming!

— Lady Gaga (@ladygaga) November 8, 2012
– Dominic Phillips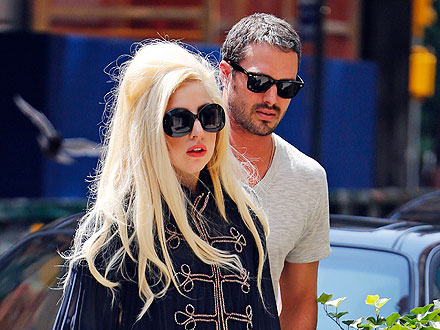 Talk about a special guest!

Lady Gaga schmoozed with her boyfriend Taylor Kinney's family over the weekend, when she joined him at L.A.'s Westlake Village Inn for his brother's wedding.

Spotted by a onlooker at Bogies, the hotel's on-property lakeside bar and lounge, Gaga sipped on pineapple, orange juice and vodka.

Adds the insider to PEOPLE, "She was relaxing in a cabana with the wedding party."
– Jennifer Garcia
Dining
West Hollywood, CA
to my to do list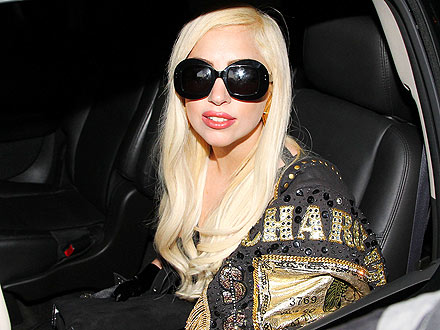 West Hollywood's Chateau Marmont is a bustling venue, but when Lady Gaga arrived for drinks on Tuesday night, the entire restaurant fell silent.

"While walking back from the bathroom, Gaga stopped in her tracks when she heard a small group of people singing her song 'Edge of Glory,' " an onlooker tells PEOPLE. "The singing was very loud and made all the guests stop their conversation."

Looking into it further, Gaga and her three male companions, who looked like bodyguards, realized the voices were coming from a large group of fans camped out on the other side of the hotspot's wall of hedges.

"Gaga tried to speak to the fans through the wall but the singing was too loud so she had the hedges pulled apart as she stuck her head through the wall," the source says. "She said, 'Guys, it's Gaga,' before the crowd exploded with cheers."

Chatting with the fans for a few minutes while sticking her head through the bush, the insider explains, "Gaga told them she loved them and appreciated the support, but to please stop singing so the other people inside could eat in peace."

As the fans apparently happily obliged, Gaga – dressed in "an amazingly insane black outfit" – joined a girlfriend at the bar to chat while sipping on a glass of wine.
Hotels & Travel
Hollywood, CA
to my to do list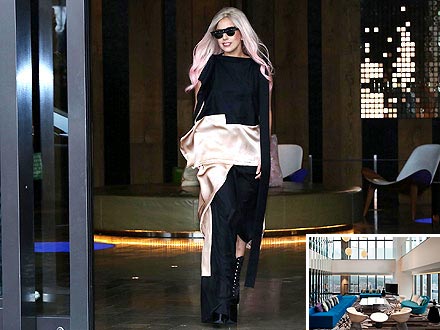 Lady Gaga recently relaxed in a hotel room fit for the queen she is.

The "Born This Way" singer stayed at the W Taipei in for three evenings, where she lounged in the Extreme Wow Suite, worth more than $12,000 per night.

The extravagant room, a loft-like two-story stay, is the largest suite in Taiwan at 365-square feet. It boasts a gym and sauna, a wooden swing (!), a flatscreen in the bathroom – and even its own catwalk suspended high above the living area!

The colorfully decorated space is bordered with glass walls and overlooks the beautiful city in 270º views.

"She spent most of her time in the suite," a source tells PEOPLE. "She enjoyed the room's many amenities, including the 24-hour-a-day on-call butler service."
– Jennifer Garcia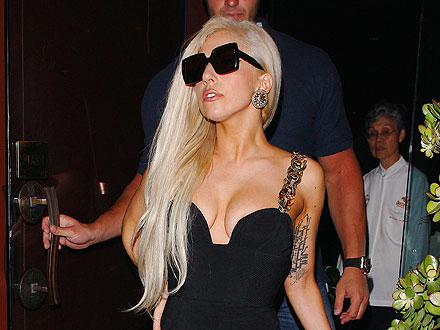 During her weekend trip in wine country, Lady Gaga stopped into Sonoma's Best, a deli and wine shop, for a meatball lunch to-go. And two days later, she was spotted in the area again … this time with rumored beau Taylor Kinney, who joined the singer for a late lunch at the bar of The Girl + the Fig. Over their meal, they sipped the restaurant's signature "Fig Kiss" cocktail (made with "figcello" and elderflower liquor), as well as mussels and a beet salad. – Kristen Mascia
Star Hot SpotsWhere Celebs Play
More Photos
Advertisement
Check in like a superstar!
Al Fresco Fun
Enjoy the outdoors at these star-loved spots
The most buzzed about stars this minute!