Justin Timberlake: Latest Sightings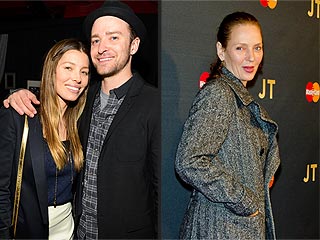 Justin Timberlake brought sexy back – and plenty of A-list wattage – to his sold out concert at Roseland Ballroom in New York on Sunday night.

Performing songs from his new album The 20/20 Experience during a two-hour show, the pop star was supported by his wife Jessica Biel and pals like Jason Sudeikis, Olivia Wilde, Andy Samberg, Joanna Newsom, Brooke Shields and Uma Thurman.

Biel, dressed in a navy tank top and white pants, had a blast rocking out in the VIP mezzanine area during the show, which was sponsored by MasterCard. "She knew all the words to his songs and was dancing the whole time," an onlooker tells PEOPLE. "She looked very proud."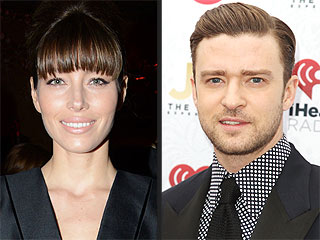 Justin Timberlake and Jessica Biel were both in Las Vegas over the weekend, but not for date night.

Timberlake made it a guys' evening out on Friday, kicking off the festivities at Yellowtail Japanese restaurant and lounge inside the Bellagio hotel.

Coming in around 10 p.m., the newlywed went incognito, casually dressed – and wearing a cap – to the point that no one in the restaurant seemed to recognize him. Seated in the main dining area, he did not appear to get any special treatment, though he seemed to be having a good time, munching on sashimi made by Chef Akira Back, and chatting and laughing with his pals. At one point, his hit song "Suit & Tie" came on.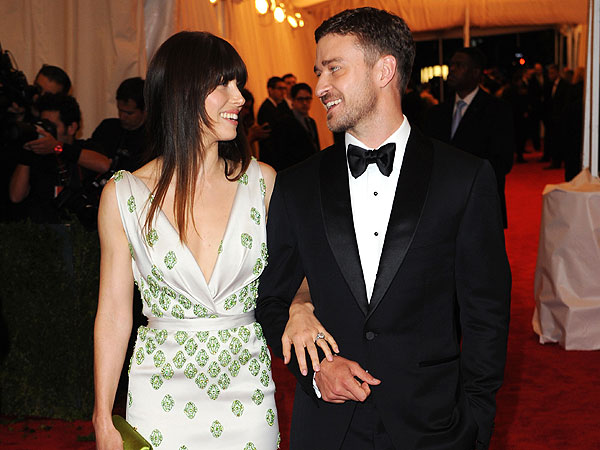 Before their glam night out at the Met Gala, Justin Timberlake and Jessica Biel scoped out some accessories.

Stopping by jeweler Eli Halili in New York City's SoHo area, the couple "spent over a half hour" in the store, an onlooker tells PEOPLE, adding that they worked with the jeweler and picked out ancient rings, precious stone necklaces – and even tried on wedding bands.

"They definitely seemed fond of each other," says the source. "They were extremely personable, comfortable and relaxed. They weren't holding hands or anything, but they just seemed comfortable with each other."

The engaged couple left the shop with a 24K gold ring and two necklaces, totaling almost $7,000.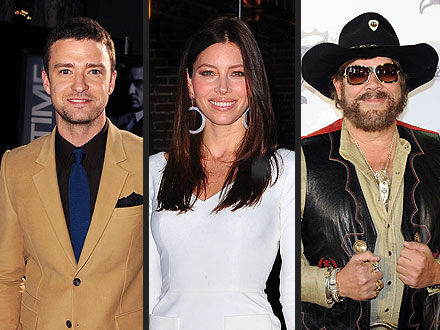 Justin Timberlake was hanging out backstage at a Hank Williams Jr. concert – and he was in good company.

The singer-actor was joined at the Southhaven, Miss., gig (where Williams was performing under the naming Rockin' Randall) by fiancée Jessica Biel, mom Lynne and business partner/BFF Trace Ayala.

And, clearly, there was lots to discuss.

"What a great guy," Williams said afterward of Timberlake. "Justin is a friend of my rebel son Kid Rock. He sure is a good country boy. We talked about girls, guitars, turkey hunting, going on cruises and how much we hate them, even though Bobby (Kid Rock) is on one right now and loving it, ugh!"

Continued Williams: "Hell, Justin and I even talking about recording a blues song sometime."
– Melody Chiu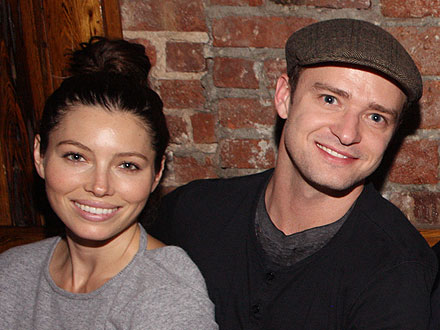 Jessica Biel paid fiancé Justin Timberlake a visit in Atlanta – his temporary home while he's filming Trouble with the Curve – and the two have been spotted all over town getting affectionate.

During one recent outing, the two were strolling around Piedmont Park before joining four other friends for a casual late lunch at Tex-Mex hotspot Tin Lizzy's. Timberlake opted for the restaurant's signature "Southern Comfort" taco with chicken, goat cheese, fried pickles and BBQ sauce.

"They were chill but acting affectionately," Atlanta resident, and fellow diner, Deanna Whidby tells us. "Jessica was rubbing Justin's back."

A source at the restaurant adds that Timberlake was very gracious with the staff and Biel was happy to flash her engagement ring while the group enjoyed live music on the patio. – Jennifer Bradley Franklin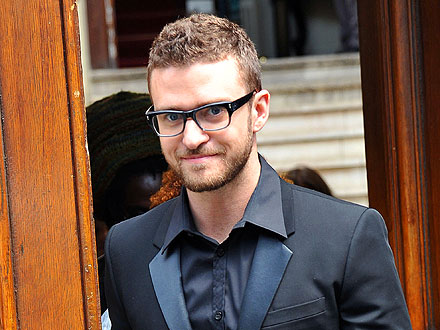 Justin Timberlake was spotted enjoying a low-key dinner at South City Kitchen in Atlanta with two companions – and he was diving into Southern specialties. On the menu: fried green tomatoes and buttermilk fried chicken.

The actor-singer has been in Macon, Ga., filming Trouble with the Curve alongside Clint Eastwood and Amy Adams. At dinner, though, Timberlake was joined by a male and female companion, and a restaurant source says the newly engaged star was "very unassuming and undemanding."
– Jennifer Bradley Franklin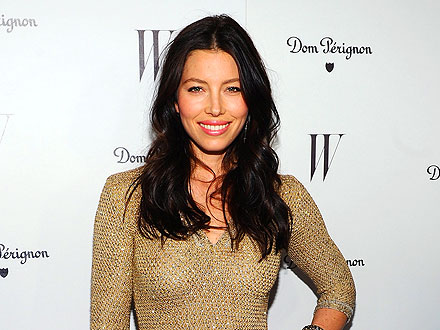 She may not have been photographed sporting it yet yet, but Jessica Biel was showing off her sparkly engagement ring on the patio at West Hollywood's Chateau Marmont while hanging out with a friend.

According to an onlooker, the sparkler was glittering in the sunlight – and it was a large, round rock. The actress was dressed comfortably in a gray blazer, black shorts and a rose-colored blouse. Biel sipped on a coffee and chatted up her friend – a bearded guy in a red plaid shirt and black-framed glasses.

Says the onlooker: "She looked really lovely, polished, calm and happy."

The two enjoyed each other's company for over an hour, never leaving their table and mostly keeping to themselves.
Hotels & Travel
Hollywood, CA
to my to do list
Star Hot SpotsWhere Celebs Play
More Photos
Advertisement
Check in like a superstar!
Al Fresco Fun
Enjoy the outdoors at these star-loved spots
The most buzzed about stars this minute!