Private Party: Latest Sightings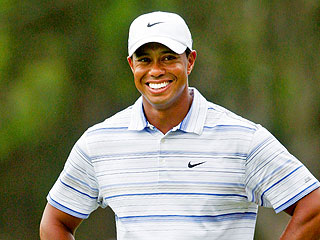 On Saturday, Westlake Village Inn Hotel in Westlake Village Calif., buzzed with excitement following Tiger Wood's 14th Annual World Challenge Golf Tournament.

Northern Ireland's Graeme McDowell took home top honors, winning his second World Challenge. But the real celebration was happening at Bogies, the hotel's lakeside bar and lounge, which held the closing party for the tournament.

At Bogies, Tiger Woods stepped out dressed in jeans and beige sweater.

"He was all smiles as he danced the night away," an onlooker tells PEOPLE. "At one point, he was surrounded by a group of six women on the club's dance floor."

The man of the hour, Woods requested songs alongside the deejay as the party went on.
– Jennifer Garcia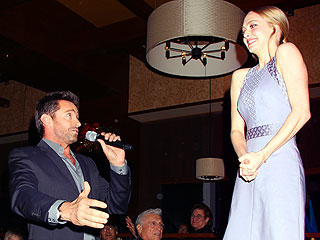 Following a Sunday night screening of Les Miserables, the cast and crew dined at Porter House New York.

Hugh Jackman, Anne Hathaway, Amanda Seyfried, Eddie Redmayne, Russell Crowe and Sacha Baron Cohen were all on hand to celebrate the film.

Anna Wintour, Michael Kors, Joan Collins and Tony Danza were also there to enjoy passed items from Chef Michael Lomonaco including roasted sliced filet mignon with cabernet and shallot sauce, porcini mushroom ravioli with white truffle cream and bite-sized desserts including New York state apple pie, cream puffs and mini ice cream sandwiches.

But the most delicious part of the evening was when Jackman – accompanied by a pianist – serenaded Seyfried with "Happy Birthday" while she stood on top of the grand piano bench in the center of the dining room.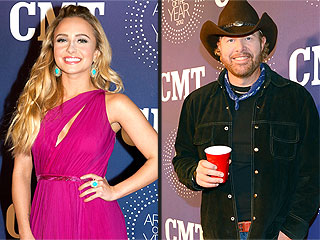 Hayden Panettiere is the host with the most.

The Nashville actress – who is co-hosting CMT's Artists of the Year – had a blast taping the awards show in Franklin, Tenn., on Monday night.

When Panettiere crossed paths with a red Solo cup-wielding Toby Keith on the red carpet, she had to find out what the country singer was drinking!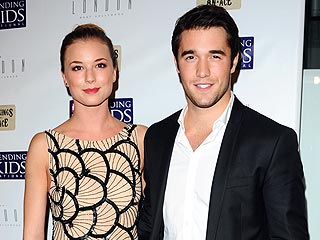 Sweet Revenge!

Emily VanCamp and her costar – and off-screen boyfriend – Josh Bowman attended the Mending Kids International Four Kings & An Ace Charity Poker event at West Hollywood hotspot The London on Saturday.

"Emily looked stunning in a nude and black cocktail dress while Josh complimented the outfit with a chic suit and tie," an onlooker at the event, sponsored by El Cartel Tequila, tells PEOPLE. "After laughing over their popcorn, the pair headed to one of the VIP rooms where the celebrity poker tournament was underway."

At the celebrity poker tournament – where player tickets were $10,000 a person! – Robert Downey Jr., Jodie Foster, Sean Penn, Mel Gibson and Gene Simmons played for a good cause.

Revenge cast members including Madeleine Stowe, Nick Wechsler, Gabriel Mann, Aiden Mathis, Margarita Levieva, Connor Paolo and Ashley Madekwe were also on hand to enjoy casino games and cocktails.
– Melody Chiu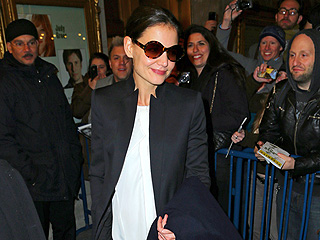 After the opening night of previews of Dead Accounts, Katie Holmes hosted a small party at The Lambs Club in New York on Monday.

"Katie came into the party wearing sunglasses," an onlooker tells PEOPLE. "She stayed for about 45 minutes and put the sunglasses back on when she was leaving."

Dressed in "a beautiful flowy black pantsuit and white shirt," Holmes mingled with her guests as they enjoyed Hemingway daiquiris, shrimp tartines and tuna tartare.

Although she made a brief appearance, while in attendance, Holmes – who made her Broadway debut in 2008 in a revival of Arthur Miller's All My Sons – was in "good spirits" and spent a lot of time with costar Judy Greer, the source adds.

Dead Accounts, written by Theresa Rebeck and also starring Jayne Houdyshell and two-time Tony Award winner Norbert Leo Butz, officially opens Nov. 29.


– Suzanne Zuckerman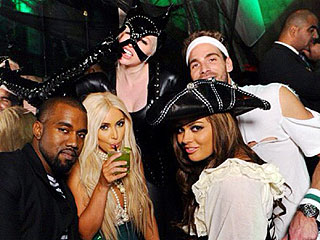 Happy (almost) Halloween!

Kim Kardashian and Kanye West celebrated Halloween early when Kardashian hosted the 2nd Annual Midori Green Halloween at Avenue in New York City on Saturday.

Kardashian's friends La La Anthony, Simon Huck, Carla DiBello and Joyce Bonelli also attended.

Dressed as a mermaid – with a blonde wig valued at more than $2,000! – all eyes were on Kardashian.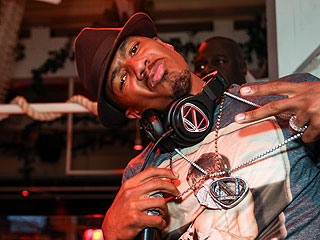 Nick Cannon deejayed Maxim Celebrates the Launch of Assassin's Creed III event at Colony Nightclub in Hollywood on Wednesday.

"Cannon arrived with a posse of four blinged out guys. They were all wearing lots of grills and jewelry," an onlooker tells PEOPLE. "He drove all of his friends to the event in a Porsche."

While walking the red carpet, Cannon was anything but shy about answering questions about his wife Mariah Carey's feud with American Idol co-judge Nicki Minaj.

"He kept using her full name when he referenced Mariah," the source adds. "It was almost like he was a fan as opposed to her husband."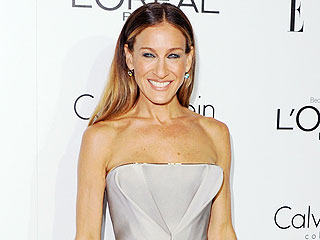 Sarah Jessica Parker and True Blood's Alfre Woodard stepped out in Cincinnati on Saturday to campaign for President Barack Obama – but Parker managed to squeeze in a little shopping, too.

The actresses – who were encouraging women to vote in the upcoming election – stopped into Sloane Boutique in Over-the-Rhine, Ohio.

"Sarah was so nice and so pleasant to be around," the boutique's owner tells PEOPLE. "Very humble and very down-to-earth."

The I Don't Know How She Does It actress tried on Veda leather jackets and bought some bracelets for her twin daughters, Loretta and Tabitha.

"She told me she couldn't wait to come back and shop again," the boutique owner added.
– Emily Strohm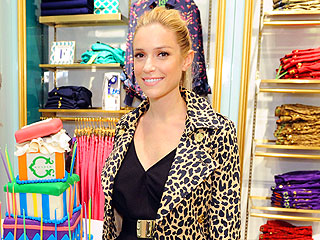 Kristin Cavallari stepped out on Saturday to celebrate C Wonder's first birthday in New York City.

At the event, Cavallari told PEOPLE that it was "good to have an afternoon away to unwind."

The former Hills star was on a mission to find the perfect coat. She tried on several styles and danced in the mirror as the deejay played music.

The proud mom also doted on her son with fiancé Jay Cutler, noting his recent milestones.

"He's making all kinds of noises and laughing and smiling all the time," she said. "He is a very happy baby. He loves to talk making lots of different noises and then he laughs and laughs."


– Jennifer Garcia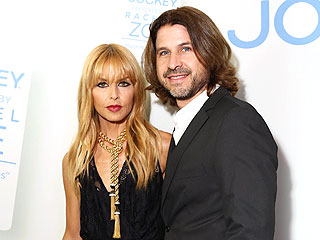 Fashionably great!

Rachel Zoe and husband Rodger Berman stepped out to celebrate the stylist-turned-designer's "Major Must Haves" from Jockey at the Sunset Tower in West Hollywood on Wednesday.

"Rachel and Rodger arrived hand in hand. They mingled together and when Rachel had business to tend to, Rodger still enjoyed himself, chatting with guests and their team," an onlooker tells PEOPLE. "He had a proud eye on Rachel."

The parents to Skyler, 19 months, "worked the room like partners," the source says.

When it came time for Zoe to address the crowd, Berman stood front row and laughed at all her jokes as he sipped on a dirty Martini.


Celebrating my @jockey major must-haves with the team! #JockeyZoeLA instagr.am/p/Q6IC3gxTRe/

— Rachel Zoe (@RachelZoe) October 18, 2012
– Dahvi Shira
Check in like a superstar!
Shop like a Star
The most buzzed about stars this minute!