Cannes: Latest Sightings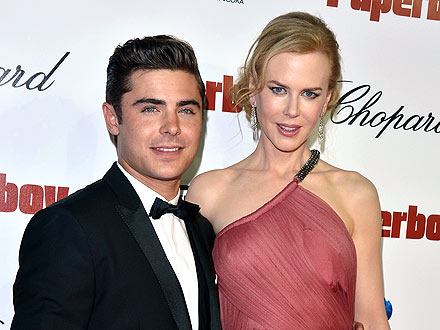 Zac Efron spends most of his time barely dressed in the movie Paperboy, but he was fully clothed – and ever so dapper – when he made it out to the afterparty in celebration of his film.

The bash, hosted by Ciroc Vodka and skincare line Erno Laszlo, was also attended by costars Nicole Kidman and Matthew McConaughey, along with Kidman's hubby Keith Urban and Reese Witherspoon. And guests were treated to elegant affair, despite the gritty nature of the movie being honored.

The event was held in a white lily-filled vintage lounge on Carlton Beach in Cannes, where guests sipped vodka and noshed on "every flavor of macaroons," according to a party-goer.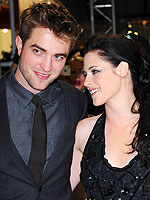 When in Rome ... or rather, Cannes.

Kristen Stewart and Robert Pattinson absorbed the romance of the French Riviera on Wednesday, sharing a kiss after a screening of Stewart's film On the Road at the Cannes Film Festival.

Finding time for a private moment together, Stewart, 22, leaned in to Pattinson, 26, and he kissed her forehead.

On the Road is an adaptation of Jack Kerouac's 1950s novel, and Stewart plays the main character Dean Moriarty's wife Marylou.
– Tim Nudd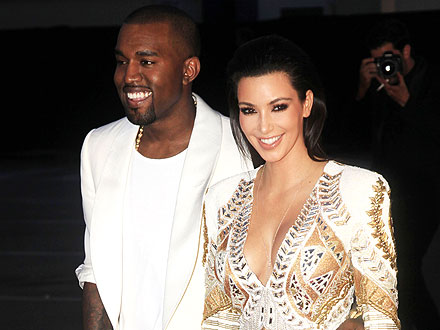 Kim Kardashian is usually the one in the spotlight, but she played an affectionate supporting role Wednesday at the premiere of boyfriend Kanye West's experimental film in Cannes.

West, 34, and Kardashian, 31, were among the first to arrive at the tented pyramid on Palm Beach for the screening of Cruel Summer, an immersive video experience with screens on all sides of the audience. As they posed for photos, the wind caught Kardashian's hair, and West gently smoothed it back into place.

The reality star, in a glittering mini dress and black booties and with slicked-back hair, was quietly adoring of West all night, sharing moments with him and helping to welcome friends including Jay-Z. As the film wrapped, she leaned over and whispered smilingly into West's ear and heartily joined in the standing ovation he was given.

She seemed relaxed, though quiet, at the afterparty, happily nuzzling against West and letting him have his moment to shine.
– Mary Green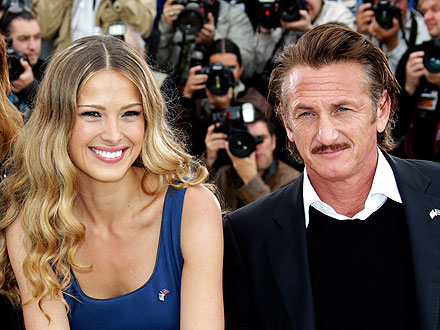 Sean Penn was in a jovial mood Friday night at the Cannes Film Festival where he hosted a benefit for Haiti, which raised about $1.5 million.

The actor and activist hosted a starry affair attended by David Schwimmer, Ben Stiller, Chris Rock, Diane Kruger, Jessica Chastain, Michelle Rodriguez, Ewan MacGregor, Gerald Butler and Penn's onetime gal pal Petra Nemcova, among others.

At one point Penn joked to the crowd: "I want to ask every woman here to turn to the man next to her and say I won't sleep with you tonight unless you make a big donation."

Two U2 VIP concert tickets and one of Bono's Gretsch guitars fetched 200,000 euros apiece, and three people shelled out $100,000 each to spend three days in Haiti with Penn.

The upbeat evening was a change from Friday afternoon when Penn went on a profanity-laced tirade about how the media and the world has abandoned Haiti in the wake of a devastating earthquake there.
– Dana Kennedy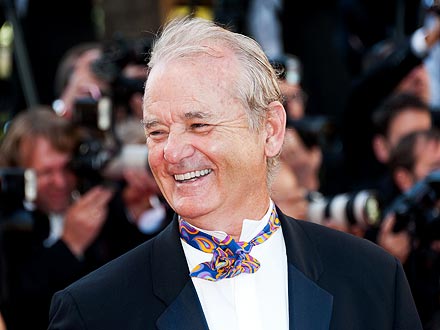 Bill Murray seems to be indulging in the local nightlife while in France for the Cannes Film Festival.

Murray, 61, and director Wes Anderson arrived at the Hotel Martinez bar shortly after 1 a.m. Thursday evening. Murray in particular appeared to be thoroughly enjoying himself (and some drinks!), flirting with a woman at the bar and singing along with a piano player.

The actor was heard telling the object of his affection that he planned to give her a kiss at midnight, before realizing it was already the wee hours of the morning.

Around 3:30 a.m., Murray, still in very lively spirits, closed out the evening by paying tribute to his hometown and accompanying the pianist for a rendition of "Sweet Home Chicago." – Mary Green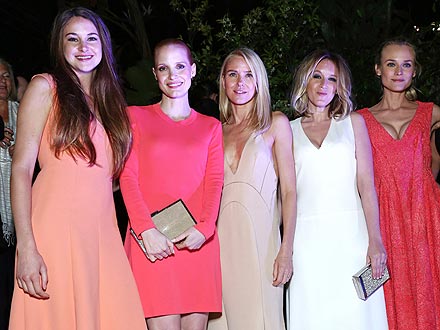 Actresses from both sides of the pond were honored at an event paying tribute to Women in Film Thursday, as part of the Cannes Film Festival.

Naomi Watts, Jessica Chastain, Diane Kruger, Shailene Woodley and French actress Ludivine Sagnier were the special guests at the event, held at the private mansion Villa St. George and sponsored by Calvin Klein. Chastain and Woodley danced the night away around a candlelit pool, still on their feet past midnight, according to the Associated Press.

Celebrities including David Schwimmer and Chris Rock also attended the event.

Alec Baldwin, in town with fianceé Hilaria Thomas, was also a major presence at the party, a source tells PEOPLE. The actor, who's show 30 Rock will wrap next season, joked to a party guest, "I'm going to be out of work soon, so I'm making all the friends I can."
– Dana Kennedy
It was a reunion of old (and news) pals when Ben Stiller, Jada Pinkett, Chris Rock and David Schwimmer gathered for the photo call for Madagascar 3: Europe's Most Wanted at the Carlton Hotel in Cannes.

"Schwim," Rock (who plays Marty the zebra) yelled when arriving at the same time as his Melman the giraffe costar. But it was Stiller who unknowingly doubled up on "Schwim" as his Alex the lion character photo-bombed the two as they made their way down the Croisette.
Star Hot SpotsWhere Celebs Play
More Photos
Advertisement
Check in like a superstar!
Al Fresco Fun
Enjoy the outdoors at these star-loved spots
The most buzzed about stars this minute!