Selena Gomez: Latest Sightings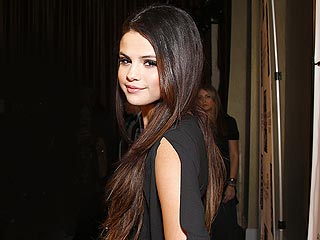 Guess she loves her own songs like a love song, baby.

Selena Gomez had a girls' night out at Bootsy Bellows in West Hollywood Saturday night, dancing along to a string of her hits with her pals (no Austin Mahone or Justin in sight!).

The starlet, who turns 21 this month, spent some time in the club's main room, where she requested Iggy Azalea's song "Work" from DJ Savi, before popping into the VIP room and asking that deejay to play some of her own songs, according to a source.

When the deejay obliged, Gomez's friends "all screamed and danced" as her latest single, "Come & Get It," started up. "Selena seemed to be in great spirits and looked like she was having a lot of fun," the source says.

Despite her group's enthusiasm, Gomez managed to fly under the radar throughout the evening, sticking close to her table in the club's back corner before leaving with her posse.
– Raha Lewis
Nightlife
West Hollywood, CA
to my to do list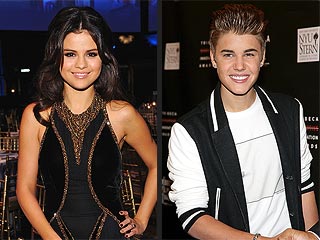 Are Justin Bieber and Selena Gomez back together?

The on-again and off-again couple was spotted at Cirque du Soleil's Love together on Saturday at the Mirage in Las Vegas – just a day before place cards revealed they may sit next to each other at Sunday's Billboard Music Awards.

Just before the show started, Bieber tried to inconspicuously enter the building, but someone noticed him and yelled his name, an onlooker tells PEOPLE.

As soon as the show began, the "Come and Get It" singer was "nuzzling right into" Bieber, the source adds.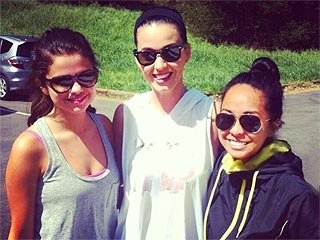 Katy Perry and Selena Gomez gave one of their biggest fans a double dose of excitement on what was shaping up to be a very normal Sunday afternoon last weekend.

Nikki Bumatay and her fiancé bumped into the songbirds while hiking at Fryman Canyon Park in Studio City, Calif.

"We were sitting in our car when this Maserati pulls up," Bumatay told PEOPLE. "I look back and see who gets out of the passenger door and it's Selena Gomez."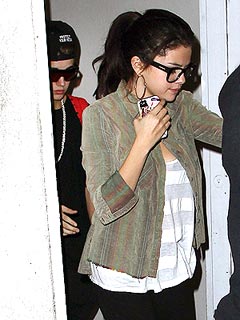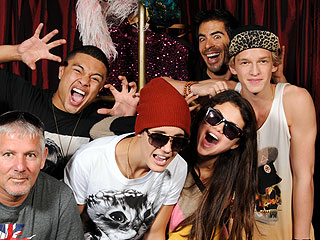 Spooky Sunday!

Justin Bieber, girlfriend Selena Gomez, Cody Simpson, director Alfredo Flores and a few other friends visited Goretorium in Las Vegas on Sunday.

Bieber, Gomez and friends met up with creator Eli Roth at 1:30 p.m. for a private tour of the frightening venue.

Roth, who is also the brains behind horror films Hostel and Cabin Fever, created Goretorium as a self-guided multi-level maze of horrors.

The group started off in the lobby of the mythical Delmont hotel but as they toured the space, more and more gruesome sights were revealed.

"Once the group made it out 'alive' they toured the Goretorium retail shop, which is filled with horror props," an onlooker tells PEOPLE.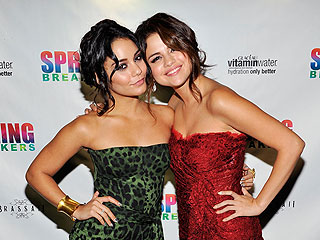 The Spring Breakers head north!

Selena Gomez, Vanessa Hudgens (and about 48 others from the cast of Spring Breakers) reunited for dinner – sans James Franco – in the private dining room at Brassaii Restaurant and Lounge in Toronto on Friday night.

"Selena was stunning and very excited about being here," an onlooker tells PEOPLE. "Both girls looked very elegant."

Upon arriving, Gomez took a slight detour before entering the restaurant.


"There were some young girls waiting on the red carpet set up outside. She sidestepped her handler and took some
Thelma and Louise
style photos with her fans," a source says.
"She also signed a 9-year-old boy's baseball cap ... and demanded Vanessa do the same."
"It was all very cute, she was so sweet to do it," the source adds.
– Kristin Boehm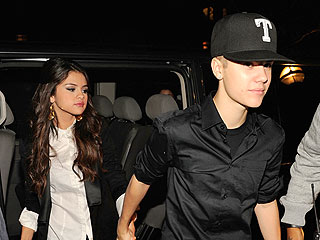 A Hollywood date night was music to Justin Bieber and Selena Gomez's ears on Sunday.

The longtime lovebirds made their way to the Living Room Lounge at the W Hollywood for the hotel's Sunday Jazz Series, taking in a performance by resident Brenna Whitaker and her Little Big Band, as well as child trumpet and tap dancing phenomenon, Gabriel Angelo, who appeared on Ellen DeGeneres's talk show in April.

"Gabriel received a standing ovation from Justin and Selena," an onlooker tells PEOPLE of the couple, who "looked very much in love as they held hands at a front-row table."

According to the source, the lovey-dovey duo "left discreetly around midnight through a back exit."
– Jennifer Garcia
Hotels & Travel
Los Angeles, CA, California, USA
to my to do list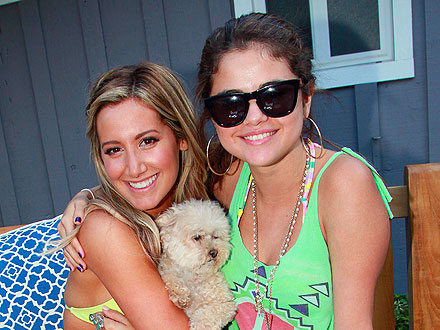 Ashley Tisdale rang in 27 with some of young Hollywood's biggest stars.

Set with a fête at a house in Malibu, the Miss Advised co-executive producer was joined by her man Scott Speer, along with Selena Gomez (who came solo, but brought some of beau Justin Bieber's pals) and Vanessa Hudgens and beau Austin Butler.

Sipping on Coco Brevé alcoholic beverages throughout the day, Tisdale and Speer showed "lots of P.D.A. action," an onlooker tells PEOPLE.

The birthday girl, clad in a yellow fringe bikini, and short jean cutoffs, took to Instagram to express her happiness over the celebration.

"Magical night at the beach!" she wrote, accompanying a bonfire photo. "#birthdaygirl."
– Jennifer Garcia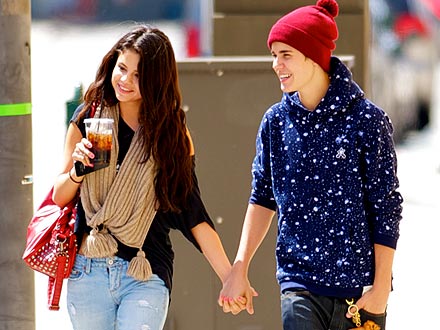 Justin Bieber clearly has the stamp of approval from the people closest to Selena Gomez.

Bieber recently joined Gomez's stepdad and mom Mandy Teefey at the Right to Laugh event hosted by the Alliance for Children's Rights at the Avalon in Hollywood. Teefey, a huge supporter of the organization, purchased an entire table to support the cause, and invited her daughter's boyfriend to accompany her family.

"Selena and Justin sat side-by-side," a source tells PEOPLE. "They were laughing and smiling the whole evening. They were being very low-key and gracious as to not take away any attention from the cause."

The group took in comical performances and skits by a troupe of comedians and fellow celebrities, including Martin Short and Patricia Heaton.
– Jessica Wedemeyer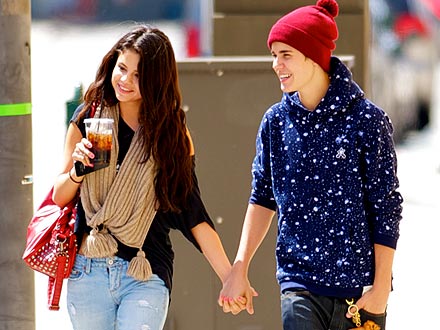 Young love in South Florida!

Selena Gomez joined boyfriend Justin Bieber at a jam-packed event for his Pencils of Promise Charity at St. Andrews School in Boca Raton. The charitable organization builds schools for the underprivileged around the world, and Bieber stopped by to congratulate several students on their great fundraising efforts.

"When Justin wasn't interacting with the group, he and Selena were behind [the] stage and in the backyard area making out," an eyewitness source tells PEOPLE. "It was amazing to see a young couple so much in love."

While in town, the two also the couple stopped by the oceanfront Breakers hotel in Palm Beach – then headed over to nearby Jupiter, Fla., for a private event.
– Linda Marx
Check in like a superstar!
Shop like a Star
The most buzzed about stars this minute!