Katie Holmes: Latest Sightings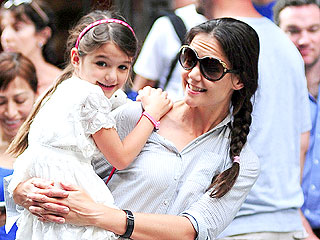 While most New Yorkers were preparing for the impending Frankenstorm on Sunday, Katie Holmes ventured out to upscale eatery ABC Kitchen.

Joined by a blonde female friend, Suri, another child and a bodyguard – who was stayed seated at the bar as the ladies dined – the Dead Accounts actress was hard to miss.

"Katie was all dolled up, lots of makeup and dressed to impress," an onlooker tells PEOPLE. "She was wearing very high heels, a dark green silk shirt and carried a fuchsia clutch."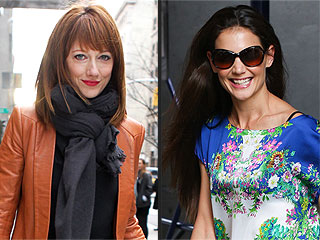 Coffee talk!

Katie Holmes made a pre-rehearsal coffee run with her Dead Accounts costar Judy Greer in New York on Monday.

Makeup free and wearing a hoodie, jeans and booties, Holmes looked "very relaxed," an onlooker tells PEOPLE.

While waiting in line for their coffee, "Katie was involved in an in depth conversation with Judy," the source adds.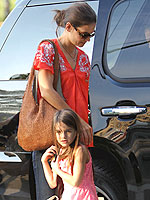 For Suri Cruise, life in fast-paced New York City isn't slowing down.

Once again, the 6-year-old daughter of Tom Cruise and Katie Holmes made her way to the Chelsea Piers recreational center Thursday, where she donned a blue leotard for a gymnastics lesson.

It was another summer outing for the young Cruise and Holmes, who dropped her daughter off at the Piers, not far from their new N.Y.C. apartment.

Amid the divorce drama that began two weeks ago – and peaked when the actress was granted primary custody, according to sources, Monday – the mother-daughter duo, often joined by Holme's mother Kathleen, have enjoyed the city, from the art museum to the zoo (and a little ice cream in between).
– Alison Schwartz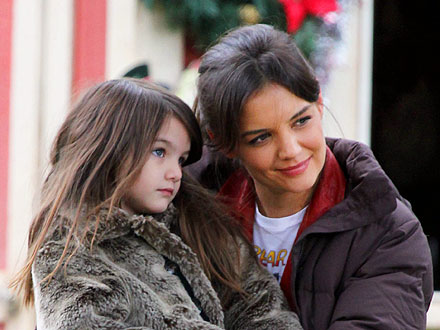 Katie Holmes and Suri Cruise seemed to enjoy a laid-back morning at a flea market in Milford, Conn., on Sunday.

The mother-daughter duo arrived at 11:30 a.m., making it just before closing with a woman who appeared to be a nanny.

"They were really cute together," an onlooker tells PEOPLE. "Suri was pointing things out, saying, 'Look at this, mommy,' and Katie said, 'Oh, yes, that's great!' They seemed really happy."

Holmes, who looked just like any other mom casually strolling around the market, was dressed down and "seemed very relaxed," the source says, adding that she picked up a picture frame from a vendor and was showing it to the woman who accompanied them.
– K.C. Baker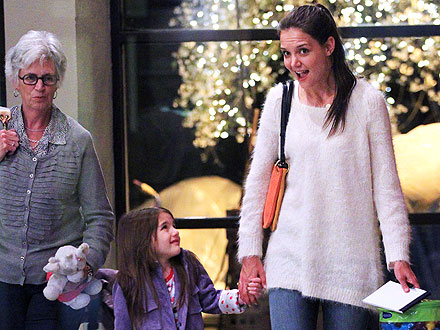 Talk about a creative day out!

On Tuesday, Suri Cruise stepped out for an afternoon filled with arts and crafts in New York City with her mom, Katie Holmes, and her grandmother, Kathleen, at Make Meaning on the Upper East Side.

Right away, Suri ran towards the toys – but this wasn't a shopping trip. Instead of treating her to new trinkets, the trio ended up on the second floor, not in a private room, painting ceramics.

Suri went after "every color in the rainbow," says a source at Make Meaning, which offers up to 50 activities, including jewelry making. She even tried her hand at decorating mugs, ceramic unicorns and a dog bowl.

"Katie was very hands-on," says the source. "There was a lot of back and forth between mother and daughter. Suri was totally immersed in the creativity."
– Catherine Kast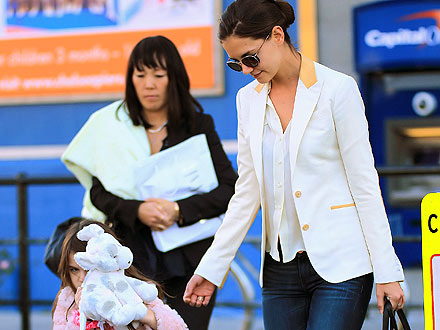 After premiering Jack and Jill in L.A., Katie Holmes headed to New York City for some quality time with daughter Suri. The two were spotted walking around Chelsea Piers Sports & Entertainment Complex together. The mother-daughter duo held hands as they strolled, and a camera-shy Suri covered her face with a stuffed Little Giraffe doll as she headed outside. – Dahvi Shira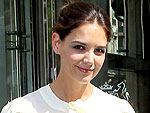 Katie Holmes made a trip to Sprinkles Cupcakes in Los Angeles after calling the shop at the last minute with a "cupcake emergency." The actress – a major cupcake fan – bought four-dozen assorted flavors, arrived by herself to pick them up and sipped a diet soda while waiting for them to be boxed up.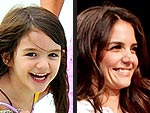 Katie Holmes's onscreen daughter Bailee Madison celebrated her Don't Be Afraid of the Dark premiere with a large family dinner at New York's Benjamin Steakhouse. The young actress and her family shared a porterhouse and an array of sides, and were also celebrating someone in the group's birthday.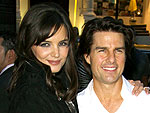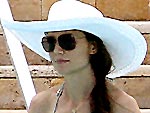 A bikini-clad Katie Holmes enjoyed a family pool day in Miami Beach with hubby Tom Cruise and daughter Suri. The trio hung out at the SoHo Beach House where, a source says, "they were keeping cool in the water while the temperature was in the mid-90s." Adds the source: "[They] seemed to be having a fun family play day."
Check in like a superstar!
Shop like a Star
The most buzzed about stars this minute!