Robert Pattinson: Latest Sightings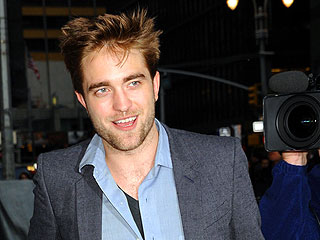 Sunday funday!

Robert Pattinson stepped out with friends to see The Black Keys perform at The Sayers Club in Hollywood on Sunday.

Dressed casually in a blue button-down, short-sleeved shirt and a backwards baseball cap, Pattinson arrived just before the show started at 9 p.m.

Despite the drama surrounding his relationship with Twilight costar Kristen Stewart, Pattinson couldn't have looked happier as he chatted with male pals including The Master actor Rami Malek, an onlooker tells PEOPLE.

"He had a smile plastered across his face during the entire show," the source adds. "He bobbed his head to almost every song. When he wasn't rocking out he sipped on beer and spent time texting."

After the show ended at 10 p.m., the Cosmopolis star stayed at the club, enjoying beers and posed for photos with 98.7 deejay Kennedy.

"Pattinson seemed amused by her and was laughing a lot throughout their conversation," the source says.
– Jennifer Garcia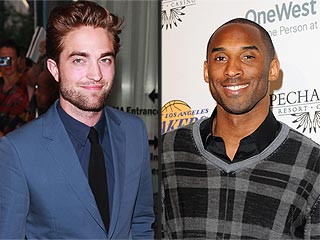 A slam dunk for Twilight!

Robert Pattinson stepped out Sunday night to attend Emmy host Jimmy Kimmel's after party at Soho House in Los Angeles.

Joined by a male friend, Pattinson was dressed casually in a baseball cap and jacket, but every girl in the room was "trying to get his attention," an onlooker tells PEOPLE.

Inside the star studded event, guests sipped on Don Julio margaritas and Bulleit Bourbon Old Fashioned cocktails and snacked on sliders from Umami Burger.

Samantha Ronson deejayed a set full of current hits and classic rock while nominees, winners and guests including Breaking Bad's Aaron Paul and Bryan Cranston, Ellen DeGeneres and Portia De Rossi, Downton Abbey's Michelle Dockery, L.A. Laker Kobe Bryant and more enjoyed the evening.

"At one point Rob approached Kobe to say hi and tell him he was a big fan," the source adds. "Kobe said the same right back to him!"


– Jennifer Garcia
Hotels & Travel
New York, NY
to my to do list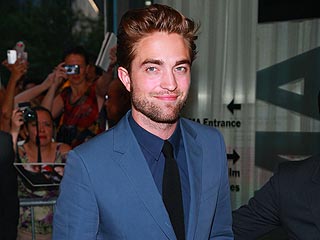 Robert Pattinson put on a happy face Monday night, at the afterparty following the New York City premiere of Cosmopolis.

Making his way to the PH-D Rooftop Lounge at Manhattan's Dream Downtown hotel at around 10 p.m., the heartbroken actor – who was recently cheated on by girlfriend Kristen Stewart – sipped a bottle of beer and took regular puffs from an electronic cigarette, according to an onlooker.

"He was very charismatic, all smiles, looking very relaxed and hugging all who stopped by to say hi," the insider tells PEOPLE about Pattinson, who left around midnight. "The general crowd gravitated towards his table, but he was shielded by security. He was surrounded by women and the movie's cast."

Adds the source, "The whole room was watching him, and he looked genuinely at ease and comfortable the whole time."

Other guests at the fete included Judah Friedlander, Shia LaBeouf and the film's costar Paul Giamatti, who stayed "away from the cast, looking over at Rob, and looked like he felt sorry for him," the source says.

Earlier in the day, Pattinson did his best at cracking jokes with Jon Stewart during a taping of The Daily Show.
– Kristin Boehm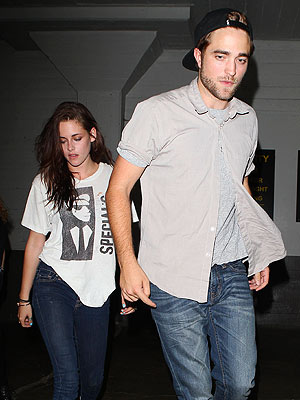 After appearing together at Comic-Con last week, Robert Pattinson and Kristen Stewart enjoyed a date night out in Los Angeles on Thursday.

The stars of The Twilight Saga: Breaking Dawn – Part 2 were spotted looking cozy, according to photographers, at Hollywood music venue Hotel Café.

Although Pattinson, 26, and Stewart, 22, tried to avoid snappers on their way in, they were less shy on their way out, holding hands as they walked to their car.

The Twilight duo seem to be getting more comfortable with PDA – it wasn't too long ago they were sharing a sweet kiss on the French Riviera during the Cannes Film Festival.
– Evan Lambert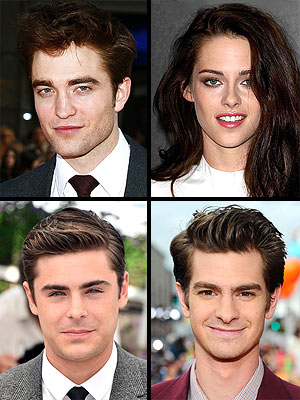 Kristen Stewart and Robert Pattinson helped a lucky New Jersey couple celebrate their big day this weekend.

The on- and off-screen couple – along with Zac Efron, Andrew Garfield (sans girlfriend Emma Stone) and Will Kopelman (sans wife Drew Barrymore) – made their way to Englewood, N.J., where Hollywood producer Kevin Turen wed Evelina Oboza on Saturday.

"They stuck to each other's side all night," an attendee tells PEOPLE of Stewart, 22, and Pattinson, 26, who partied with guests until dawn and were spotted walking hand-in-hand during the celebration.

And the bride wasn't the only one (likely) wearing something borrowed.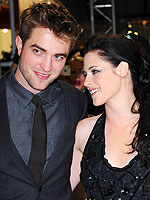 When in Rome ... or rather, Cannes.

Kristen Stewart and Robert Pattinson absorbed the romance of the French Riviera on Wednesday, sharing a kiss after a screening of Stewart's film On the Road at the Cannes Film Festival.

Finding time for a private moment together, Stewart, 22, leaned in to Pattinson, 26, and he kissed her forehead.

On the Road is an adaptation of Jack Kerouac's 1950s novel, and Stewart plays the main character Dean Moriarty's wife Marylou.
– Tim Nudd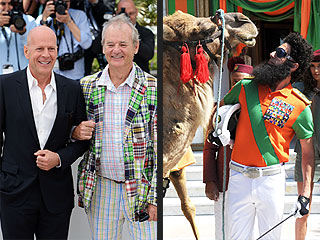 Sacha Baron Cohen kicked off the tradition of Cannes publicity stunts Wednesday when he appeared as his latest alter ego to promote his new comedy, The Dictator. Cohen arrived atop his camel, Osama, bringing the iconic Croisette promenade to a standstill in the process.

Four-legged arrivals aside, this year's Cannes Film Festival promises to be one of the most star-studded in years with some of Hollywood's biggest names scheduled to appear. Bruce Willis and Bill Murray were also photographed Wednesday on the red carpet for Wes Anderson's Moonrise Kingdom, which opens the festival.

Others on the list of expected VIP attendees: The reigning king and queen of Cannes, Angelina Jolie and fiancé Brad Pitt (his new crime drama, Killing Them Softly premieres at the festival), though they may have some competition in the supercouple category this year.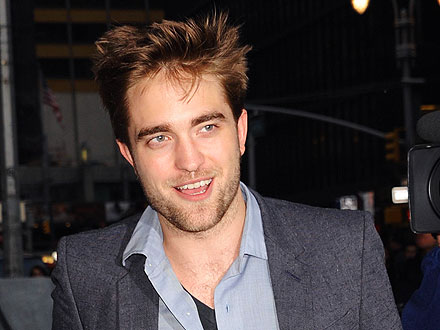 Robert Pattinson and four friends dined at The Majestic in Alexandria, Va., and the actor kept a low profile in his classic black shades and simple button-up shirt during the meal. Pattinson stopped by for a late dinner and stayed at the restaurant until closing time.

The actor cordially mingled with the crowd at the Majestic's bar while waiting for his table, and his group enjoyed each other's company and were "genuinely kind to staff."

Pattinson dined on a Caesar salad and steak, medium-rare, than thanked the chef for his meal.

"He's a real class-act gentleman," says a source.
– Helin Jung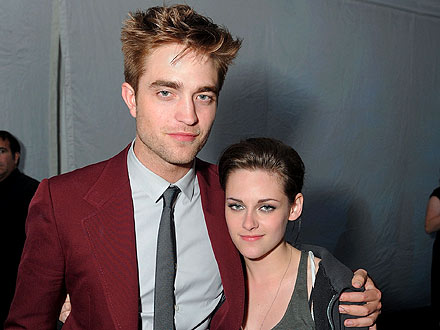 Longtime lovebirds Robert Pattinson and Kristen Stewart made a rare semi-public appearance together during the Oscar weekend in Los Angeles.

The couple attended WME's pre-Oscar bash at agent Ari Emanuel's house and were "quite affectionate" in front of other revelers, a source says. Adds the source: "[They] seemed very comfortable and sweet with each other." The duo mingled with guests such as the Kardashians, Miley Cyrus and beau Liam Hemsworth.

The following night, the two stepped out for dinner at Il Covo, where they were joined by four friends, including actress Mia Wasikowska for their meal on the restaurant's patio. The couple were the last to arrive at the party, and they each sipped a beer. Later, Stewart ordered a tequila cocktail. Unlike at the WME party, at dinner the couple kept their PDA to a minimum.
– Jennifer Garcia and Jessica Wedemeyer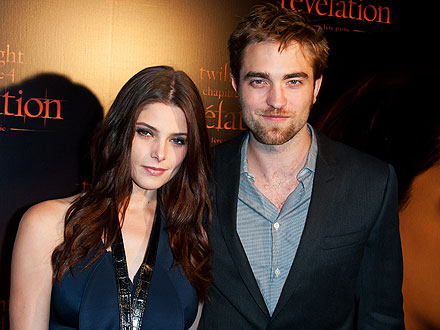 It wasn't all work for Robert Pattinson and Ashley Greene, who were in Paris to launch The Twilight Saga: Breaking Dawn – Part 1. The costars stepped out for dinner together at Bistrot Paul Bert with some friends. On their way, Pattinson posed with fans while heading out the back door of their hotel. During dinner the actor was in equally good spirits, an onlooker says. He tried the house terrine and some red wine, chatted with Greene and snapped pictures on his iPhone during the meal. – Peter Mikelbank
Advertisement
Check in like a superstar!
Shop like a Star
The most buzzed about stars this minute!