Bowlmor Lanes
222 W. 44th St.
New York, NY 10036
212-680-0012

to my to do list
If the glow-in-the-dark lanes don't bowl you over, maybe the star throwing strikes in the lane next to you will! Enjoy lane-side cocktails and food – and keep your eyes peeled for stars like Lady Gaga, Al Pacino – and even President Obama's daughters!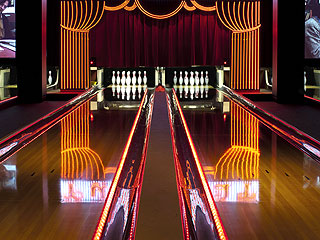 Credit: Courtesy Bowlmor Lanes
Latest Sightings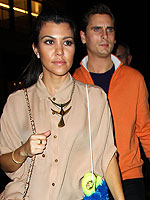 Kourtney Kardashian and Scott Disick took a break from diaper duty for some quality time at Bowlmor Lanes in N.Y.C. The Keeping Up with the Kardashian stars came dressed to impress. Kardashian wore black jeans and a Nissa Jewelry necklace during the their date night. – Dahvi Shira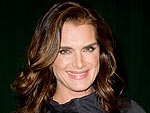 Just call her the party planner! Brooke Shields coordinated a small gathering at N.Y.C.'s Bowlmor Lanes, where the actress and her two daughters, Rowan, 7, and Grier, 5, helped celebrate a family friend's birthday. Everyone cheered and high-fived with the actress's girls as they enjoyed the alley's glow-in-the-dark lanes. Shields also helped her youngest daughter perfect her aim.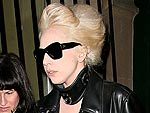 Lady Gaga traded in her platform heels for a pair of bowling shoes during a fun outing with beau Luc Carl at Bowlmor Times Square in N.Y.C. The pop star and her man took over the private fourth floor of the bowling alley, and took shots of whiskey. When she wasn't flirting with Carl, Gaga proved her bowling prowess, throwing spares and and strikes all night long, says a source.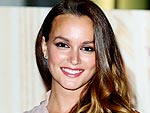 A dressed-down Leighton Meester shot pool with a couple of gal pals at Carnival, the circus-themed nightspot inside New York's Bowlmor Lanes. And they were in interesting company: When the Gossip Girl star went to play some of the boardwalk-themed games, she caught sight of a stilt-walker twirling a hula hoop!
Star Hot SpotsWhere Celebs Play
More Photos
Advertisement
Check in like a superstar!
A-List Shopping
Get a star-worthy wardrobe at these spots
The most buzzed about stars this minute!