Staples Center
1111 S. Figueroa St.
Los Angeles, Los Angeles, CA 90015
213-742-7100

to my to do list
When the music industry's finest voices take over the L.A. Lakers's turf for the Grammy Awards, it's a whole different game. The 20,000-capacity arena is big enough for Lady Gaga and her always-thorough theatrics – not to mention every pop princess and rock star in-between.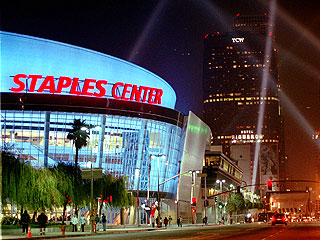 Credit: AP
Latest Sightings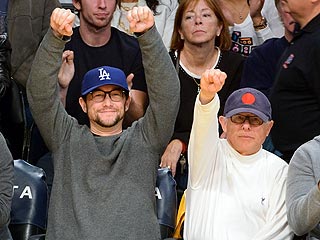 Welcome to celebrity row!

Joseph Gordon-Levitt and his father sat courtside as the Los Angeles Lakers took on the Denver Nuggets at the Staples Center on Sunday.

Although the Nuggets beat Gordon-Levitt's home team 112-105, the Looper star remained optimistic, sharing photos on Twitter and Tumblr with the hashtag #Lakeshow.


Photo: Me and papa. #Lakeshow Nuggets are for smoking. tmblr.co/ZfxHVybA0EiC

— Joseph Gordon-Levitt (@hitRECordJoe) January 7, 2013
But while Gordon-Levitt and his father may have cheered on the Lakers to the best of their ability, the game marked the team's third consecutive loss.
– Maggie Coughlan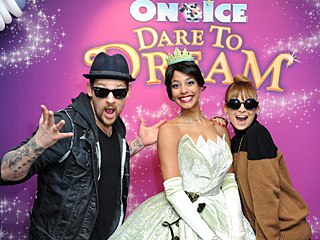 Though Disney on Ice Presents: Dare to Dream at L.A.'s Staples Center was meant to entertain kids, a few grown-up celebs got in touch with their inner children backstage at the show.

Nicole Richie and Joel Madden, there with their children Harlow and Sparrow, snapped a fun photo with Disney's Princess Tiana. (Don't worry, Harlow and Sparrow got their turn with the princess, too!)

Richie was quite the star backstage, too: According to a source, several ice skaters asked to take a photo with her, and she kindly obliged.

Eric Dane and Rebecca Gayheart were also there with their daughter Billie – who dressed up as Cinderella and held a Cinderella doll – and baby Georgia, as well. Before leaving, both families donated diapers to Baby Buggy, a charity that benefits needy Los Angeles mothers, fathers and children. – Melody Chiu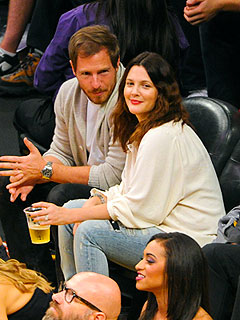 Nice view!

Drew Barrymore left daughter Olive at home for some quality (courtside) time with her hubby, Will Kopelman, Friday in Los Angeles.

The new parents watched as the Los Angeles Lakers fell to the Los Angeles Clippers, 105-95, during the game at the Staples Center.

But the hometeam's loss didn't seem to dampen Barrymore's good cheer, as the actress smiled broadly throughout the game.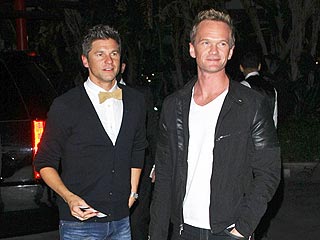 Madge-ic!

Neil Patrick Harris, David Burtka, Emma Roberts, Brad Goreski, Revenge's Ashley Madekwe, Pretty Little Liar's Shay Mitchell, Glee's Darren Criss and Mark Salling all attended A|X Armani Exchange's takeover of HYDE Lounge at the Staples Center for Madonna's "MDNA" concert in Los Angeles on Wednesday night.

"Neil Patrick Harris and David Burtka were on their feet for 'Like a Prayer'," an onlooker tells PEOPLE."They were adorable and loved it."

Guests danced to some of the singer's greatest hits like "Holiday" and "Turn Up the Radio."

"Emma and Shay put on Madonna-inspired lace gloves and pearls while they tried voguing," the source adds.
– Jennifer Garcia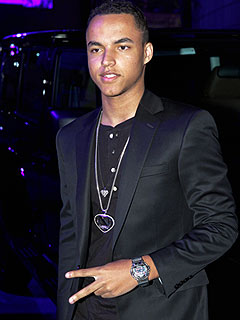 Hanging out with new pal Joe Jonas might have given Connor Cruise some useful tips, as Tom Cruise and Nicole Kidman's son is starting to prove he's quite the ladies man.

After taking an unidentified brunette on a bowling date earlier in the week, Cruise, 17, a budding deejay, headed to Hyde Lounge at the Staples Center last week to catch the Enrique Iglesias and Jennifer Lopez show.

Cruise tried to remain incognito, sporting black pants, boots, a Louis Vuitton belt and red hoodie sweatshirt – with the hood pulled over his head much of the time. It didn't take long for him to cozy up to yet another brunette.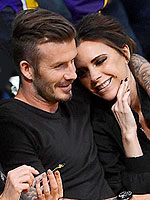 David Beckham got a birthday snuggle from his wife, Victoria Beckham, as the couple sat courtside at the Staples Center Tuesday night for the Los Angeles Lakers' playoff game against the Denver Nuggets.

Beckham, who turned 37 on Wednesday, was shown on the Jumbotron with his arm around Victoria – who celebrated her own birthday last month – as the screen broadcast a Happy Birthday message.

Victoria's mother, Jackie Adams, also attended the game with her daughter and son-in-law.

David, a Lakers fan, got another early birthday present in the form of the final score. L.A. defeated Denver for a 2-0 lead in the best-of-seven first-round series.
– Liz Raftery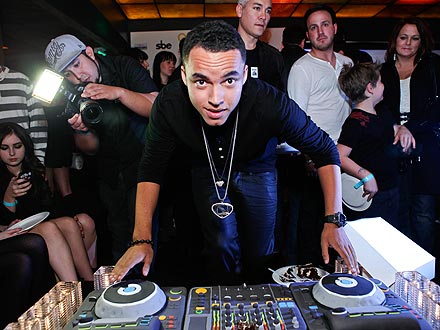 Tom Cruise and Nicole Kidman's son Connor celebrated his 17th birthday Wednesday night with big sis Isabella by his side. The talented teen, who DJs on the side, spun records at the party as his guests – including the Winklevoss twins – watched the Clippers vs. Mavericks basketball game and played the video game Just Dance 3, which raised money for the Children's Miracle Network Hospitals. Cruise was showered with gifts at the end of the night, including cars from California Superstores and a special turntable set from pal Jamie Foxx. – Kristin Boehm


Star Hot SpotsWhere Celebs Play
More Photos
Advertisement
Check in like a superstar!
Al Fresco Fun
Enjoy the outdoors at these star-loved spots
The most buzzed about stars this minute!