Harvey Nichols
109-125 Knightsbridge
Kensington, Greater London, SW1X 7RJ
011 44 020 7235 5000

to my to do list
Pick up an Alexander McQueen scarf or try on the latest from L'Wren Scott at this luxury department store, where eight floors of designer duds inspire serious shoppers (like Keith Urban!) to dig deep into their pockets. The flagship London location has tempted fashionistas since it opened in the 1880s.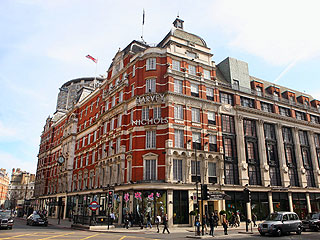 Credit: Oli Scarff/Getty
Latest Sightings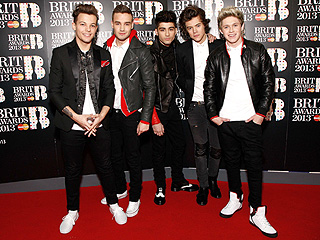 There's never a dull moment for One Direction!

It was a big night for the boy band on Wednesday, when the heartthrobs attended the BRIT Awards.

After performing their new single "One Way or Another (Teenage Kicks)" to benefit Comic Relief – a new version of Blondie's hit song – Harry Styles, Louis Tomlinson, Zayn Malik, Niall Horan and Liam Payne made history when they were awarded with the BRIT Awards' first ever global success prize.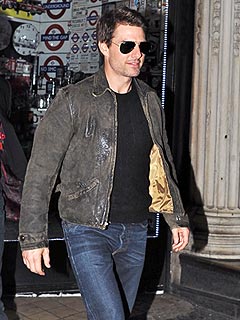 He's one proud dad!

Tom Cruise hit up London nightclub Chinawhite on Thursday, and, no, he wasn't there to go dancing. The actor was on hand to support his 17-year-old son Connor, who was deejaying at the hotspot. And he brought his nieces and nephews along, too.

"Tom walked in and went straight over to Connor and hugged him," says an onlooker. "Then he sat down with a glass of water in the corner and just proudly watched his son for the rest of the night."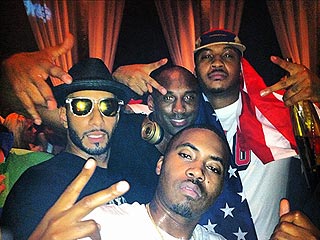 After besting Spain in the gold medal game Sunday, some of Team U.S.A.'s Olympic basketball stars celebrated at TAO/Marquee's Club Bud in London.

Kobe Bryant and Carmelo Anthony made the bash a family affair, bringing wives Vanessa and La La, who both happened to be wearing leopard-print dresses.

"Kobe rarely left his wife's side," a source tells PEOPLE. "They were very affectionate as he had one arm draped across her as she danced against him."

As the night wore on, Alicia Keys's husband Swizz Beatz, who was DJing, invited the basketball stars on stage and blasted Queen's "We Will Rock You" – before spraying the crowd with champagne.

Rapper Nas was also on hand for the celebration, and closed out the evening with a surprise performance that had the nearly 2,000 partygoers singing until well past 3 a.m.
– Melody Chiu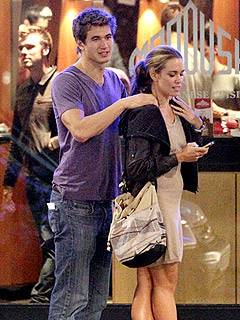 With two successful Olympic outings and six gold medals between them, swimmers Natalie Coughlin and Nathan Adrian had plenty to celebrate when they went out for late night Lebanese food on Monday.

Adrian, 23, and Coughlin, 29, were joined by fellow gold medalist Matt Grevers and his fiancée Annie Chandler when they grabbed 3 a.m. kebobs at a London's Ranoush restaurant.

Adrian – who had attended a party with Michael Phelps earlier – was also spotted giving Coughlin a back rub. But even though the two have been seen hanging out in London on multiple occasions, they are just friends: Coughlin is married to California-based swim coach Ethan Hall.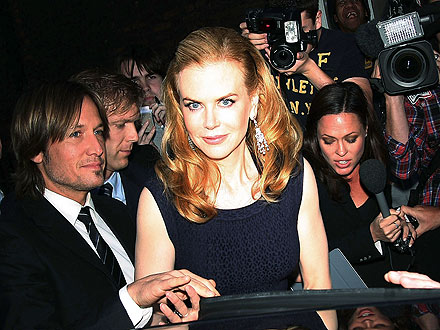 Australian glamour mingled with Swiss elegance on Saturday in London, as Nicole Kidman helped launch Omega House on behalf of the watchmaker, an opening timed to the Olympic Games.

Kidman, 45, and her husband Keith Urban, 44, were the guests of honor at a soiree held by Omega, the official timekeepers for the London 2012.

The couple braved a crowd of enthusiastic fans to get into the building, but later looked relaxed and held hands as they mingled with around 400 guests in the garden, including actors Eddie Redmayne of My Week with Marilyn and Kit Harington of Game of Thrones.

They also watched some Olympic swimming action, and their timing was perfect, as Kidman beamed when Team Australia won the gold in the women's 4x100 relay.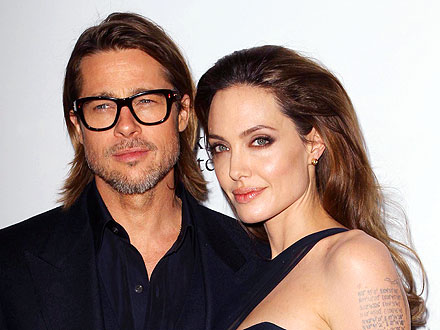 Nothing like enjoying a little theater in the West End while in London!

Brad Pitt and Angelina Jolie attended a recent matinee of Billy Elliot the Musical at the Victoria Palace Theatre, a source tells us, for themselves and several of their children. (The source could not confirm which of the Jolie-Pitt kids attended the show, though seven tickets were booked in total.)

The family, who recently visited the U.K.'s Legoland together, sat in the dress circle – not separated from the rest of the audience for the 2:30 p.m. performance. After the show, Brad and Angelina went backstage to meet Adam Vespermann, a Seattle-native, who played Billy. When it was time to go, they left via the stage door and also signed autographs for some fans who were assembled.
– Phil Boucher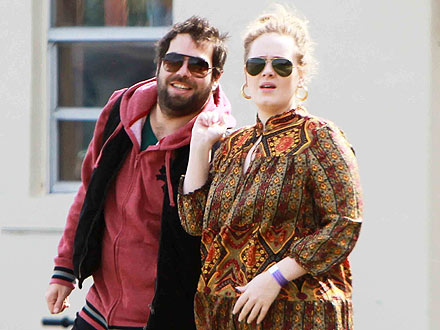 Adele and boyfriend Simon Konecki enjoyed a romantic dinner date night at Rasoi, an Indian restaurant in London. The two shared a mix of vegetarian and chicken dishes at the Michelin-starred eatery, and even took some of their food home in doggy bags.

The Grammy winner was friendly to the staff, with onlookers remarking about how "in sync" she was with her new beau. And although the pair didn't kiss in public, a source tells PEOPLE, "They just had a nice, friendly, happy meal, and were very much like an ordinary couple who seemed very relaxed in each other's company, with lots of laughing and joking."

Adds the source: "They seem very much [to be] a happy couple." – Phil Boucher
Star Hot SpotsWhere Celebs Play
More Photos
Advertisement
Check in like a superstar!
A-List Shopping
Get a star-worthy wardrobe at these spots
The most buzzed about stars this minute!