Latest News


Simon Cowell would not be pleased.

Julien Doré won France's Nouvelle Star – that country's version of American Idol – Wednesday night.

Doré, 24, had been dubbed the French Sanjaya because, like Idol's Malakar, he was better known for his stage presence and looks than for his singing ability, and he became an Internet sensation with his awkward renditions of American pop anthems like Britney Spears's "... Baby One More Time," Madonna's "Like A Virgin" and the Soft Cell hit "Tainted Love" (see a video of him performing that song above).
She was the one that
Idol
judge Simon Cowell wanted to win, but coming in third isn't that bad when you're Melinda Doolittle. The singer stopped by PEOPLE's New York offices to answer questions about winning verus losing, the ups and downs of her new fame, and how's she's handling those high heels.
After remixing songs like "Time of the Season" and "You Give Love a Bad Name" on
Idol
with his built in drum machine, Blake Lewis may go down in history as the guy who brought beat boxing to the attention of mainstream America. Now Blake Lewis is sharing the secrets to his signature style in this video beat box lesson.
The brand new American Idol still seemed a little stunned by all that's happened since she won the biggest reality competition on the planet. But the bubbly 17-year-old, as charming in person as she was on
Idol
, was delighted to answer questions at the PEOPLE offices in New York. What will her album be like? Has she adjusted to fame? And did she get to keep the Badgley Mischka dresses she wore in the finale? Watch the clip and find out!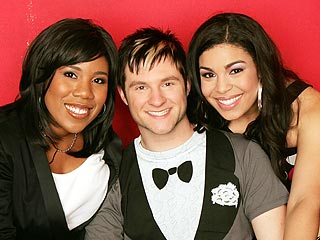 This year's annual Macy's Fourth of July Fireworks Spectacular is about to get some Idol love when the show airs that night on NBC. According to a report in the Orlando Sentinel, Jordin Sparks, Blake Lewis and Melinda Doolittle will be on hand to add some sizzle to the proceedings when they perform together on the telecast. And country singer Martina McBride – herself an Idol mentor – will also perform her song "Anyway" on the telecast, which will be hosted by Today show anchors Natalie Morales and Tiki Barber. There's no word yet what the trio will perform, though, so tune in! And expect more from Blake, Melinda and Jordin soon: The three are due on the American Idols Live tour which kicks off later that week – on July 6 in Sunrise, Fla.