PEOPLE EXCLUSIVE: Margaret Fowler's Poem for Simon!
Photo by: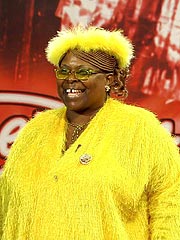 She claimed she was 26 when she was really 50. That's why Atlanta native Margaret Fowler gets our award for being the most audacious
Idol
wannabe so far this season. And before she even opened her mouth, she made a bold impression. Simon said her Big Bird-inspired ensemble looked like an "Easter Bunny nightmare experiment," but it didn't faze Margaret one bit. "I loved every minute of it because when he said I was a big, fat Easter bunny – who doesn't love a big, fat Easter bunny?" she tells PEOPLE.
In this PEOPLE exclusive, listen as Margaret shares a poem dedicated to Simon, which she wrote and performed before her audition but never made it to the broadcast.
Click below to play Margaret's poem:
And here are the words to Margaret's poem, so you can recite them along with her:
Simon, Simon, why are you such a wuss?
You've been all around the world and haven't found the right tush
But all you need to do is enlighten your mind deep within
And before you know it, your soul will sing again