Don't Move Aside, Paula – Courtney's Not Taking Over
Photo by: Stephen Shugerman / Getty; Devan / INF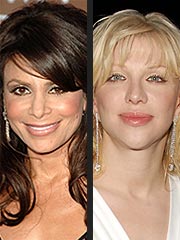 Forget those Internet rumors that
American Idol
wants to replace Paula Abdul with
now-sober
rocker Courtney Love. "I did not call Courtney Love and am afraid someone may have misrepresented me," executive producer Nigel Lythgoe said in a statement. "Courtney Love is a very talented artist, but the judges for
American Idol
are Paula, Randy and Simon. We have no plans to add to or replace any of them."
And while Paula still calls
Idol
her day job, she has several other projects on tap: a new documentary about her life for Bravo, producing a live-action film based on the Bratz dolls and dating, as she tells
Extra
in an interview set to air Thursday. So, what does she look for in a man? "The opposite from Simon."