Wednesday's Idol: Down to 24!
Photo by: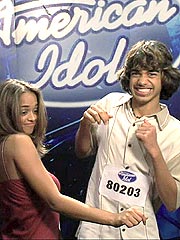 Episode 10
The final 40 got whittled down to the Top 24 in the course of a very entertaining hour on Wednesday's show. I'm a sucker for anything that gets drama and suspense using just an overhead camera in a one-floor elevator ride – and now the judges will be getting ready to cede control of the voting process. Their choices resulted in some pretty good young singers. From the brief clips we saw, I'd say the best are:
• Sanjaya Malakar
• Lakisha Jones
• Melinda Doolittle
• Brandon Rogers
• Chris Sligh
• Jared Cotter
Paul Kim isn't bad, either, but if he really insists on singing barefoot and sticking to a lucky pair of underwear, then he must be left off that select list above. And hint to Sanjaya: Milk that rejected-sister thing for all it's worth. Make sure she's always in the studio audience positioned
in direct line
with the cameras. She should clap and cry with abandon. I'm sure she'll cooperate.
One gripe: Why was the hour shaped to build to whether or not Sundance Head would be the last of the 12 guys selected? He was, beating out Tommy Daniels, even though the judges didn't really explain why. Why was he deemed so special? He looks like William Shatner with a goatee. Which is neither here nor there, since he has a strong voice, but if I hadn't been given so much time to think about his fate such a stupid thought would never have occurred to me.