What's Up with ... the Word 'Pitchy'?
Photo by: Michael Becker / FOX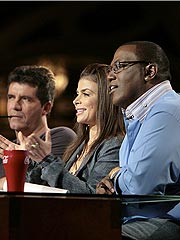 Seems like whenever
Idol
judge Randy Jackson isn't using his favorite word "dawg," he's telling contestants that they sound "pitchy." As in:
Yo, so listen, that wasn't good for me at all, dawg! It was pitchy all over the place.
So what does Jackson
really
mean when he says "pitchy"? The music exec broke it down for David Letterman during a recent appearance on
The Late Show.
"You're hitting the note that could be flat or sharp," Jackson explained. "So one note could be sharp, the next note is flat. Flat meaning that the note that is hit is lower than the
actual
note that you (should reach) to be on key." Got that, dawgs?