Simon Trashes Jennifer Hudson and Taylor Hicks
Photo by: MICHAEL WILLIAMS / LFI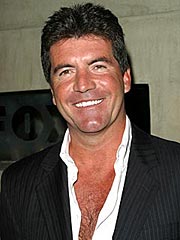 Give Simon Cowell an audience and the criticisms and witticisms start flying. Such was the case Thursday night at the 24th Annual Paley Festival at the Directors Guild of America in West Hollywood. Cowell, who took part in a panel discussion about the show at the Museum of Television & Radio event, targeted his sharp tongue on new
Oscar winner Jennifer Hudson
and
Idol
winner Taylor Hicks.
"Jennifer Hudson said
American Idol
was a 'stepping stone' for her. Stepping stone? It was her big opportunity to become noticed and she got noticed and she got
Dreamgirls,
" Cowell said, noting that other past contestants "deliberately turn against the show that made them successful. The reason (people) come on the show is because all the doors had been slammed in their face."
As for Taylor Hicks, who won season 5's competition, "They (Paula Abdul and Randy Jackson) loved him. I couldn't stand him. I didn't get it," Cowell snapped, adding that "at the end of the day you have to find a bona fide recording artist. Just because you win the show doesn't mean you will sell a lot of records. Chris (Daughtry) is the one who sold the albums, not Taylor."
The
Idol
judge says Carrie Underwood, Ruben Studdard and Fantasia Barrino were standouts from the beginning – unlike season 1 winner Kelly Clarkson, who he says wasn't a strong candidate until later in her season.
Cowell and fellow judges Jackson and Abdul attended the event right after Thursday's elimination show – in which contestants Alaina Alexander, Leslie Hunt, Nicholas Pedro and AJ Tabaldo were voted off and tears were shed. Cowell questioned the sentiment. "Oh, please," he drolled. "My theory is why would you cry if one of your competitors is kicked off? Be delighted. They know the cameras are on. Trust me."
Click here to see more news and photos of Simon Cowell.