UPDATE: Rosie Enters Idol's Frenchie Fracas
Photo by: Jackson Lee / AdMedia / Sipa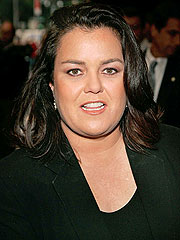 Rosie O'Donnell jumped into the controversy over Antonella Barba remaining on
American Idol
after racy photos of her circulated on the Web.
On Tuesday's
The View
, Rosie addressed the fact that Frenchie Davis was
booted off American Idol
in season 2 for once appearing on an adult Web site and Barba remains on the show. "Why is it that Frenchie was kicked off and this girl was not?"
When cohost Elisabeth Hasselbeck suggested that it might have been because Davis's site was for pay, O'Donnell said she did not buy the argument.
"I think it's racist. I do," said O'Donnell, adding in reference to Davis, "I think it's because she's black."
She added (eventually sounding like Elmer Fudd), "It's weightist and wacist, too, you wascally wabbit." Furthermore, O'Donnell said of Barba, "She can't sing a note, by the way." (TMZ.com ran a clip of the show on its
Web site.
)
Idol
executive producer Nigel Lythgoe issued a response to O'Donnell's comments on Wednesday. "Without wishing to add to the obvious self-promotion of Ms. O'Donnell, I feel as though I must refute her absurd and ridiculous claims that
American Idol
is racist and/or weightist," he said in a statement. "Ms. O'Donnell has, once again, spoken without thought or knowledge. Viewers need only look at the show tonight to realize that
American Idol
constantly confirms to America that talent has nothing to do with weight or color."
Yet Davis herself has questioned the fairness of the situation. "I think it's fantastic if
Idol
has evolved and I think it's fantastic she won't have to go through what I went through four years ago," the singer
told the New York Post.
"But if the rules have changed, I believe there should be something to make up for the fact that I was humiliated needlessly."
Photo by: Amy Sussman / Getty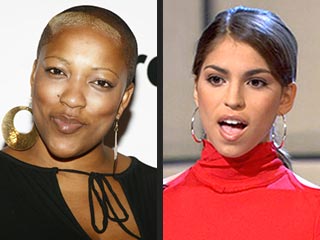 Davis, 27, who described her 2003 ordeal as a "very painful experience," said that she would love to speak to the show's producers but emphasized, "I wish no one ill. I've never bad-mouthed
Idol
and I never will."
But the singer – who says she was upfront about her racy photographs when she auditioned for the show – has a group of people fighting on her behalf. Civil-rights activist Najee Ali is leading a protest on Tuesday at the Kodak Theatre – where
Idol
tapes – to protest why Barba has been allowed to remain. "It's unbelievable that such movement is being made for me without me having to say a word," Davis said in a statement.
Since leaving
American Idol,
Davis has enjoyed a steady run in the Broadway hit
Rent,
which she'll leave on May 24. Afterwards, Davis told the
Post
she plans to perform at nightclubs and work to create arts programs in inner-city schools.