Simon Is Mr. Nice Guy, After All
Photo by: FOX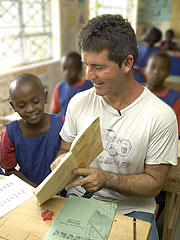 Not so long ago, Paula used the word "heart" in talking about Simon – as in, he has one. And it seems like Abdul was on to something: Last week,
American Idol
announced it was launching its
first charity extravaganza,
to raise money for the poor of Africa and the U.S., and who was one of the first onboard? Simon Cowell.
In an interview with the
New York Times,
Cowell talked about the recent trip he and
Idol
host Ryan Seacrest took to Kenya, calling it "one of those things which will sort of change your life." The trip will be broadcast during a two-night fund-raising special (airing April 24 and 25) called
Idol Gives Back,
which Cowell hopes will "raise awareness – I don't want to preach on this."
One gospel Cowell will preach is why he's remained on board the show after so many seasons. "When I did the deal for
Idol,
I said this will launch the biggest recording artists in the world – and it has," Cowell said of
AI
's success in developing artists for his record label. So who are his picks as season 6's frontrunners? "I think the favorites are Melinda (Doolittle) and Lakisha (Jones)," he said. "But I think this guy Blake Lewis could be a dark horse."
Click here for more news, photos and a full bio of Simon Cowell.