Tuesday's Idol: What You Didn't See
Photo by: Frank Micelotta / FOX.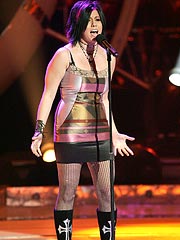 Gina Glocksen practically swoons over Simon's praise, Randy calls out his fellow judges and more...
'Stand' & Deliver:
Gina Glocksen'
s performance of The Pretenders hit "I'll Stand By You" knocked out the judges and the crowd, but it was Glocksen who was bowled over by
Simon Cowell'
s praise when he told her it was her "best performance." During the commercial break, the 22-year-old clutched host
Ryan Seacrest
for support as the audience erupted into applause for her one more time.
Showing Them Up:
Seven minutes to show time,
Randy Jackson
was introduced to the crowd, followed by Ryan Seacrest. Grabbing the mic from the young warm-up comedian, Jackson joked, "You can tell who gets ready early, huh?" (Of course, he was poking fun at Simon and Paula, who were still in their dressing rooms.) "The Dawg is ALWAYS ready."
For the next six minutes, Jackson crossed the
Idol
stage, saying his hellos and shaking hands with all of the musicians and backup singers before taking his seat. As for Paula and Simon? They made it to their seats within 45 seconds to airtime.
Audience Participation:
During the commercial breaks, the audience was invited to compete in their own singing competition. One man warbled a
Justin Timberlake
ballad. As Randy would say, it was
just aight.
Next, a young boy attempted Timberlake's "SexyBack." The consensus? Not bad. Finally, another young boy named Ryan sang the
Carrie Underwood
hit "Before He Cheats" – which made the crowd go wild!
It's a Hair D'Oh!:
While
Sanjaya Malakar
was shaking his "pony hawk" to the beat of No Doubt's "Bath Water," Simon looked over to where
Idol'
s executive producer Nigel Lythgoe was sitting and both started cracking up. Even Malakar's mother, Jill, chuckled to herself. Don't worry, Sanjaya: They were laughing
with
you ... kind of.
Photo by: Frank Micelotta / Getty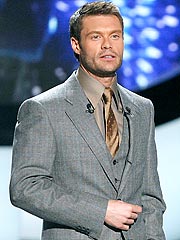 Cool Under Pressure:
What, Ryan Seacrest sweat? Not a chance. When the
Idol
stage manager yelled, "Fifteen seconds!" over the loudspeaker, Seacrest took his spot in the middle of the audience to do the show's opening monologue. A fan asked, "Hi, Ryan. Are you nervous?" and Seacrest shot back, "No, are you?" Seacrest continued to banter with the audience as the stage manager called out, "Ten seconds!" "This is where I clear my throat," he said. With four seconds to go, the host nonchalantly turned to a female audience member in the aisle, grinned and asked, "Do I have anything in my teeth? Okay, here we go." Delivering his lines like a pro, Seacrest began, "
This
is
American Idol
..."