Vote on Your Favorite Sanjaya Hairstyle!
Photo by: Francis Specker / Landov; Frank Micelotta / Getty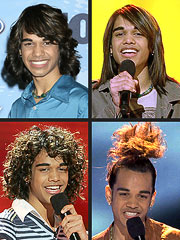 Sanjaya Malakar's hair
is getting as much – if not more – attention as his singing. In just a few weeks on the show, the 17-year-old has undergone several tress-formations, going from shaggy to super-straight to ultra curly and his most recent concoction, seven teased ponytails in the shape of a faux-hawk (What would Mr. T think about that one?). Which look do you think best suits the soft-spoken controversy-maker?
Sorry! This poll has closed.