COVER STORY: American Idol Secrets
| | |
| --- | --- |
| | Photo by: Andrew Macpherson |
Scandals! Romance! Hidden talents! Gina, Chris and the rest of the season-6 finalists open up ...
Gina Glocksen: The Rocker Chick
Age:
22
Relationship Status:
Dating Joe Ruzicka, a guitar player. (He's been in the audience holding her good luck charm, a stuffed lizard named Pickle.)
Pre-Idol:
Chicago dental assistant and part-time singer.
The Fame Factor:
"I get so down when I see (on blogs) 'Gina looked really big in that dress.' That's why they tell you not to read this stuff," she says. "It's a talent show, not
America's Next Top Model.
And I'm not that big!"
Backstage Secret:
Although Glocksen usually sports a tongue piercing, "I was told not to have it in by (executive producer) Nigel Lythgoe," she says. "He said, 'It's middle America. Do you want votes or no?' " Glocksen followed Lythgoe's advice for a few weeks, but then put the stud back in.
Scandal Scarred:
"I always think, 'That could be me,' " says Glocksen of the
hubbub over the racy photos
that surfaced featuring former Idol Antonella Barba. "That's why they have you tell (producers) what you've done in the past. Old friends will try to put the kibosh on you."
Idol Ritual:
"Before I perform, I floss my teeth. I've seen a lot of people that don't even think about it, and the camera's right up in there."
Photo by: Andrew Macpherson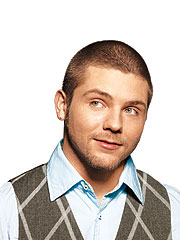 Chris Richardson: The Timberlake Look-Alike
Age:
23
Relationship Status:
Single
Pre-Idol:
Restaurant supervisor at Hooters in Chesapeake, Va.
Music Background:
"I've recorded for about five years," says Richardson. "I went to a studio (in Virginia Beach) one night and Justin Timberlake was recording his album. I played my guitar for him and we watched a basketball game."
Idol Style:
"When I first came to L.A. I weighed 225 lbs. I would do label visits and they'd say they loved the music, but 'you need to lose weight.' Now I'm 180. I went on a strict diet and I work out religiously."
Backstage Secret:
A brewing intra-
Idol
romance perhaps? A source spotted Richardson and Top 24 Idol Alaina Alexander – who's been sitting with Richardson's family during the shows – hanging out in L.A. "They weren't too affectionate in public," says the source, "but they were talking close to each other. They were having fun."
On Being Judged:
"I'm my own worst critic. I see my performances and go, 'Oh, that's horrible.' "
NEXT: Lakisha Jones: The Single Mom >