Blake Lewis: The Beat Boxer
Photo by: Andrew Macpherson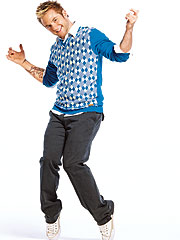 Age:
25
Relationship Status:
Single
Pre-Idol:
Performed as an a cappella musician, including a four-year gig with the Seattle group Kickshaw
Why He Auditioned:
"I've been waiting for an opportunity like this for a long time. I've done improv comedy and rap videos with my friends, which are on YouTube. Doing that prepped me for being on TV."
Idol Style:
"I started to make my own pants when I was in Seattle because I don't wear jeans," says Lewis, who has six tattoos. "I only wear these Caddyshack pants – I call them Grandpa pants. I like to put a little funk into everything."
Backstage Secret:
"I'm sexually frustrated! I broke up with my girlfriend right before Hollywood week, which was sad. I have no game. I get scared because I regard women as the most beautiful creatures in the world. But when (I'm performing), it's easier because then they come talk to me. A tour could be fun!"
Who's On His iPod?
"I love Robin Thicke. I wanted to do his music on the show but he didn't give clearance. Darn that Robin!"
Photo by: Andrew Macpherson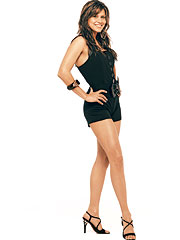 Haley Scarnato: The Hottie
Age:
24
Relationship Status:
Engaged to Bobby Krudwig, a sales executive
Pre-Idol:
Wedding singer in her native San Antonio
Fame Factor:
Although she thinks it's "cute" that she has a fan club called "Haley's Comet," Scarnato doesn't want to know much more than that. "I completely stay away from the Internet and gossip – it's scary," she says. "I got recognized recently, which was weird. They said something about my mole!"
Guest Mentor She's Psyched to Meet:
"Martina McBride," says the country fan. "I love her."
What's On Her iPod?
"I love Elvis, which is shocking to people for some reason."
On Being Judged:
"Some comments are pretty harsh. Ryan lightens the mood. It's nice to have him on that big stage next to you."
NEXT: Jordin Sparks: Teen Wonder >