Randy's Words of Idol Advice: Don't Be Too Serious
Photo by: Kevin Winter / Getty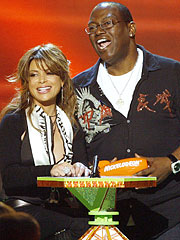 Leave it to the alpha dawg to tell it like it is. Randy Jackson says that unlike past seasons, the current crop of Idols is even more serious about competition. "Every year is really special," Jackson told PEOPLE at the Nickelodeon Kids' Choice Awards, where he and Paula Abdul accepted the award for
favorite TV show.
"I think the kids this year are a little bit smarter, and they seem to want to be a little bit more serious."
But the
Idol
judge doesn't necessarily think being
too
serious is all that good of a thing: "Chris Sligh has been really serious, and I think that's what helped him get booted off this past week," says Jackson. Luckily, for the ladies, Randy's got nothing but praise: "It's all about the girls, all about the girls, baby!"