Wednesday's Idol: Surprise! No One Goes Home
Photo by: Frank Micelotta / FOX.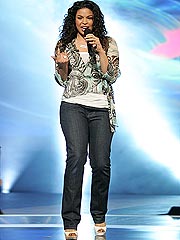 Psyche! PEOPLE critic
Tom Gliatto
is surprised to see all of the Top 6 safe ...
Episode 33
Near the end of
American Idol
's two-hour
Idol Gives Back
charity spectacular, with all the singers specially costumed in baptismal white, there were only two finalists left standing who could possibly go home: Chris Richardson and Jordin Sparks. That was surprise enough. But Ryan Seacrest already said at the start that the night's vote tally was "the most shocking in our history." That had to mean Jordin ... yes?
No. The show's producers were moved by the same spirit of decency that generated millions of dollars in poverty relief, and no one got sent home at all. I was fully fooled, and fully prepared to complain about this terrible injustice against Jordin, maybe even make an unkind comment about bald Phil Stacey being accessorized with a matching white cap, or mention Chris's small, catlike grin of satisfaction when his name was called as "safe." But that won't be necessary. I want to be nice, too. I love all the contestants!
But I still think this wasn't altogether fair to Jordin, who had to spend the last half-hour steeling herself against losing.
This was a very long show with a lot of heartbreaking footage of underprivileged children, as well as many celebrity guests popping up to plead on their behalf. The best musical performances were Annie Lennox's brooding "Bridge Over Troubled Water" and Jack Black's self-parodying "Kiss From a Rose."
Prepare yourself for next week's show when you'll have to say goodbye to two of your favorites.
For more from last night, see
AOL's Idol
coverage.