Constantine Joins The Bold and the Beautiful
Photo by: Aaron Montgomery / JPI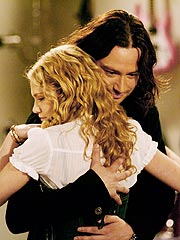 Get ready to be entranced once more: Former Idol Constantine Maroulis will join the cast of
The Bold and the Beautiful
starting May 15. The season 4 contestant, who
placed sixth
in the singing competition (but "if this was
Smoldering Idol,
you'd win hands down," Simon once said of the Brooklyn-born crooner), will play Constantine Parros, a music producer and veteran performer looking for new talent. PEOPLE caught up with Constantine to talk about his new role, his new music and possible Fabio hair-blowing-in-the-wind love scenes.  
That 'new talent' would be Phoebe Forrester (played by Mackenzie Mauzy), right?
Yes. [My character] becomes sort of fixated on Phoebe Forrester, the heiress to the Forrester Originals Fashion House. She's beautiful and young and very, very talented.
Will this plotline lead to some steamy love scenes?
Any time I can be involved with a pretty girl and the word "love" is involved, I'm game! What is so amazing is that it's such a family atmosphere here and everyone makes you feel comfortable and welcome, so if that's the gig then that's the gig. I don't know if you are going to see any Fabio, on the beach shots, hair blowing and stuff, but I don't want to limit myself!
Will you be performing any of your own music on the show?
The first song is called 'Everybody Loves, Everybody Cries,' and it's a real inspiring pop anthem type of summer song. It will appear on May 17. The second song is "A Girl Like You," which is more of a pop rock track – very hooky, very inspiring, if you will. The record is very diverse but it is distinctly me.
You have Broadway experience after a run in The Wedding Singer – did that prepare you for the world of soaps?
I studied at the Boston Conservatory, and we did a lot of acting for film and television. I have done some indie shorts and features in college, so I think the world really doesn't change that much.
What are you looking forward to the most?
It's the No. 1 show in the entire world, so it's just a blessing to have the chance to do what I love to do and what I trained to do. I am a little nervous, but I am very excited and I'm just very grateful for the opportunity.
So if there's an evil twin or amnesia in your future, you will take it?
I will be ready for it. I will take it on it as if I were Lawrence Olivier!