Chris Richardson: I Knew I Was Going Home
Photo by: Frank Micelotta / FOX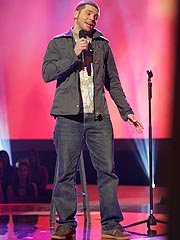 When
Idol
producers lined up best buddies Chris Richardson and Blake Lewis for the final elimination of Wednesday's episode, it was one of the more emotional moments of the night. "The two of you are very, very close, is that right?" Ryan Seacrest asked of the only remaining guys, who
partied together
last weekend. "You guys are really good friends?"
"Best friends," they both answered back, inspiring an "aww" from the crowd. Seacrest then commented on how this was one of the toughest moments on the show, to which Richardson remarked, "And I'd go home for him too." Even if it wasn't his decision, Richardson's stint on
Idol
ended so that Lewis could stay.
The next day, the eliminated contestant spoke to reporters about his love life, the possibility of working with Lewis and knowing that his time was up.
How did you and Blake become close?
It started during Hollywood week. We had a lot in common: music taste and style, loyalty of friendship and common interests.
How did you feel about the producers pitching you against Blake since they know you two are such good friends?
They have to make a good show. They are smart producers. They know what will get people interested and get people watching.
What were you saying to each other up there?
I was just telling him to go ahead and sit down because I knew I was going home.
What was going on in your head?
Me and Phil came to peace with it and we figured out we were going home... I knew. I think you should go out there hoping for the best. I think everyone knows Blake is my best friend, I was glad he was staying in my place.
You are definitely charming. Are you single?
I just got out of a 3-year relationship. That's about it. All the other things are just rumors. Other than that I am pretty much right now single but still respecting the fact that I just got out of a relationship.
Are we ever going to see the Blake and Chris variety show?
You will all just have to see!