Diana DeGarmo's Stalker Sentenced to Community Service
Photo by: Katy Winn / Getty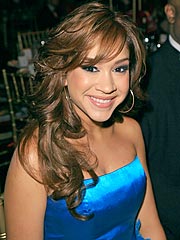 An Australian woman was ordered to serve 150 hours of community service Friday, after she was convicted of stalking and blackmail. Her victim:
American Idol
season 3 finalist Diana DeGarmo, 19.
Tanya Maree Quattrocchi, 21, was obsessed with DeGarmo and called her 369 times and sent her 570 text messages between March and June last year, according to Australia's
Herald Sun.
One of the text messages, which the paper printed, read: "I could kill you before you could even lay a finger on me.
"I know I'm out of line here, but I don't give a f---.
"How badly do you want to kill me right now? Bring it on b----."
During the sentencing, Judge Lisa Hannan acknowledged Quattrocchi's poor intellectual and social skills, but said she had good prospects for rehabilitation, the paper reports.
The prosecution says Quattrocchi was smart enough to hack into DeGarmo's MySpace page and send emails to the singer's family and friends, posing as DeGarmo. She also used DeGarmo's credit card to subscribe to pornographic websites and threatened to release new music by the singer if she wasn't paid $15,000. But Quattrocchi's defense attorney claims her client is a shy young woman from a loving and supportive family who is remorseful for the anguish she had caused DeGarmo.
The defendant was arrested in June of last year after DeGarmo alerted the FBI to the harassment.
Catch up with Diana DeGarmo
on PEOPLE.com.