LaKisha on Kissing Simon: 'I Would Do It Again'
Photo by: Frank Micelotta / Getty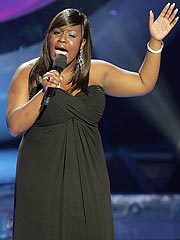 Immediately spotlighted as one of this season's early favorites, big-voiced LaKisha Jones, a single mother with a dream, rolled with the punches week after week as the competition grew more grueling and the genres moved further away from her diva-like R&B style. Last night,
America voted
and Jones just didn't have enough to top beat-boxer Blake Lewis's performance. So it was goodbye to
American Idol
after making it all the way up to the final four. The next morning, a very hoarse Jones spoke with reporters about the pressures of being an early favorite and what she thinks led to her elimination. Plus, she shares her thoughts on the final three and reveals what it was like to kiss Simon Cowell.
Did starting out as an early favorite prove to be difficult?
It did because I believe that everybody wanted that "And I Am Telling You" moment every week. And when you're singing different genres of music, and because there's such a different style of music, those styles don't necessarily have that big song that everybody is expecting every week. I think I did the best with what I was given, and I went out there every week and I gave it my all.
Is Simon a good kisser?
He is a good kisser and I would do it again.
How were his lips?
His lips were really soft and thin.
What did Simon say to you after the last show?
He told me that he was really proud of me and that he knows that I'm going to have a successful career.
What was your favorite comment from Simon and what go you steamed?
My favorite comment from him would have to be, "She's in a league all of her own." [Least favorite was], "You're shouting."
Why were you bracing yourself to go home last night?
I was hoarse on Tuesday and I tried to sing past my hoarseness and give it my all, because, of course, on
American Idol
you can't say, "My voice is jacked up and I can't sing this week." You can't say that so you have to just kind of do what you got to do and I kind of knew last night that those weren't the best songs… I did the best with what I was given.
Talk about the dress that got destroyed at the dry cleaner. How did it affect you?
It actually was a blouse, and, oh God, it just messed me all up because in my mind when you go onstage you become this character when you're putting on your show. And I needed that blouse; it gave me that extra umpf – made me feel extra sassy.
What do you like about final three?
Jordin is so darn cute and she just has a wonderful spirit about herself. She's really genuine. Blake, oh my God, I love him! Blake keeps me going. I tell you the times that I was like "oh my God," and Blake was like, "Nope, come here" he would start "boop, boop, boop, boop" you know, making up something and making me laugh and smile. He was really cool and he has originality and personality – he's great! Melinda… That girl has so much soul and power.
What did your 4-year-old daughter have to say about mommy's run on the show?
She's happy. I was crying last night and she wiped my face and said, "Mommy, I'm not mad." And I just thought that was really cute. It was almost as though she was telling me, "You know what? I'm proud of you. I'm not mad." So, it works for me.
Was it hard being away from your daughter?
It was really, really hard but I have a strong support system. I have my mother, who takes care of my daughter while I'm away. I have my grandmother who you know is supporting me and encouraging me and praying for me. And every chance they get they are out here. So, it's good when you have a good support system.
How will you handle baby sitting duties for daughter when you go on tour?
Well
the tour is this summer
and my mom's a schoolteacher so [she'll be there to help out]
What's next for LaKisha Jones?
I'm going to have a lot of interviews and going on tour and after that hopefully I'll be recording.
First thing going to buy with money she makes from her success?
A new home for me and my daughter… I don't ever want to rent again. I want to have a home – it don't even have to have anything in it – I just can't wait to get the keys, open the door and let my baby run through the house.