Wednesday's Idol: What You Didn't See
Photo by: Frank Micelott / Getty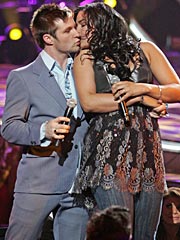 The Grand Finale
Within minutes of his – and everyone's – hearing
Ryan Seacrest
announce
Jordin Sparks
as this year's American Idol,
Blake Lewis
was backstage, facing the press. "It's bittersweet right now," he said, "because it's over, and like three seconds before I got on the stage with Jordin at the end of the – it was just like, 'Oh, man, it's done. This is like the last moment I get to step on the
American Idol
stage, and the journey has truly been a blessing.' " And just what was it Blake whispered in Jordin's era as Ryan's was breaking open the envelope? "I told her two things," said Blake. "I said, 'I love you, Jordin Sparks.' And I said, 'If it comes down to me singing this last song, will you do a duet with me?' "
Cutting a Rug
The
American Idol
Finale red carpet completely blanketed the Hollywood Walk of Fame – except for one particular star in the sidewalk:
Ryan Seacrest
's. A square hole was cut in the red carpet so everyone to see it. Everyone, that is, but
Carrie Underwood
, who was caught by surprise when she suddenly noticed the name – and then had to do a little hop, skip and a jump to avoid tripping on it.
Paula's Prediction
On the red carpet
Paula Abdul
rightly predicted
Jordin Sparks
would be victorious at the finale, but acknowledged that the female finalist had the upper hand when it came to the final song, "This Is My Now." "They shouldn't have given the same song to both male and female – it was more of a female song," Paula told PEOPLE. "What they've done the last few years is have songs written for the guys and songs written for the girls."
Mother Knows Best
Blake Lewis
's mom agreed about her son's lineup for his final performance. "I liked the first two [songs] and the last one. I knew that he wasn't hot on it, and Jordin did a better job," she said. "[But] I love it when he does rock because I'm an old rocker, so that was cool. He does very little rock so I loved the Bon Jovi!"
The Roaring Crowd
A radiant and confident
Jordin
owned the carpet in her
Badgley Mischka
dress, shining above all else around her as she made her way past the media throng. For his arrival,
Blake
came in a sea of his top 12 Idols surrounding him like a human shield – while fans went crazy screaming his name. Also making their way into the foray:
Jennifer Hudson, Taylor Hicks, Constantine, Mandisa
and even more former Idols.
Photo by: Frank Micelotta / American Idol / Getty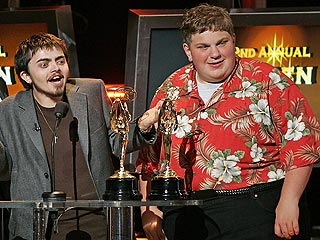 The Stand Outs
Nobody could miss
Jonathan
and
Kenneth
, the winners of Best Buddies on the night's show. The guys, who'd been terribly insulted by
Simon
at the very start of the season, were also perched on the red carpet as zany correspondents for the
Jimmy Kimmel Live!
.
Close Competitors
Inside the Kodak Theatre, when there were only 20 seconds remaining until the live broadcast,
Debby the stage manager
said, "Blake, Jordin, a little closer together." The finalists took the directions literally and hugged each other tightly before assuming their places side by side in time for
Ryan Seacrest
's final show open of the season.
The Beat Goes On
Rapper-beat-boxer
Doug E. Fresh
had nothing but praise for
Blake
's duet with him. Of Blake's skills, "The Human Beat-boxer" said, "He's incredibly talented. He showed me some other stuff that we couldn't do on the show – we didn't have time. But it was really, really nice. Good dude, good heart, good spirit."
Teddy Bear Hug
Former Idol
Ruben Stoddard
had nothing but good words for the two finalists. "I think they're both totally unique," said the Velvet Teddy Bear. "You know,
Blake
has that urban hip-hop flavor going for him.
Jordin
, you know, she's a cleancut young lady – very Smooth.
Legendary Support
Smokey Robinson
knows a winner when he sees one. Of
Jordin
, he said after the show, "She is a great singer. She is an awesome singer. She sings so good it's hard to believe that she's 17. To sing like that you would have had to have lived for a long time. She's an old soul. She's great." As for what she will bring to the music world, "Herself," said Robinson. "I'm serious about that. She's a wonderful talent. She's got a lot to give. I talked to her after the show tonight. I told her to remember that she's very blessed and to keep the feet on the ground and go get 'em!
Motherly Love
Jodi Sparks
was in the Kodak Theatre when daughter
Jordin
's name was called. "I was just so proud of her," says her mom. "She set a goal five years ago and has been pursuing that dream and she's here and she's done it. It's amazing." As for how her 17-year-old daughter will handle the fame, "You know, she's fine," says the elder Sparks. "We've been through celebrity-type stuff before with her dad when she was younger, so she's kind of been there, done that. It think it prepared her. She's lived so much life in her little life. We've moved 22 times since she's been born. We've lived in New York. So she's been so adaptable in new situation and has had to along with her brother adapt every time we moved or change schools, switch teams, so I think that's really helped her." And to mark the victory? "I think we're going to a party now!"
For more from last night, see
AOL's Idol
coverage.
•
Reporting by JED DREBEN and MICHELLE TAN