More News

Beat-boxing sensation Blake Lewis revealed his alter-ego, BShorty, for a local crowd Friday night while celebrating his Seattle homecoming. Though millions of Idol fans are familiar with Lewis' rhythmic prowess, the finalist surprised Seattle residents when he showed up at a concert by local hip-hop outfit Blue Scholars. According to reports, Lewis leveled the club with a musical blitz that the Seattle Post-Intelligencer described as a "five-minute beatbox tirade." (Yes, that's apparently a good thing.) And while BShorty – er, Lewis – may have stunned audience members, it turns out that he's known Blue Scholars' DJ Alexei "Sabzi" Mohajerjasbi since junior high. Said Lewis at the show: "The first time I rocked a mic, Sabzi was on Rhodes." Ah, formative experiences! But Lewis hasn't forgotten his local roots, and he's even worn the band's t-shirt on national television.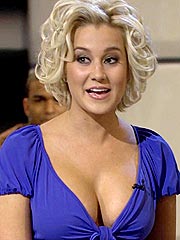 Kellie Pickler looks a bit more curvy these days than she did as a Season Five American Idol finalist – but she doesn't have anything she wants to get off her chest.

On Ryan Seacrest's KIIS-FM radio show Monday morning, Seacrest asked Pickler how she felt about people's comments on her "supersize" figure after she made a guest appearance on this season's Idol.

She replied: "Are you talking about my boobs again? Why are you looking at my boobs anyways, you pervert?"

"I'm not looking at them, America is looking at them," Seacrest said.

Pickler responded that she simply appeared to have a fuller physique because "My hair was shorter so everything else looked bigger. [Besides,] I'm 20, my boobs are supposed to be perky."

Not dissuaded, Seacrest asked flat out: "Did you have an augmentation?"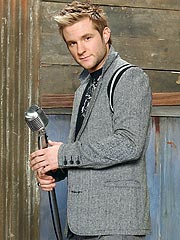 As the remaining Idol hopefuls head to their hometowns this weekend, Blake Lewis made a somewhat surprising admission during an interview with a Seattle television station. "Jordin's my pick for Idol," Lewis told reporters while taking part in his homecoming festivities. So, was the beat-boxer just playing humble? Or does he not believe he will win? Lewis declined to predict his own chances – saying, "It is what it is" – but according to the Seattle Times some of Lewis' friends have said they'd prefer if he didn't take the tile. Why? Simply, the creative freedom not being the American Idol affords.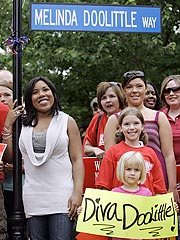 It's Melinda Doolittle Day at Belmont University!

Fans started gathering at 6 a.m. on the Nashville campus Friday to welcome back Melinda Doolittle, who graduated from the school in '99. By the time the Idol semifinalist arrived in a white Mustang convertible, several thousand people lined both sides of the street – many wearing T-shirts that read "Belmont Hearts Melinda Doolittle" and holding up signs that read "Doolittle's Da Bomb." The singer wiped tears from her eyes and looked toward the sky before waving to the crowd.

Belmont president Robert Fisher welcomed Doolittle back to the school where she was once the mascot, Bruiser the Bruin, by unveiling a street sign on campus that read "Melinda Doolittle Way."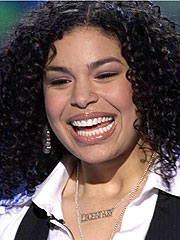 Not long ago, Jordin Sparks was a typical student at the Sandra Day O'Connor High School in Glendale, Ariz. Her first job was at a Buckle clothing store in the local mall, where she also spent time hanging out with friends. But when the 17-year-old returns on Friday, she'll get a hero's welcome and star treatment. Sparks is expected to do interviews with local radio and television stations, attend a pep rally at her old school and meet Mayor Elaine Scruggs at the Westgate City Center, where she'll also sing before an estimated 10,000 fans. Other local celebrities, including Phoenix Coyotes hockey coach Wayne Gretzky, will be on hand to wish the singer good luck and Gretzky will present Sparks with a personalized jersey. Like a true celebrity, a film crew will be following Sparks around as she visits her old haunts and mingles with Glendale's VIPs to record the Idol's experience for a segment on Tuesday's hour-long, semifinals episode of American Idol. Welcome home, Jordin!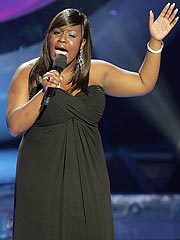 Immediately spotlighted as one of this season's early favorites, big-voiced LaKisha Jones, a single mother with a dream, rolled with the punches week after week as the competition grew more grueling and the genres moved further away from her diva-like R&B style. Last night, America voted and Jones just didn't have enough to top beat-boxer Blake Lewis's performance. So it was goodbye to American Idol after making it all the way up to the final four. The next morning, a very hoarse Jones spoke with reporters about the pressures of being an early favorite and what she thinks led to her elimination. Plus, she shares her thoughts on the final three and reveals what it was like to kiss Simon Cowell.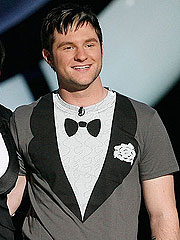 This American Idol finalist is not only making headlines with his voice. First his devoted fans designed t-shirts, buttons and hats to show heir support, then he got America talking about his new hair color. Last night, maybe in an attempt to keep up the new hipster image, Blake hit the stage in an ironic tuxedo printed t-shirt. We must admit that we like the quirkiness of the look so we found similar ones for all you Blake fans out there. Check out this classic black one, $15, at amazon.com and for more colors, styles and even women's and kid's check out tuxedotshirt.com – they are even making a whole line of wedding dress t-shirts for brides!

Go to Off the Rack and tell us: What do you think of Blake's tuxedo t-shirt? Love it or hate it?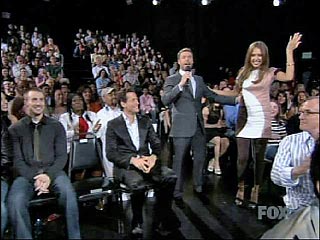 Fantastic Four Meets the Final Four
Jessica Alba was the delight of the night, as she accompanied her Fantastic Four: Rise of the Silver Surfer costars Michael Chiklis, Chris Evans and Ioan Gruffudd to watch Idol's final four face the music. Just before the start of the show, Simon Cowell switched seats with Paula Abdul to get a better look at the star because, as Paula put it, "she's so hot!" And while Ryan Seacrest was about to introduce the cast and a clip of their movie, Alba, who plays the Invisible Girl, left her seat empty and hid behind the host, tickling his back as he pretended that she had vanished. But having the beautiful actress so close proved too much for Seacrest – he almost fumbled his lines completely.


Gibb Goes Down
After a powerhouse rendition of "To Love Somebody," Barry Gibb lingered in the spotlight, blowing kisses to an audience on their feet as the show went into commercial. But just as everyone was saying goodbye to the legend, Gibb tripped while making his way backstage and took a hard tumble, instantly silencing the room. As stagehands ran to his rescue, Gibb beat them to it, springing to his feet, throwing his arms in the air and shouting, "I'm all right!"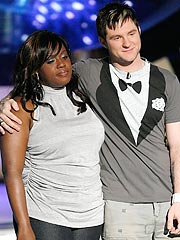 Just before Ryan Seacrest began to announce the night's results, the final four contestants clumped together onstage, refusing to separate. Well, it was a cute piece of stage business, but they couldn't stay that way all night, and they didn't. Just as the wise Simon Cowell anticipated, LaKisha Jones was the one voted off. She probably expected it: Earlier in the show, Seacrest caught her muttering to herself during a commercial break. What had she been saying? "Hopefully I'll remember the words," she told him, "and I don't want to cry."

She did cry, briefly, but then she sang a big, sassy version of "Stayin' Alive," strolling through the studio audience.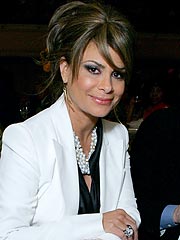 Want to look like Paula Abdul? Well, Idol's nicest judge tells PEOPLE that one of her fitness secrets involves dancing. "I live a clean, healthy life," she says. "I always have. I don't drink, I don't do drugs. I laugh, I dance. Dancing keeps me fit." It's no surprise – the former Laker girl choreographed music videos for Janet Jackson, Prince, George Michael, Duran Duran and others.

What else keeps Abdul in good spirits? "You have to cherish good friends and lots of laughter," she says. And Abdul specifies: "Laughter is like everything and the more pee-in-your-pants laughter, the better." Would "frenemy" Simon Cowell concur?