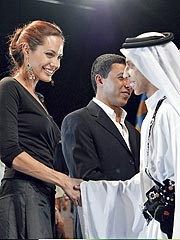 ALI JAREKJI / REUTERS / Landov
Once again, Jolie – in a casual tank top and jeans – dressed for comfort, not luxury. "She looks the most beautiful when she's in the field – natural, no makeup, nothing," says Jean. "Because you see Angelina, the angel. It doesn't get any better than that."
Transitioning between no-frills aid worker and red-carpet-ready Oscar winner is effortless for Jolie, who signed a reported $12 million endorsement deal last fall with St. John with the stipulation that money will go to a charity for children's causes. Says Robert De Niro, who directed her in the upcoming drama
The Good Shepherd
: "She has a kind of Audrey Hepburn-ish quality about her but with her own uniqueness."